Display
One of the important differences between the two generations of projector phones by Samsung is the screen size and technology. The original Beam had a 3.7" Super AMOLED screen. The one we're reviewing has grown to 4 inches but is a regular LCD unit.
The WVGA (480 x 800) resolution works out to a pixel density of around 233 ppi. It's a pretty good display, even if some way off the best on the market. Contrast is good and colors are OK for an LCD, while the viewing angles are surprisingly good.
We put the Samsung Galaxy Beam through our usual display tests and we are now giving you its results. You can find more about the testing procedures here.
Display test
50% brightness
100% brightness
Black, cd/m2
White, cd/m2
Contrast ratio
Black, cd/m2
White, cd/m2
Contrast ratio
Samsung I8530 Galaxy Beam
0.25
258
1026
0.48
508
1048
Samsung Galaxy Ace 2 I8160
0.24
225
921
0.59
500
843
HTC Desire C
0.23
186
814
0.5
360
723
HTC One X
0.15
200
1375
0.39
550
1410
Sony Xperia U
0.35
287
831
0.55
515
930
Samsung S7500 Galaxy Ace Plus
0.27
239
873
0.6
528
888
Samsung Galaxy Pocket
0.31
238
774
0.62
468
753
The sunlight legibility is the Galaxy Beam's screen Achilles' heel. As you can see from our measurements the Galaxy Beam is one of the worse performers we have subjected to this test.
Contrast ratio
Nokia 808 PureView
4.698
Samsung I9300 Galaxy S III
3.419
Samsung Omnia W
3.301
Samsung Galaxy S
3.155
Nokia N9
3.069
Samsung Galaxy Note
2.970
HTC One S
2.901
Samsung Galaxy S II
2.832
Huawei Ascend P1
2.655
Nokia Lumia 900
2.562
Apple iPhone 4S
2.269
HTC One X
2.158
Nokia N8
2.144
Apple iPhone 4
2.016
Sony Ericsson Xperia ray
1.955
Sony Xperia U
1.758
LG Optimus 4X HD
1.691
HTC One V
1.685
LG Optimus Vu
1.680
Samsung Galaxy Ace 2 I8160
1.566
LG Optimus 3D
1.542
Nokia Asha 302
1.537
Meizu MX 4-core
1.462
Nokia Lumia 610
1.432
Gigabyte GSmart G1355
1.361
Samsung I8530 Galaxy Beam
1.315
HTC Desire C
1.300
LG Optimus L7
1.269
Meizu MX
1.221
Samsung Galaxy Pocket
1.180
Samsung Galaxy mini 2
1.114
We zoomed into the display using our digital microscope so you can get a better idea of how the pixels are arranged, and how big they are. As you can see the pixels are slightly larger than those on the Ace 2, which suggests slightly lower perceived sharpness.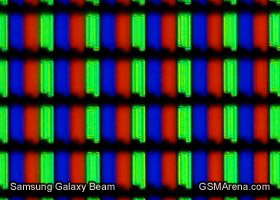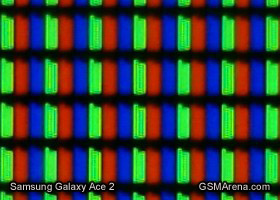 The Galaxy Beam display pixels compared to those of the Galaxy Ace 2
Handling
The Samsung Galaxy Beam is not the slimmest phone out there, not by a long shot, but it's extremely well put together and reasonably ergonomic. It's comfortable and secure to hold, and fairly easy to operate with one hand. It seems that a stable stand will be most welcome in projector mode, and the one that comes in the box isn't the best solution. It does well to charge the extra battery though and that's a great option to have.