The Samsung Galaxy Beam is now officially available throughout the UK. Reportedly, some stores have already been selling it for a week or so, but it is today that Samsung deems the official launch of the smartphone/projector.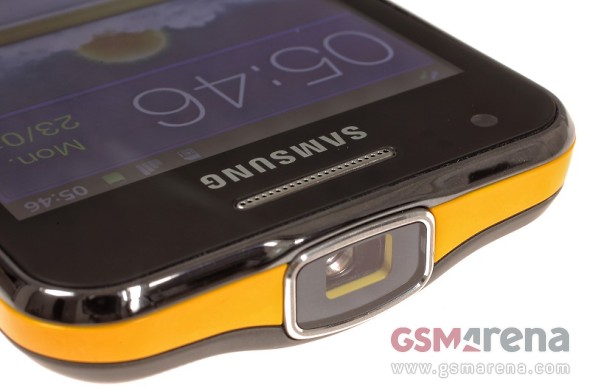 If you've followed the previous news about its availability, you will know that the Galaxy Beam does not come cheap (be it in or outside the UK).
Buying at Clove UK will cost you the cool £412 ($647; €528) with VAT included.
The Carphone Warehouse would also offer you the handset for free with a number of contract options with Orange and T-Mobile.
Amazon UK doesn't offer it, but there are some sellers there that have it for about the same price as Clove.
Expansys UK sells a cheaper European model and a more expensive UK one.
We guess you can get it in many more online shops, those just came up first in our search. Feel free to shop around.
And if you are interested in getting one, don't forget to check out our review before you shell out the cash.
M
Why Samsung not fixed projector other galaxy phone
?
veary amazing fhon i like thish.
D
just got mine today from hk. i was kinda disappointed that it came only with one battery of 2000mAh when supposedly it is 2. android 2.3.6 OS. i used to own the 1st galaxy beam, at least, the 2nd one does not heat up as fast as the older one. oh yeah...
ADVERTISEMENTS