Half-press to play
Samsung Galaxy Camera review: Half-press to play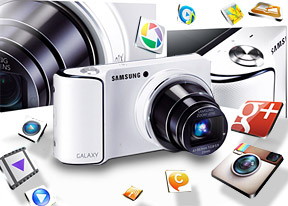 Gallery and file browser
The Samsung Galaxy Camera comes with the familiar gallery. It opens up in Albums view, which is what we're used to seeing - it lists all folders with photos on the device, along with online albums from Picasa.
Besides, Album view, photos are sorted by Time, Location, Person (photos with tagged faces), Group and Favorites.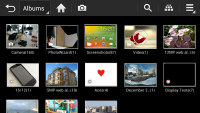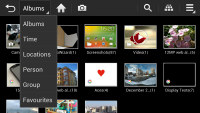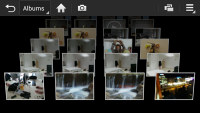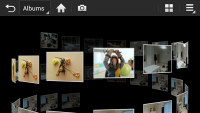 The new Gallery app • alternative view modes
Getting inside an album displays all the photos in a rectangular grid, which is vertically scrollable. There's a column on the left that shows folders, so that you can easily move between them. This is great if you need to select items from multiple folders.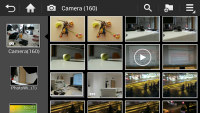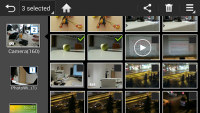 Browsing through folders is easy
When viewing a single photo, you'll find share and delete shortcuts above the photo, while below is a line of small thumbnails of all other photos in the album. You can tap those small thumbnails to move to other images or you can just swipe sideways.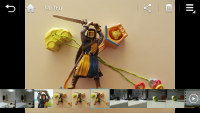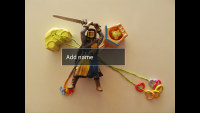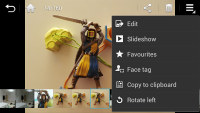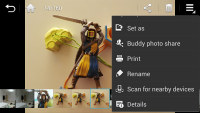 Viewing a single photo • Simple editing options
The Gallery also supports highly customizable slideshows with several effects to choose from, customizable music and speed. You can also highlight specific images to be included in the slideshow.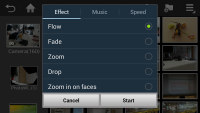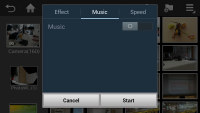 The slideshow option is highly customizable
The Galaxy Camera will try to detect faces automatically (and you can manually highlight faces where it fails). Buddy photo share will use your contacts' profiles to try and recognize who is who automatically. Social tag makes sure that whenever a face is recognized in the photo, their status message appears and you can easily text that contact.
There's an option to print out a photo straight from the gallery, but that works only with Samsung printers.

You can print photos straight from the gallery
The My Files app hasn't changed really - it is an efficient and simple to use file manager. It can move, copy, lock and rename files in bulk, even send multiple files to another phone. My files will only browse the memory card and the large internal storage (it can't access the system drive).
Instagram, image and video editors
Instagram comes pre-installed on the Samsung Galaxy Camera. The version we tested worked only in portrait mode, but that's not a big problem as photos are square and the UI works equally well.
The Instagram app lets you snap a photo, maybe apply a filter (or some other tweaks) and post it on your Instagram account along with several social networks (Facebook, Twitter, Tumblr, Foursquare or Flickr).
Following other users is also a big part of the Instagram experience, so the app will offer to search for your Facebook and phone contacts to see if they have an Instagram account.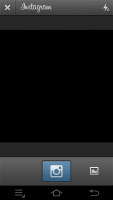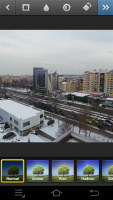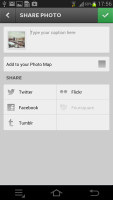 Instagram on Samsung Galaxy Camera
One slightly annoying thing about Instagram on the Galaxy Camera was that the lens automatically extends and retracts when the viewfinder is active or off. That means that the lens will extend when you start the app, then retract after you've snapped a photo and moved on to editing it, then extend again when you go back for another shot.
You can use the Photo Wizard app to edit photos you've taken with the stock camera. It's similar to the stock Android image editing app, but has much more features.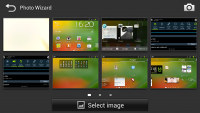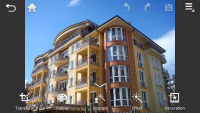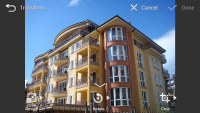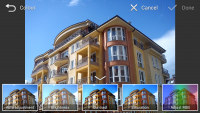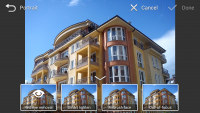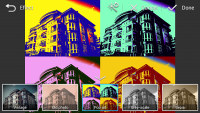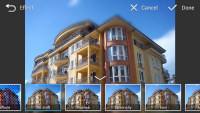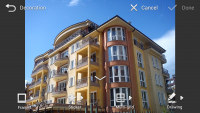 Photo Wizard has tons of effects and editing options
It can do the basics (resize, rotate, crop), tweak image properties (including auto adjust), do some face-recognition-based effects (e.g. airbrush face), do photo effects, including things like simulated tilt shift, and finally, add borders to the image and do collages of multiple photos with clip art and free hand drawing.
Paper Artist is an app borrowed from the Galaxy Note II. It has a long list of effects that can be applied selectively to an image by "painting" them in the areas you want. The app can also capture photos using these effects, complete with a live preview.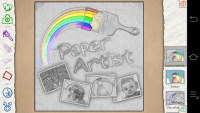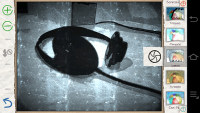 Paper Artists: drawing on an effect and live effect preview
The Samsung Galaxy Camera comes with a simple to use video editor with decent functionality. It asks you to select a theme for your video (you can choose none if you don't like the predefined intros) and import several videos, photos and music. After that, you can pick transition effects between the videos.