Final words
With a sub-€200 price tag and a well-rounded set of features the Galaxy Core is a new smartphone arrive that will be welcomed by both money-conscious users looking to leverage on two plans to optimize their monthly cellphone spending (dual-SIM version) and those only now entering the smartphone game (single-SIM).
There are a number of reasons to consider the smartphone - the screen is decent, the camera is quite fine for the class and the smooth Android 4.1 Jelly Bean on board. But as this is quite a crowded part of the market, there are also many smartphones, who'd try and give you reasons to look the other way. Let's have a look.
If the Samsung Galaxy Core is very close to what you wanted, but no cigar, you should consider its Samsung Galaxy Win sibling. Costing slightly more than the Galaxy Core it brings a bigger 4.7" WVGA display to the table, quad-core 1.2 GHz Cortex-A5 chip and matches the Galaxy Core on all other accounts.
While now a generation too old the Galaxy S III mini has a superior dual-core processor, a more capable 5 MP snapper and is also powered by Android 4.1. It's screen tips is just 4" in diagonal but retains the WVGA resolution. Sadly, the Galaxy S III mini lacks a dual-SIM version, so if that's what you are after you should move ahead.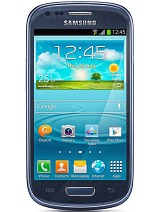 Samsung I8190 Galaxy S III mini
Sony's Xperia M and Xperia L are perhaps the biggest threat to the Galaxy Core in the Android camp. Giving you a choice between 4" and 4.3" screens of the slightly higher FWVGA resolution, these two have far more capable dual-core Krait CPUs and Adreno 305 GPUs. You also get 720p video recording and, if you side with the Xperia L, an 8MP snapper.
If one SIM is enough for you the Xperia M, Xperia L and the Galaxy Core are priced very similarly, making the Samsung smartphone a real outsider here. Yet if you want two SIMs in one smartphone, the Xperia L is out of the equation and the Xperia M price rises to far to be as easy a recommendation.
And if you don't mind giving Windows Phone a try, you can get a handsome reward in the form of Nokia Lumia 620. Costing notably less than the Galaxy Core, that one packs a 3.8" WVGA ClearBlack screen, 5 MP camera and a dual-core Krait chip, giving you far better hardware for your money. However it lacks dual-SIM functionality, so it's can't compete with the Galaxy Core on all fronts.
The Samsung Galaxy Core gets a lot of things right and certainly gives you a decent smartphone at a bargain price tag. However, its single SIM version is priced to compete with smartphones far above its league, so it's really a smartphone we can't recommend to anyone at this point and price tag.
The dual-SIM Galaxy Core version is where you should be focusing. Its price tag is far lower than anything with similar specs, and its specs are better than anything with a similar price tag. Sounds like the best recipe for entry-level success. •