S Voice and Google Now
Samsung released S Voice as an answer to Siri before Google came out with its own solution in Google Now. S Voice is the culmination of Samsung's ongoing effort at integrating voice commands into the Android experience, an effort which goes back to the days of Vlingo. You may remember the voice activation (saying "Hi Galaxy" to trigger S Voice).
S Voice can do the usual - search the web, make calls, send texts (which Android natively supports and so does Vlingo), but you can also use it instead of the notification area toggles, answer or reject incoming calls, start the camera and take a photo, control the music player and FM radio and stop or snooze alarms all with voice commands.
It's also a tool for quickly looking up facts - it's powered by Wolfram Alpha (which handles some of Siri's answers too). It has an enormous database covering topics ranging from Culture and Media to Physics. S Voice can also be used as a calculator.
Samsung has decided to keep S Voice alongside Google's solution as the two do differ in functionality. Jelly Bean has the unspoken Google Now info cards, but it also brought Google's Knowledge Graph, which can answer factual questions.
Google Voice Actions can handle stuff like sending messages (SMS or email), initiating a voice call, asking for directions, taking a note or opening a site. Since the latest update came, Google Now can also launch apps, check and manage your calendar and look for nearby places of interest and stuff like movie openings in theaters.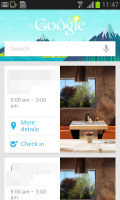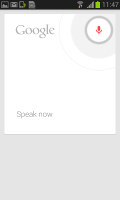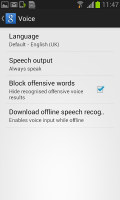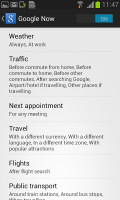 Asking Google's Knowledge Graph a question
One big advantage of Google's Jelly Bean is that the voice typing functionality doesn't require an internet connection to work. You can enter text by speaking anywhere you can use the on-screen keyboard - be it the Messaging app or a note taking app - without the need for a data connection as long as you have pre-downloaded the needed language packs (and those only take about 20-25MB of your storage per pack).
Making voice typing available offline also made it faster as it's not dependent on your connection. What's even more impressive is that the transition hasn't cost it anything in terms of accuracy.
Synthetic benchmarks
The Samsung Galaxy Core is built with the purpose of being light on the wallet and that includes skimping on a powerful chipset. The SoC in charge is the Snapdragon S4 Play and it features two 1.2 GHz Cortex-A5 cores alongside 1 GB of RAM and the Adreno 203 graphics processing unit.
BenchmarkPi and Linpack focus on the chipset's processing abilities, testing single-core and multi-core performance respectively. Here the Cortex-A5s unexpectedly failed to impress.
Benchmark Pi
Lower is better
Samsung Galaxy S4 mini
166
Sony Xperia Z
264
HTC Butterfly
266
Oppo Find 5
267
HTC One X+
280
LG Optimus G
285
HTC One mini
293
Samsung Galaxy Express
346
Sony Xperia M
400
Samsung Galaxy S II Plus
409
Sony Xperia L
435
Samsung Galaxy S III mini
499
Sony Xperia go
543
HTC Desire 600 dual sim
554
Samsung Galaxy Core
578
HTC Desire X
639
Sony Xperia E dual
800
Samsung Galaxy Young
831
Linpack
Higher is better
Samsung Galaxy S4
788
HTC One
646
Sony Xperia Z
630
HTC Butterfly
624
LG Optimus G
608
Samsung Galaxy S4 mini
413
Sony Xperia SP
348
HTC One mini
320
Nexus 4
213.5
Sony Xperia L
191
HTC One X+
177
Samsung Galaxy S III
175
Sony Xperia M
168.3
HTC One X
160
LG Optimus 4X HD
141
HTC Desire 600 dual sim
107.7
Samsung Galaxy Core
85
Geekbench 2 test out the CPU performance as well as memory performance. Here the Galaxy Core managed to come in last - far behind the quad-core Desire 600.
Geekbench 2
Higher is better
Samsung Galaxy S4
3227
HTC One
2708
Sony Xperia Z
2173
HTC Butterfly
2143
Samsung Galaxy S4 mini
1937
Sony Xperia SP
2105
LG Optimus G
1723
LG Optimus 4X HD
1661
iPhone 5
1601
HTC One mini
1417
Sony Xperia L
1073
Sony Xperia M
973
HTC Desire 600 dual sim
970
Samsung Galaxy Core
678
AnTuTu and Quadrant are compound benchmark, giving the CPU, GPU and memory a run. The Galaxy Core outpaced the Galaxy Xcover 2 in this test but couldn't muster enough to match better spec'd competitors.
AnTuTu
Higher is better
HTC One
22678
Sony Xperia Z
20794
Oppo Find 5
15167
Samsung Galaxy S4 mini
14518
HTC Butterfly
12631
HTC One mini
11434
HTC Desire 600 dual sim
11203
Sony Xperia M
9902
Sony Xperia L
9746
Nokia Lumia 620
9140
Samsung Galaxy Core
7408
Samsung Galaxy Xcover 2
6650
Quadrant
Higher is better
Samsung Galaxy S4 mini
7153
HTC One mini
6048
Sony Xperia V
5816
HTC Desire 600 dual sim
5053
Samsung Galaxy Express
4998
Sony Xperia L
4279
Sony Xperia M
4147
Samsung Galaxy Core
3152
The Adreno 203 is among the lowest-powered GPUs around but it's still worth checking out what it can do in the big boys' benchmarks so here go the GLBenchmark Egypt 2.5 and T-Rex 2.7 in 1080p offscreen - meaning we test raw processing power, rather than real-life performance. As expected the Galaxy Core failed pretty miserably here.
GLBenchmark 2.5 Egypt (1080p off-screen)
Higher is better
Samsung Galaxy S4 (Octa)
43
Samsung Galaxy S4 (S600)
41
Google Nexus 4
32
Sony Xperia Z
31
Sony Xperia SP
31
Apple iPhone 5
30
LG Optimus G
21
Samsung Galaxy Mega 6.3
17
Samsung Galaxy S4 mini
17
HTC One mini
15
Sony Xperia M
12
HTC One X
11
Samsung Galaxy Core
4.5
GLBenchmark 2.7 T-Rex (1080p off-screen)
Higher is better
Samsung Galaxy S4 (S600)
17.1
Samsung Galaxy S4 (Octa)
17.1
Samsung Galaxy S4 Active
16
LG Optimus G
13.9
Sony Xperia Z
13.5
Samsung Galaxy S4 mini
6.4
Samsung Galaxy Mega 6.3
6.3
HTC One mini
5.6
Sony Xperia M
4.7
Samsung Galaxy Core
1.5
Epic Citadel is rendered on-screen meaning it also factors in screen resolution. The Samsung Galaxy Core offered a framerate that's borderline playable, suggesting it can't really handle heavier games.
Epic Citadel
Higher is better
Samsung Galaxy S4 (Octa)
59.8
Samsung Galaxy S4 (S600)
57.1
HTC One
56.4
HTC One mini
56
Sony Xperia Z
55.6
Samsung Galaxy Mega 6.3
55.5
Samsung Galaxy S4 mini
54.7
Nexus 4
53.9
Asus Padfone 2
53.4
Sony Xperia M
53.2
LG Optimus G
52.6
Samsung Galaxy S III
41.3
Samsung Galaxy Core
24.9
Moving on to JavaScript and HTML 5 performance. SunSpider gives JavaScript the rundown, BrowserMark 2 is HTML 5-focused while Vellamo centers on both.
JavaScript performance was middling although it managed to surpass some more expensive droids, while HTML 5 performance was along the same lines.
SunSpider
Lower is better
Samsung Galaxy S4 mini
1185
Samsung Galaxy S4 Active
1196
HTC One mini
1237
HTC 8S
1413
Nokia Lumia 620
1435
Samsung Galaxy Express
1654
HTC Desire 600 dual sim
1660
Sony Xperia M
1867
Samsung Galaxy Core
2197
HTC Desire X
2259
Sony Xperia L
2539
Sony Xperia E dual
2824
Sony Xperia J
2853
Samsung Galaxy Young
3578
The Vellamo scores was in line with the rest of the web browsing benches.
BrowserMark 2
Higher is better
Samsung Galaxy S4 mini
2314
HTC One
2262
Sony Xperia Tablet Z
2170
HTC One mini
2164
Sony Xperia V
1957
Sony Xperia L
1809
Sony Xperia M
1642
HTC Desire 600 dual sim
1592
HTC 8S
1556
Nokia Lumia 620
1469
Samsung Galaxy Core
1469
Samsung Galaxy Express
1154
Sony Xperia E
992
Sony Xperia E dual
975
Samsung Galaxy Young
908
Samsung Galaxy S III mini
714
Vellamo
Higher is better
Sony Xperia SP
2497
HTC One
2382
HTC One mini
2252
Sony Xperia Z
2189
Samsung Galaxy S4
2060
Samsung Galaxy S4 mini
2019
HTC Butterfly
1866
Sony Xperia M
1800
Sony Xperia L
1640
HTC Desire 600 dual sim
1572
LG Optimus 4X HD
1568
LG Optimus G
1522
Samsung Galaxy Core
1366
Nexus 4
1310
Samsung Galaxy Fame
1234
Samsung Galaxy Young
1072
Sony Xperia E dual
1065
As you can see, the Galaxy Core is far from a powerhouse. It will get the job done as long as you are not in a hurry, but don't expect to be impressed by its gaming performance or loading times. The smartphone does quite decently at browsing the web, though.
Of course, you should keep in mind that the devices atop the lists were, in each and every case, far more expensive so it's only natural that they would be superior in terms of hardware.