TouchWiz gallery is good
The Samsung Galaxy Core comes with the TouchWiz flavor gallery. It opens up in Album view, which is what we're used to seeing. Rather than the familiar stacks, the app uses a grid of photos, two on a line.
Besides Album view, photos can also be sorted by Location, Time, Person (photos with tagged faces) and Group.
Getting inside an album displays all the photos in a rectangular grid, which is horizontally scrollable. When you try to scroll past the end, the photo thumbnails will tilt to remind you you're at the bottom of the list.
When viewing a single photo, you'll find several sharing shortcuts and a delete button above the photo, while below is a line of small thumbnails of all other photos in the album. You can tap those small thumbnails to move to other images or you can just swipe sideways.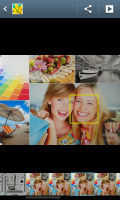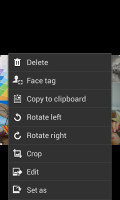 Viewing a single photo • Simple editing options
The Gallery also supports highly customizable slideshows with several effects to choose from, as well as customizable music and speed. You can also highlight specific images to be included in the slideshow.
When viewing a photo with people's faces in it, the Galaxy Core will try to detect them automatically (and you can manually highlight faces where it fails). Buddy photo share will use your contacts' profiles to try and recognize people automatically.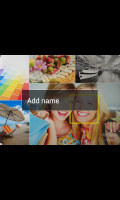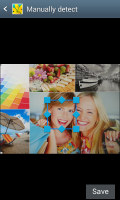 Putting a name to the face • Manually marking a face
Social tag makes sure that whenever a face is recognized in the photo, their status message appears and you can easily call or message that contact.
Music player with SoundAlive
The Galaxy Core employs the same TouchWiz-ed music player as with most droids in Samsung's lineup. Samsung has enabled equalizer presets (including a custom one) along with the sound-enhancing SoundAlive technology, which features 7.1 channel virtualization. The company also uses SoundAlive in some of their MP3 and Android-powered media players.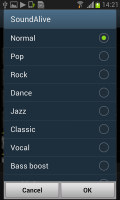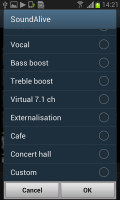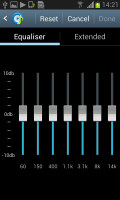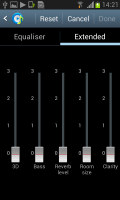 SoundAlive offers an extensive list of presets • Creating a custom preset
The music is sorted into various categories and one of the options, called Music square, is quite similar to the SensMe feature of Sony phones. It automatically rates a song as exciting or calm, passionate or joyful and places those tracks on a square (hence the name).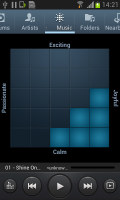 Music square creates automatic playlists based on your mood
From here, you can highlight an area of the square and the phone will automatically build a playlist of songs that matches your selection.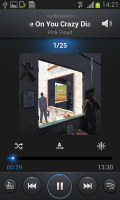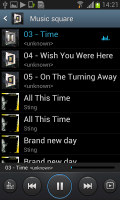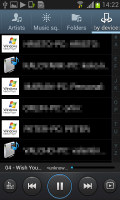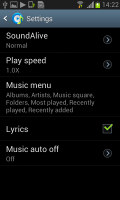 The music player benefits greatly from the TouchWiz UI
You can swipe the album art left and right to skip songs. You can also put the phone face down to mute the sound or place your palm over the screen to pause playback.
If you've enabled the Motion gestures, you can mute and pause a track by placing the phone face down.
Okay video player
The video player offers several view modes - grid, list, folders and nearby devices (which lists DLNA devices).
There's no Pop up play on the Galaxy Core.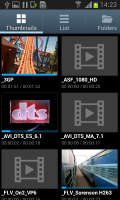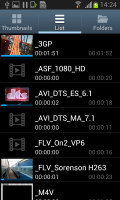 Browsing the video gallery • The pop up play can be resized
The video player lets you choose between three view modes for how the video fits the screen (fit to screen, fill screen, 100% resolution). The SoundAlive audio-enhancing technology is available here too.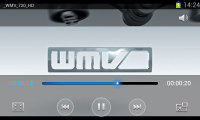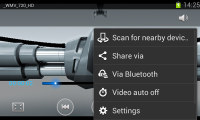 The video player has a simple interface but is quite capable
Samsung droids usually have excellent video players, but this one wasn't quite up to par. It can't play 1080p videos,due to the limited chipset and lacks support for MKV files. It sticks to MP4 and AVI (and some XviD files didn't play smoothly).
The video player lets you tweak the viewing experience out of the screen by adjusting video brightness, Auto play next, play speed, SoundAlive and enable subtitles.
The Samsung Galaxy Core did win some points for its subtitles support. It scans for all subtitles, so the file doesn't have to have the same name as the video file.
FM Radio with RDS, broadcast recording
The Galaxy Core is equipped with an FM radio with RDS too. The interface is simple - there's a tuning dial and you can save as many as 12 stations as favorites. You can also play on the loudspeaker, but the headset is still needed as it acts as the antenna. You can record radio broadcasts as well.
Decent audio output
The Samsung Galaxy Core showed decently clean output in the first part of our traditional audio quality test, posting some very good scores with the frequency response being the only exception. Unfortunately volume levels are below average, too, so it's only worth a good rather than excellent mark here.
There's some degradation when you plug in a pair of headphones, but it is barely noticeable outside of dedicated audio labs. The stereo crosstalk rises notably, but that's about it - the rest of the readings remain unchanged. Unfortunately, volume levels remain pretty low so the Galaxy Core simply confirms its first-part rating.
And here go the results so you can see for yourselves.
| | | | | | | |
| --- | --- | --- | --- | --- | --- | --- |
| Test | Frequency response | Noise level | Dynamic range | THD | IMD + Noise | Stereo crosstalk |
| Samsung Galaxy Core | +0.20, -1.25 | -89.5 | 89.4 | 0.012 | 0.089 | -85.2 |
| Samsung Galaxy Core (headphones attached) | +0.22, -1.34 | -89.0 | 88.4 | 0.023 | 0.158 | -47.0 |
| Samsung Galaxy S4 mini | +0.06, -0.05 | -93.5 | 92.7 | 0.0090 | 0.056 | -86.2 |
| Samsung Galaxy S4 mini (headphones attached) | +0.08, -0.04 | -93.2 | 91.8 | 0.029 | 0.089 | -53.3 |
| Sony Xperia L | +0.11, -0.10 | -87.0 | 87.1 | 0.0085 | 0.047 | -88.0 |
| Sony Xperia L (headphones attached) | +0.58, -0.12 | -86.7 | 86.8 | 0.010 | 0.169 | -58.5 |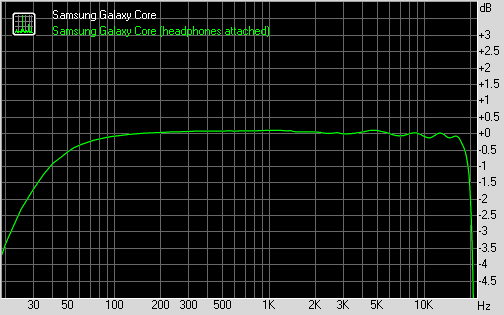 Samsung Galaxy Core frequency response
You can learn more about the whole testing process here.
You can learn more about the whole testing process here.