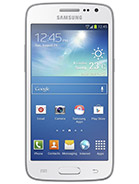 M
No FM Radio in my SM-G386W with Telus... And with my searches all others SM-G386W doesn't have.

Am I wrong ?
HELP !
h
Operation rules are totally opaque. Whatever happened to menus? I totally question a phone system where you have to go online to learn how to do the most basic things. I'm not stupid, but it took me weeks to find out how to listen to voice-mail messages.
?
Anyone notice you have to hold the on button a long time to get it to turn on?
D
Bought in Canada for $200 bnib to replace stolen SonyZ3 in Cuba.

Decent screen, you get used to the size. Camera shutter on the slow side but definitely serviceable. Not as zippy as a high end phone, but not laggy. Run Google Now launcher, which for some reason improves battery life which is just shy of a day with moderate usage. Biggest complaint is probably battery.

No FM Radio as specified.

Decent entry to low/mid level phone. Compared to motoG 2nd Gen it has LTE. Also looked at Motor 2nd Gen and XperiaM2.


G
I had purchased this phone about 3 months now and I am pleased to say it's my best phone to date. I haven't had any problems yet and the battery life is AMAZING. Can't go wrong with the price also. I recommend this phone for anyone that's trying to save a buck and look good at the same time. Great job Samsung!!
D
Nice one, I like it. It much beter than S 3 except screen resolution.

D
Nice one, I like it. It much beter than S 3 except screen resolution.

a
Specs are all fine .... Why the hell just 720p video recording and poor Processor
Total of 55 user reviews and opinions for Samsung Galaxy Core LTE G386W.