Super AMOLED 5.5-inch display of 720p resolution
The Samsung Galaxy E7 comes with a 5.5-inch display, the largest in the E-series lineup. Its resolution is 720 x 1,280 pixels and that amounts to about 267ppi - not particularly impressive but still acceptable. After all, a FullHD Super AMOLED panel would have meant a higher price tag and also might have eaten into the Galaxy A7's sales.
The screen delivers vivid colors, as expected from Super AMOLED, but there aren't different color modes as in higher-end Samsung devices. Most target users will be happy with the default punchy output, though.
The Galaxy E7 lacks an ambient light sensor, and the brightness of the display can only be adjusted manually with a slider. You do get an Outdoor mode, which you have to enable also by hand. The setting overrides the slider and takes the brightness up a notch from its regular maximum illumination. The Outdoor mode remains on for 15 minutes, and if you happen to still be using the phone after that period has elapsed, it'll remain on, until you send the phone back to sleep. It's not an exact replacement of a proper ambient light sensor, but it's something.
Another setting claims to adjust the screen brightness according to the displayed content in an attempt to conserve power. There's also the Smart stay feature which utilizes the front camera to keep the display on while you're looking at it. A glove mode is also enabled to increase touch sensitivity for those cold winter days.
The SuperAMOLED screen on the Galaxy E7 makes use of an RGB pixel arrangement, which features a green and red subpixel plus a taller, but thinner blue subpixel. It's the same pixel arrangement that we've seen on the Galaxy Note II N7100 back in 2012 and on the Galaxy A3 earlier this year. The reason for the different Blue pixel size is that the blue subpixels on AMOLEDs typically have a shorter life and making them bigger balances things out. Being bigger, the blue pixel doesn't need to emit as much light to match the other two, which helps it last longer without affecting color balance.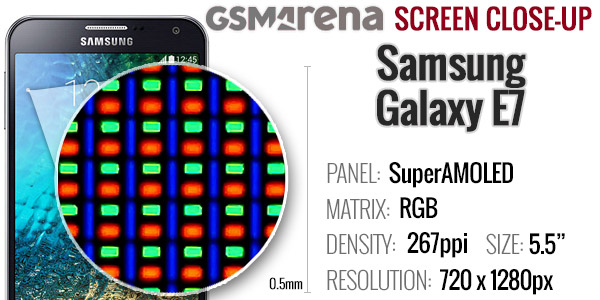 The Galaxy E7 proved very bright indeed. With Outdoor mode enabled brightness reaches upwards of 500nits, on par with the Galaxy S5 and therefore very bright for an AMOLED panel. The 50% setting is more like 40% of the maximum brightness, pretty good in a world where linear adjustment sliders are getting increasingly rare to come by. Contrast is inherently infinite, as AMOLEDs keep black pixels off.
Display test
50% brightness
100% brightness
Black, cd/m2
White, cd/m2
Contrast ratio
Black, cd/m2
White, cd/m2
Contrast ratio
Samsung Galaxy E7
0
221
∞
0
517
∞
Samsung Galaxy A7
0
175
∞
0
349
∞
Samsung Galaxy Note 3 Neo
0
142
∞
0
389
∞
Asus Zenfone 2 ZE551ML
0.13
107
796
0.44
390
879
Sony Xperia C3 Dual
0.13
152
1207
0.56
642
1153
OnePlus One
0.39
317
805
0.75
598
799
HTC Desire 816
0.15
164
1087
0.46
478
1032
HTC Desire 820
0.18
235
1299
0.45
598
1327
Samsung Galaxy S5
0
274
∞
0
529
∞
The Galaxy E7 aced the sunlight legibility test with a record score in the post Nokia 808 PureView era - truly impressive.
Sunlight contrast ratio
Nokia 808 PureView
4.698
Samsung Galaxy E7
4.485
Samsung Galaxy A3
4.241
Samsung Galaxy S6
4.124
Samsung Galaxy Note 4
4.033
Apple iPhone 5
3.997
Samsung Galaxy Note 3
3.997
Samsung Galaxy A5
3.895
Apple iPhone 6
3.838
Motorola Moto X (2014)
3.816
Samsung Galaxy Note Edge
3.799
Samsung Galaxy A7
3.679
Oppo R5
3.678
Samsung Galaxy K zoom
3.675
Nokia Lumia 930
3.567
Apple iPhone 5s
3.565
Samsung Galaxy S5
3.549
Nokia Lumia 735
3.547
Motorola Nexus 6
3.543
Alcatel Idol X+
3.527
Apple iPhone 5c
3.512
Samsung Galaxy Alpha
3.509
Samsung Galaxy Note 3 Neo
3.487
LG G Flex2
3.465
YotaPhone 2
3.453
Motorola RAZR MAXX
3.42
Samsung I9300 Galaxy S III
3.419
Samsung Galaxy S5 Active
3.406
Nokia Lumia 925
3.402
Gionee Elife S5.5
3.386
Samsung I9505 Galaxy S4
3.352
Samsung Omnia W
3.301
Samsung Galaxy S5 mini
3.174
Samsung I9000 Galaxy S
3.155
Samsung Ativ S
3.129
Samsung I9190 Galaxy S4 mini
3.127
Samsung Galaxy S4 zoom
3.118
Nokia N9
3.069
Apple iPhone 6 Plus
3.023
Samsung Galaxy Note
2.97
Samsung Galaxy Premier
2.958
Sony Xperia Z1
2.95
HTC One S
2.901
Lenovo S90 Sisley
2.892
Samsung I8730 Galaxy Express
2.861
BlackBerry Q10
2.856
Samsung I9100 Galaxy S II
2.832
HTC Desire Eye
2.815
Gionee Elife S5.1
2.812
Samsung Galaxy S II Plus
2.801
BlackBerry Z30
2.79
Meizu MX4 Pro
2.765
Sony Xperia ZR
2.672
Huawei Ascend P1
2.655
Sony Xperia Z3
2.618
Sony Xperia Z3 Compact
2.616
Sony Xperia T3
2.609
BlackBerry Passport
2.595
Nokia Lumia 900
2.562
Motorola Moto G 4G
2.546
HTC One Max
2.537
Nokia Lumia 720
2.512
HTC One
2.504
Motorola Moto G
2.477
vivo Xshot
2.465
Sony Xperia Z
2.462
Xiaomi Mi 4
2.424
Samsung Galaxy S III mini
2.422
Lenovo Vibe Z2 Pro
2.416
LG G Flex
2.407
HTC Desire 820
2.372
HTC One (M8)
2.371
Meizu MX4
2.366
Motorola RAZR i
2.366
Meizu m1 note
2.362
Sony Xperia ZL
2.352
HTC One M9
2.334
HTC One (M8) for Windows
2.291
Oppo Find 7a
2.279
Alcatel One Touch Hero
2.272
Apple iPhone 4S
2.269
HTC Desire 600 dual sim
2.262
Nokia Asha 311
2.25
Xiaomi Mi Note
2.234
Motorola Moto G (2014)
2.233
LG Nexus 5
2.228
Nokia Lumia 820
2.193
HTC One (E8)
2.185
Oppo N3
2.181
Nokia Lumia 920
2.17
Huawei Honor 6
2.169
HTC One X
2.158
Asus Zenfone 2 ZE551ML
2.149
LG Aka
2.145
Nokia N8
2.144
Nokia Lumia 620
2.142
Archos 50 Diamond
2.134
Nokia 515
2.134
HTC Desire 500
2.129
Sony Xperia C3 Dual
2.12
Xiaomi Redmi Note
2.119
Sony Xperia acro S
2.119
Nokia Lumia 1020
2.103
Oppo Find 5
2.088
Sony Xperia SL
2.078
Nokia Lumia 630
2.056
BlackBerry Z10
2.051
Huawei Ascend Mate7
2.024
Samsung I9295 Galaxy S4 Active
2.022
Apple iPhone 4
2.016
HTC One mini
2.003
Xiaomi Mi 3
2.001
Huawei Ascend P7
1.992
LG G2
1.976
Sony Xperia E4g
1.972
OnePlus One
1.961
Oppo R819
1.957
Sony Ericsson Xperia ray
1.955
Lenovo Vibe X2
1.952
Sony Xperia Z2
1.944
Sony Xperia E3
1.943
Nokia Lumia 1320
1.941
HTC One mini 2
1.94
Samsung Galaxy Camera
1.938
Samsung Galaxy Grand Prime
1.935
Sony Xperia J
1.932
Acer CloudMobile S500
1.931
ZTE Blade S6
1.927
LG Nexus 4
1.926
LG G Pro 2
1.922
Samsung Galaxy Mega 6.3
1.913
Nokia Asha 308
1.911
HTC Butterfly 2
1.905
Sony Xperia T
1.894
Nokia Lumia 830
1.887
HTC Desire X
1.878
HTC Windows Phone 8X
1.873
HTC Butterfly
1.873
HTC Butterfly S
1.867
Huawei Ascend P6
1.865
Huawei Ascend Mate
1.845
LG G2 mini
1.838
LG G3
1.82
Nokia Lumia 1520
1.813
HTC Desire 616 dual sim
1.797
Sony Xperia V
1.792
HTC Desire 816
1.783
Sony Xperia Z1 Compact
1.772
HTC Desire 700 dual sim
1.769
Sony Xperia U
1.758
Meizu MX3
1.754
LG Optimus G
1.753
Sony Xperia T2 Ultra
1.74
Sony Xperia Z3 Tablet Compact
1.735
Acer Liquid Jade S
1.734
Sony Xperia SP
1.733
Oppo Find 7
1.691
LG Optimus 4X HD
1.691
HTC One V
1.685
BlackBerry Q5
1.682
LG Optimus Vu
1.68
Xiaomi Mi Pad 7.9
1.672
LG Optimus GJ
1.666
LG Optimus 3D Max
1.658
HTC Desire V
1.646
Samsung Galaxy Xcover 2
1.632
Samsung Galaxy Ace 3
1.622
Jolla Jolla
1.605
Sony Xperia Z Ultra
1.578
Sony Xperia go
1.577
Samsung Galaxy Ace 2 I8160
1.566
Samsung Galaxy Core
1.563
LG Optimus G Pro
1.552
Motorola Moto E
1.545
LG Optimus 3D
1.542
Nokia Asha 302
1.537
Samsung Galaxy Core Prime
1.507
BlackBerry Curve 9320
1.488
Sony Xperia M
1.473
Oppo N1
1.47
Sony Xperia E4
1.467
Meizu MX 4-core
1.462
Nokia Lumia 610
1.432
Samsung Galaxy S Duos
1.4
Sony Xperia M2
1.393
Samsung Galaxy Grand Neo
1.393
Microsoft Lumia 535
1.393
Samsung Galaxy Grand 2
1.38
Sony Xperia E1
1.372
Nokia Lumia 625
1.371
Gigabyte GSmart G1355
1.361
Sony Xperia L
1.351
Xiaomi Redmi 1S
1.35
Samsung Galaxy Mega 5.8
1.35
HTC Desire 510
1.34
Sony Xperia M2 Aqua
1.331
Sony Xperia miro
1.324
Samsung I9082 Galaxy Grand
1.321
Samsung I8530 Galaxy Beam
1.315
Xiaomi Redmi 2
1.311
HTC Desire C
1.3
Nokia X
1.291
Sony Xperia C
1.283
Nokia Asha 503
1.281
Nokia Asha 501
1.27
LG Optimus L7
1.269
Nokia Lumia 510
1.268
Samsung Galaxy Fame
1.245
LG Optimus L9
1.227
Meizu MX
1.221
Samsung Galaxy Young
1.22
Sony Xperia E
1.215
Nokia XL
1.204
Sony Xperia E dual
1.203
Asus Memo Pad 7 ME176C
1.198
Samsung Galaxy Pocket
1.18
Nokia Asha 305
1.178
Nokia Asha 306
1.175
Sony Xperia neo L
1.169
Sony Xperia tipo
1.166
Nokia Lumia 520
1.161
Samsung S6802 Galaxy Ace Duos
1.148
Samsung Galaxy mini 2
1.114
Battery life test
The Samsung Galaxy E7 is quite heavily equipped in the battery department. Its cell packs 2,950mAh worth of juice, as opposed to the Galaxy A7's 2,600mAh. That one managed rather good numbers in the battery autonomy tests, and with less than half the pixels, we should expect the Galaxy E7 to perform even better.
It didn't quite turn out like that. While the 15 hours of video playback are remarkable, the 8 or so hours of web browsing are only average. At around 20 hours, 3G voice calls are also on the positive side.
We do measure standby times as part of our battery test routine, and while they're not explicitly stated on the scorecards, they are taken into account in the overall score. With a single SIM inside, the Galaxy E7 managed about 12 full days, and that dropped by a day when we popped in a second SIM card.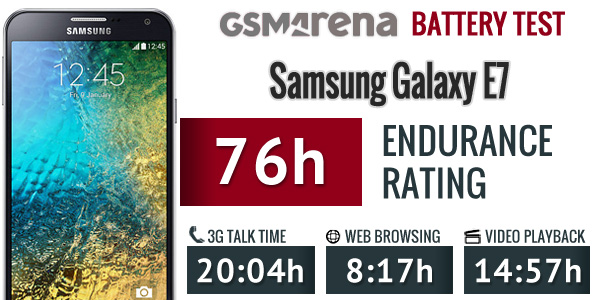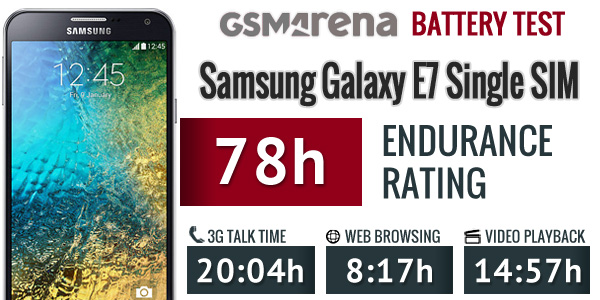 Dual-SIM support and LTE
Dual-SIM capability is a key feature of the device. A second phone line is a must-have for some, but everyone else isn't losing anything - they can just put a microSD in the extra slot and go about their business as usual. Even they may find themselves using the second SIM slot though, say a local card while traveling abroad with the main phone number remaining active for emergencies.
Anyway, you get LTE-Advanced Cat. 4 for mobile data, in other words 150Mbps worth of downlink and 50Mbps of uplink. You can select a preferred card for calls and which card is used for data, but only SIM1 has 4G and 3G connectivity, SIM2 is limited to 2G only. Mind you, the differentiation is made in software, and it doesn't really matter which card is in which slot.
The Galaxy E7 is a dual-SIM, dual-standby device so you can receive calls on one card even while talking on the other. It's not exactly dual-call, as it works by forwarding the call from the inactive to active card, but it has its use cases. This feature can be disabled to help with battery life.
Moving on, the phone supports single-band Wi-Fi b/g/n (but no 802.11a/ac) with Wi-Fi Direct and hotspot and Bluetooth 4.0. There's also ANT+ for use with sports sensors, if they don't support Bluetooth. Easy pairing is enabled with NFC support. The Samsung Galaxy A7 supports GPS and GLONASS for positioning.
The microUSB 2.0 port on the bottom of the phone does not support MHL so there's no TV out. You do get DLNA support for wireless connectivity with nearby compatible devices, and you also get screen mirroring. USB On-the-Go is supported, for connecting peripherals. A standard 3.5mm audio jack can accommodate the headphones of your choice.