13MP camera delivers
The Samsung Galaxy E7 comes well equipped in the camera department. The main shooter on the back employs a 13MP sensor and produces images up to 4,128 x 3,096 pixels, that's a 4:3 native ratio. It comes with a single-LED flash. On the front you get a 5MP snapper.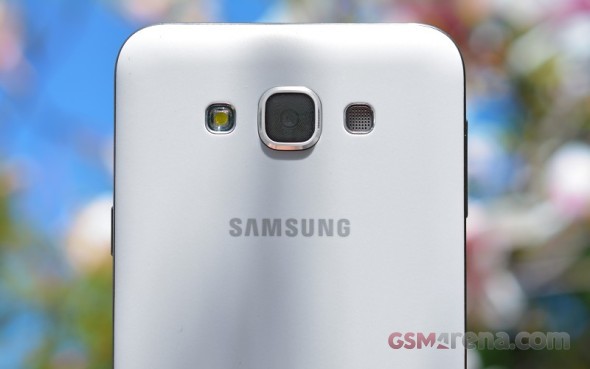 The interface is simple enough and combines still and video shooting.
Shooting modes are the usual affair, but you can set up which ones appear in the selector and hide the ones you don't use, a nice move to reduce the clutter. You can also download additional modes off the Galaxy app store.
The Samsung Galaxy E7 produces images with plenty of detail in high-contrast areas and little noise. Patches of similar color do suffer from aggressive processing though, and detail is lost - the stucco on the orange building has seen better renderings.
Dynamic range is not overly exciting and if you have a brightly light daytime scene you can expect some blownout highlights and pretty dark shadows. Colors were accurate though, and the tendency of the Galaxy A7 to output markedly warm images is not observed with the E7.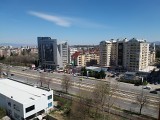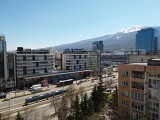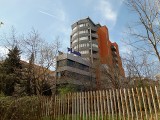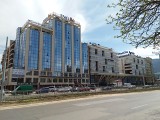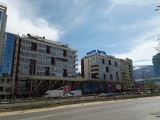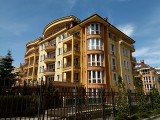 Samsung Galaxy E7 camera samples
There's an HDR mode (Samsung calls it Richtone), which works conservatively and brings out more detail from the shadows. There's a noticeable color shift towards yellow, but nothing to be too concerned about. HDR photos are snapped quite fast and there's no increase in noise.
The Galaxy E7 packs plenty of selfie prowess and aside the obvious front 5MP unit, you can also use the more capable rear camera for the purpose. To aid in taking the shot, you place a rectangle where you plan your face to be, and the camera takes the shot when you align it properly.
The front camera packs a nifty feature of its own, dubbed Wide Selfie. It works similarly to a panorama and stitches three photos and makes the photo wide enough for you and a group of friends. You start with shooting the central frame, and then rotate the phone to the left and then to the right. Unfortunately, almost always these wide selfies come out with noticeable stitching issues. They also come out with less resolution than the normal ones - 2576 x 1932 pixels for normal selfies (5MP) and around 2000 x 1600 for wide selfies (3MP).
We also snapped a few close up images. The camera is capable of acquiring focus from fairly short distances and you can fill the frame with very small objects.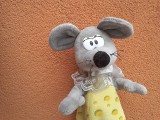 5MP selfie • Wide selfie • Macro shot
There's a panorama mode, but surprisingly, the implementation on the Galaxy E7 is not among the best out there. When shot in portrait, panoramas come out around 1,200 pixels tall and the whole image is about 1.2MB for a 150-degree shot. Stitching is excellent and the exposure is even, but detail isn't abundant.


Panorama shot with the Galaxy E7
You can refer to our photo compare tool to see how the Galaxy E7 stacks up against the competition.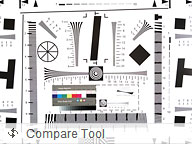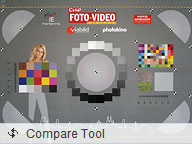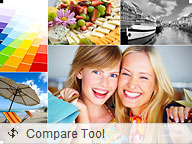 Samsung Galaxy E7 in our photo compare tool
Adequate 1080p videos
The video recorder on Samsung Galaxy E7 is capped at 1,920 x 1,080 pixels at 30fps. There are no fancy smooth or slow motion modes at 60fps or 120fps even at lower resolutions. There's obviously no 4K recording either.
The front camera can record 1080p video too in both landscape and portrait orientation, though you should obviously refrain from the latter.
FullHD videos are recorded at 17Mbps with a stable 30fps framerate. Sound is captured in stereo at 256Kbps bitrate and 48kHz sampling rate.
The resulting images contain a good amount of detail. White balance is accurate, but the limited dynamic range is even more evident. More annoyingly, the continuous autofocus is overeager in constantly adjusting while shooting.
You can download an untouched 1080p sample (00:17min, 35MB) straight off the device or watch the sample we uploaded to YouTube.
Finally, you can have a look at our dedicated video comparison tool below.