Exciting start
Samsung Galaxy Exhilarate review: Exciting start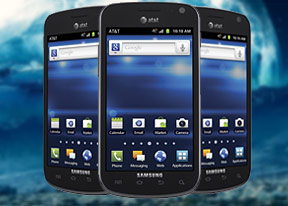 User interface: Android Gingerbread and TouchWiz 4.0
The Samsung Galaxy Exhilarate runs Android 2.3.6 Gingerbread with Samsung's TouchWiz launcher out of the box. The user experience is the same as with many other recent Samsung devices, which we've encountered in the past. Check it out on video below.
The lockscreen holds no surprises. It can be swiped away in any direction. The cool feature where missed events (messages, calls etc.) get their own unlock patterns is here too.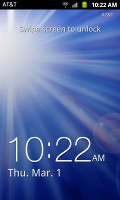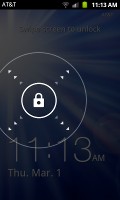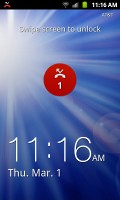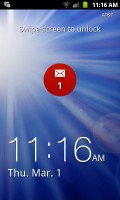 The lockscreen is business as usual
The homescreen accommodates tons of widgets with lots of functionality. You can have up to 7 homescreens. A pinch zoom brings you to an aggregate view of all homescreen panes, which can be edited: rearranged, deleted or added.
Widgets, shortcuts or folders are pulled onto the homescreen from a drawer that appears at the bottom of the screen once you enter edit mode (press and hold on an empty spot or do Menu > Add).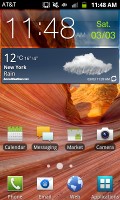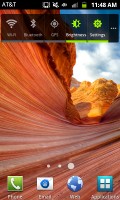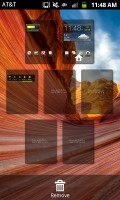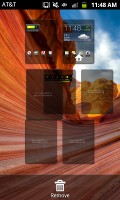 The Galaxy Exhilarate homescreen • Editing the homescreen
The numbered dots that identify the homescreen panels serve as a scroll bar too. A press and hold on the dots lets you scroll sideways through the resized images of the available homescreen panes in one short go rather than with several swipes.
The app launcher is very similar to the homescreen - you can create folders to go with your shortcuts and you can add, remove and rearrange pages just like you would homescreens.
You can choose List view instead of the regular grid view if you prefer.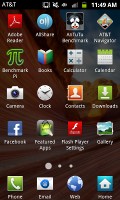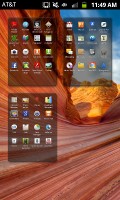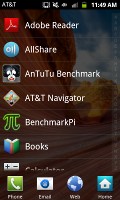 The app launcher • Rearranging pages in the app launcher • List view
In typical TouchWiz fashion, there are four shortcuts docked at the bottom of the screen that are visible both on the homescreen and in the app launcher. You can swap the first three with different ones (by default the shortcuts are Phone, Contacts, Messaging), the fourth one being locked. It's the app drawer/home shortcut so it makes sense to always keep it in the same place.
The notification area has been slightly remodeled in TouchWiz 4.0, but there aren't any major changes to the functionality there.
The custom task manager, which Samsung have preinstalled, offers a lot of functionality. It also comes with a handy widget which shows you the number of active applications right on your homescreen.
The Samsung Galaxy Exhilarate comes with a modest amount of preinstalled AT&T apps. Thankfully, most of them can be removed out of the box.
Synthetic benchmarks
Benchmark Pi
Lower is better
Samsung Galaxy Nexus
408
Samsung Galaxy S II (ICS)
452
Samsung Galaxy S Advance
530
Sony Xperia S
536
Sony Xperia P
539
Sony Xperia ion
618
Samsung Exhilarate i577
657
Linpack
Higher is better
Sony Xperia ion
89.8
Sony Xperia S
86.4
Samsung Galaxy S II (ICS)
77.6
Samsung Exhilarate i577
77.1
Samsung Galaxy Nexus
72
Samsung Galaxy S Advance
64.74
Sony Xperia P
66.9
SunSpider
Lower is better
Samsung Galaxy Nexus
1863
Apple iPhone 4S (iOS 5.1)
2217
Sony Xperia S
2587
Sony Xperia ion
2636
Samsung Galaxy S Advance
2663
Sony Xperia P
2784
Samsung Exhilarate i577
3263
BrowserMark
Higher is better
Samsung Galaxy S II (ICS)
111853
Samsung Galaxy Nexus
103591
Samsung Galaxy S Advance
81557
Sony Xperia S
74708
Sony Xperia ion
74990
Sony Xperia P
72237
Samsung Exhilarate i577
56059
NenaMark 2
Higher is better
Samsung Exhilarate i577
53.2
Samsung Galaxy S II (ICS)
51.6
Sony Xperia S
37.5
Sony Xperia ion
37.3
Samsung Galaxy Nexus
24
Sony Xperia P
29.9