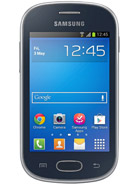 ?
This phone feels like a throwback
I remember i had this phone 2 years ago
everyone had a better phone but still this phone was great
RIP tho last comment for 2019
?
Here on 2019. Feels like an ant
D
This phone is sooo almost great! it really needed a better processor, if it had even a slightly better processor it would be the ultimate economy high performance work phone
D
even though the pics seem to be a bit blurry, i love my phone.. its a great handset to own
H
Hello.Im from Iran.I think its one of the best phones and ilike it alot.yesterday was my birthday and my father bought it for me.
Total of 5 user reviews and opinions for Samsung Galaxy Fame Lite Duos S6792L.