First look
Samsung Galaxy Note 10.1 preview: First look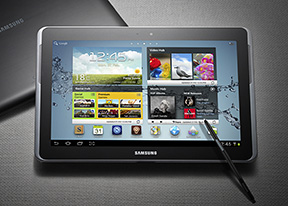 S Pen and S Apps
The S Pen has a surprising wealth of functionality in terms of writing or drawing, but it can also be used to navigate the UI. With the button on its side, you can do gestures - a swipe left is back, a swipe down opens up the context menu and a double tap opens the S Memo mini app.
The S Memo app lets you scribble notes with the S Pen (or your finger). You can use various pen styles and colors. There are undo/redo buttons and an eraser if you mess something up. You can insert images from the gallery, other memos and even part of a map.
The app also has some pretty advanced functionality. It can recognize shapes, for example, so our squiggly squares and circles looked perfect. It can do standard text recognition too and, more impressively, recognize and calculate mathematical formulas!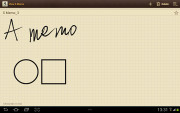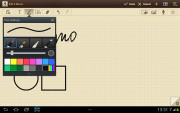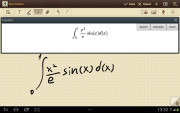 Pen Memo is an easy way to jot down notes
The S Note offers several templates that you can use to design professional looking cards that you can later export as an image file or PDF. They can have multiple pages too - PDFs are more convenient here as they keep all pages in one document. S Note is a great way to prepare presentations on the Galaxy Note 10.1.
Keep in mind that while in edit mode, you can use two fingers to pan around a document (using just one would draw a line instead).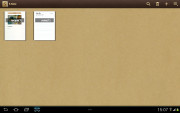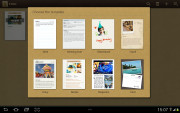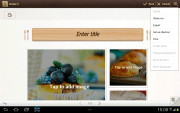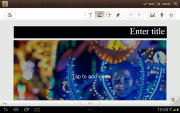 S Note is a capable tool for creating colorful cards of slideshows
The S Planner is a custom calendar that has a lot of different views - Year, Month, Week, Day, Agenda and Task. It can sync up with several calendars (including the one from Facebook) and you can choose which ones are visible.
The app is quite handy - with the month view in portrait, you can select a day and all events for that date will be listed at the bottom of the screen.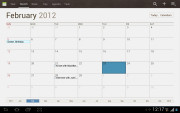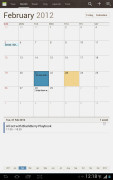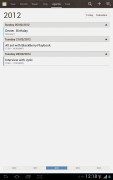 S Planner is a comprehensive calendar
Photoshop Touch and Adobe Ideas
Photoshop Touch makes a serious bid to replace desktop Photoshop and make the Samsung Galaxy Note 10.1 a dedicated tablet for artists. It's fairly simple to use with an intuitive interface but there's a set of 13 tutorials just in case to teach you how to use the app. They come with all the required photos preloaded too.
Photoshop Touch features most of the things you're used to in the desktop apps - layers with opacity and blend modes (no layer styles though), various image adjustments and effects, selection tools, clone stamp tool and so on.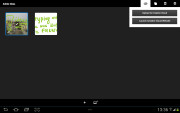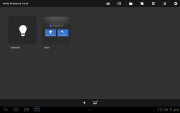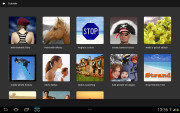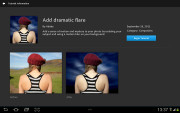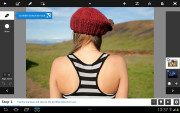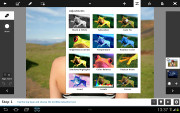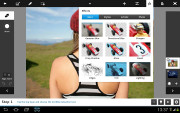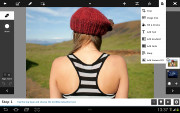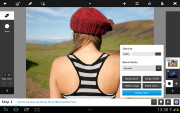 Photoshop Touch on the Samsung Galaxy Note 10.1
One cool thing about the S Pen is that you can hover - keep the stylus a few millimeters away from the screen and the app will display a cursor tracking the S Pen. This will really help you aim better.
Another thing that improves accuracy is that you can rest your hand on the screen and it won't register as a touch. Having to keep your hands above the screen gets pretty tiring, so this is a great feature. It also gives you better accuracy with the S Pen.
Using a stylus is already a more natural way to draw than your fingers, but the S Pen has one extra feature - it allows you to use different amounts of pressure, which dynamically control the brush width. It's very sensitive and there are a lot of pressure levels available.
Adobe Ideas is a much more basic sketching tool. It has two layers - one to draw on and another one as a background image. You only get a brush (with customizable size, color and opacity) and an eraser.
Ideas is meant to let you quickly sketch things to later upload to Adobe's Creative Cloud.