Double vision
Samsung Galaxy Grand 2 review: Double vision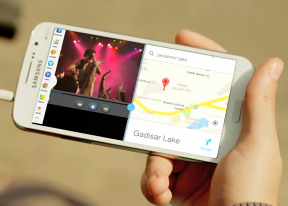 Phonebook
The full-featured phonebook is divided into sections that are straightforward and easy to navigate. A call or a message to someone can be initiated directly from the contact list with a right and left swipe respectively, which is really handy on the go and is currently a proprietary Samsung feature.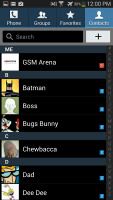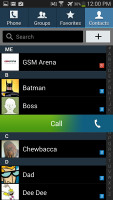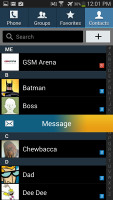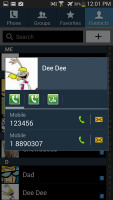 The phonebook has swipe options for quick dialing/texting
If the phone book finds duplicate contact entries, it'll prompt you to join them. Furthermore, you can view the call history, as well as join, unjoin and share contacts.
There's plenty of contact information you can assign to each contact and it still remains neatly organized.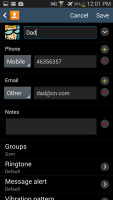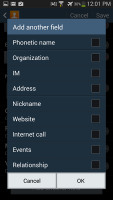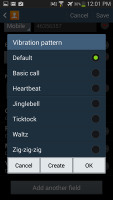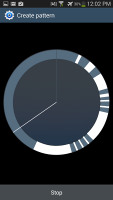 Editing a contact • Assign custom vibration
You can choose a specific vibration pattern as an incoming call alert for each of your contacts, just like you would a ringtone. A set of predefined patterns is offered, but you can make your own too.
Dual-SIM telephony supports native video calls
If you have the dual-SIM variant of the Galaxy Grand 2, you'll get a special dual-SIM interface in the settings menu. This lets you rename your SIM cards for easy identification (the Grand 2 will remember settings for specific SIMs), as well as choose which card to use for establishing mobile data network connections.
The notification are also has a quick toggle with which you can switch your active SIM card.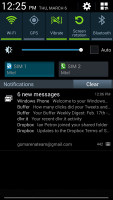 The SIM card toggle in the notification area
The Samsung Galaxy Grand 2 offers top great in-call audio and managed to hold onto reception with ease. Earpiece volume is great and Samsung has even gone as far as adding an in-call equalizer, which does wonders if you want an even louder experience.
Native video calls are available as well, right in the phone app.
The Galaxy Grand 2 has Smart Dial, which searches names and numbers simultaneously. Only one contact is shown (with contact photo) and you can tap the down arrow to view the rest of the matches (the number above the arrow indicates how many contacts have matched your query).
Voice dialing is on hand and it's taken care of by the S Voice service, which activates on a double tap of the home button. Or you can alternatively say "Hi Galaxy" while you have the phone unlocked and directly speak your command afterwards (e.g. "call Dexter"). It takes a while to process voice commands but it has more uses than other third-party voice-recognition apps for Android.
The call log is the tab next to the dial pad. It displays all the dialed, received and missed calls in one list sorting your call history by contacts.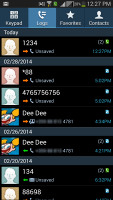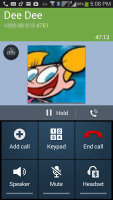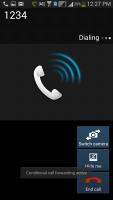 The call log • The in-call screens for audio and video calls
The Samsung Galaxy Grand 2 loudspeaker earned a Good score in our dedicated loudspeaker test, which means that you shouldn't have a hard time hearing notifications in all but the loudest of environments.
| | | | | |
| --- | --- | --- | --- | --- |
| Speakerphone test | Voice, dB | Pink noise/ Music, dB | Ringing phone, dB | Overal score |
| Sony Xperia Z1 (xLOUD) | 65.5 | 62.0 | 65.8 | Below average |
| Sony Xperia C (xLOUD) | 65.3 | 61.7 | 75.7 | Average |
| HTC Desire 600 dual sim | 66.8 | 64.6 | 75.7 | Average |
| Sony Xperia E dual | 66.6 | 74.4 | 62.3 | Average |
| Huawei Ascend P6 | 64.3 | 66.3 | 75.7 | Average |
| HTC Desire 700 dual sim | 65.7 | 66.7 | 75.7 | Good |
| Samsung Galaxy Grand 2 | 66.5 | 66.6 | 75.7 | Good |
| Sony Xperia M | 68.5 | 66.6 | 80.7 | Good |
| Samsung Galaxy Grand | 74.1 | 66.2 | 76.0 | Good |
| Motorola Moto G | 81.6 | 75.7 | 82.7 | Excellent |
Rich messaging options
Thanks to its organized threaded view, the messaging department is quite straightforward. It features the same quick swipe gestures found in the phonebook, although they likely won't be used as much here.
Galaxy Grand 2 comes with a 5.25" big screen so typing is easier than on smaller droids, Samsung or otherwise. Swype-inspired finger tracking is also present, but has limited language support.
Additional input methods include a regular handwriting and Google's voice input, which can work even offline if you've downloaded the required language files.
Samsung's own keyboard supports floating mode, one-handed operations in addition to the full portrait and landscape view.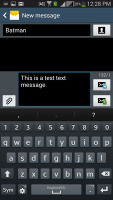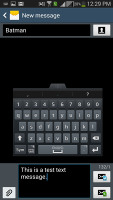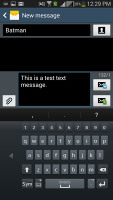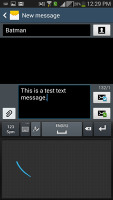 The Grand 2 supports numerous input methods
Adding any multimedia content to the message, like photos or video, automatically turns it into an MMS.
You can customize your speech bubble patterns and background, and use the volume keys to increase or decrease the font in conversations.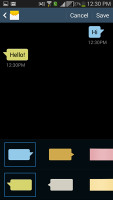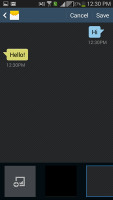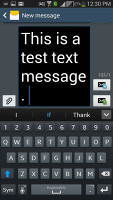 Customization options • Upsizing the text with the volume rocker
The Gmail app includes the four inbox options (Primary, Social, Promotions, Updates) that Google recently introduced in their online interface. Samsung's own Email app is similar to Google's, except that it can handle multiple POP or IMAP inboxes, which is useful for when you want to keep track of multiple accounts from one place.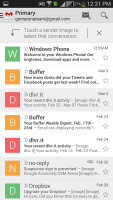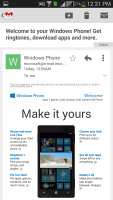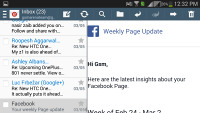 The Gmail and Email apps offer different benefits
The Hangouts app is Google's attempt at creating a one-stop shop for all of your IM needs. The app offers group video chats, emojis, photo exchange, history sync across multiple devices, and can even be integrated to handle your SMS conversations as well.