GrandisSIMo
Samsung Galaxy Grand I9082 review: GrandisSIMo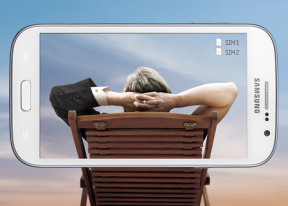 Synthetic benchmarks
The Samsung Galaxy Grand is powered by a Broadcom chipset with two Cortex-A9 processor cores clocked at 1.2 GHz, the VideoCore IV HW GPU and 1 GB of RAM. Although nowhere near the best configurations you can get these days, it is more than adequate to run Android Jelly Bean without a hassle. The relatively modest 480 x 800 screen resolution isn't all that testing on the GPU either.
The Galaxy Grand failed to impress at BenchmarkPi, which tests the per-core calculative performance of the CPU. It's closely behind the Galaxy S II Plus but far from the Krait-powered Galaxy Express and the Xperia V.
Benchmark Pi
Lower is better
Sony Xperia V
279
Samsung Galaxy Express
346
Samsung Galaxy S II Plus
409
Samsung Galaxy Grand
443
Samsung Galaxy S III mini
499
Samsung Galaxy Xcover 2
552
HTC Desire X
639
AnTuTu is a compound benchmark that tests the GPU and CPU alike. Here the Galaxy Grand was handsomely outperformed and scored just short of the Galaxy Xcover 2. Of course, the rest of the competition here is clearly out of the Galaxy Grand's league, but you would still expect it to be a little closer to the flagship than it turned out.
AnTuTu
Higher is better
HTC One
22678
Sony Xperia Z
20794
Samsung Galaxy S III
15547
Oppo Find 5
15167
HTC Butterfly
12631
Samsung Galaxy Xcover 2
6650
Samsung Galaxy Grand
6053
Quadrant was another test where the Galaxy Grand failed to make a great impression.
Quadrant
Higher is better
Sony Xperia V
5816
Samsung Galaxy Express
4998
Samsung Galaxy Grand
3931
Samsung Galaxy S II Plus
3542
Samsung Galaxy Xcover 2
3045
Samsung Galaxy Nexus
2316
Moving on to Epic Citadel and GLBenchmark, which evaluate GPU perfromance.
It's important to note that Epic Citadel renders graphics at the device's native resolution. So when comparing the Grand's 51.8 frames per second and the Xperia Z's 55.6 fps, keep in mind that the Xperia pushes 55 fps on a 1080p playing field whereas the Grand does so on a much less impressive WVGA.
Still the score here is indicative of the smoothness you'll get when you're playing different games on different phones and it is, basically, the same. What's different is the quality of the graphics.
As for GLBenchmark - it tests the graphic chip's raw performance - offscreen. The Galaxy Grand didn't shine here, but it didn't do too bad either compared to phones with similar specs.
Epic Citadel
Higher is better
Sony Xperia Z
55.6
Nexus 4
53.9
LG Optimus G
52.6
Samsung Galaxy Grand
51.7
Samsung Galaxy S III
41.3
Oppo Find 5
38.6
Samsung Galaxy Xcover 2
36.4
GLBenchmark 2.1 Egypt (720p offscreen)
Higher is better
LG Optimus G
113
Samsung Galaxy Grand
32
Sony Xperia U
19.6
Samsung Galaxy Ace 2
16.3
Samsung Galaxy S III mini
16
Samsung Galaxy S III mini
16
GLBenchmark 2.5 Egypt (1080p offscreen)
Higher is better
Apple iPhone 5
27
Nexus 4
26
Samsung Galaxy S II
13
Samsung Galaxy Express
12
Samsung Galaxy Grand
11
Samsung Galaxy S II Plus
11
HTC One X
9
Samsung Galaxy Xcover 2
6.2
We now come to JavaScript and HTML5 performance. This is important for your browsing needs and tells you how well the device can handle different web standards. The Galaxy Grand held its own in both SunSpider and BrowserMark 2.
SunSpider
Lower is better
Sony Xperia V
1189
Samsung Galaxy Grand
1470
Samsung Galaxy S II Plus
1460
Samsung Galaxy Express
1654
Samsung Galaxy Nexus
1863
Samsung Galaxy Xcover 2
1901
HTC Desire X
2259
BrowserMark 2
Higher is better
Sony Xperia V
1957
Samsung Galaxy Grand
1252
Samsung Galaxy Express
1154
Samsung Galaxy S II Plus
1079
Samsung Galaxy Xcover 2
1036
Samsung Galaxy S III mini
714
There's no grand prize here - the Galaxy Grand is just about average. But judging by its day-to-day performance, we'd safely recommend it to a friend. It goes about its business smoothly and there are no major hiccups to speak of.