First look
Samsung I9082 Galaxy Grand preview: First look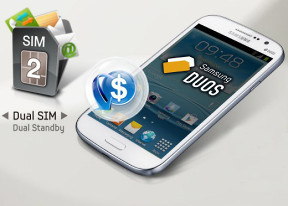 Samsung I9082 Galaxy Grand 360-degree spin
As expected, the Samsung Galaxy Grand is not the most compact device you can find. At 143.5 x 76.9 x 9.6mm, it isn't the thinnest 5 incher we've seen either, but it does hold decently well in-hand, and we're happy that Samsung managed to keep the thickness below 10mm.
Weight-wise, the scales tip at 162g, which is relatively good for a device this size.
Design and build quality
The design takes after the design scheme first introduced with the Galaxy S III, and the large screen size means you'll have a hard time telling the device apart from, say, the Galaxy Note II.




The Galaxy Grand next to the Galaxy Note
The Galaxy Grand features a similar paintjob as what you'll see on the other post-Galaxy S III Samsung devices, but it uses a slightly different and somewhat more slippery to the touch plastic. It also doesn't look quite as nice as the Galaxy Note II plastic, so we assume Samsung employed it as some sort of cost-cutting measure.
Display
The Samsung Galaxy Grand uses a 5" capacitive touchscreen display of 480 x 800 pixels resolution. One huge knock against stretching such a low resolution along this much screen estate is the pretty low pixel density - 187 ppi to be exact.



The Galaxy Grand's image quality leaves something to be desired
The fact that there's no special display technology thrown into the mix doesn't speak well for the image quality, either. You won't see the great contrast ratio and good viewing angles which come with AMOLED displays, and the on-screen crispness is a far cry from what you'll find on 5 inchers with fullHD resolution.
Overall, the display leaves something to be desired, especially if being able to spot individual pixels is a deal-breaker. Then again you shouldn't forget that this is a mid-range device and as such it won't be competing with those 1080p monster screens.
In its own league the Galaxy Grand does quite well offering extra estate to make up for the uninspiring (but not bad) image quality. Some would find that a sweet deal, and Samsung hopes that the rest will turn towards the Galaxy S II duo.