Mirror shot
Samsung Galaxy Grand Prime review: Mirror shot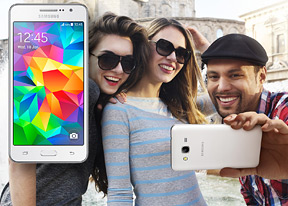 Introduction
The Samsung Galaxy Grand Prime has an ambitious name, but behind it is an ordinary midrange phone. It puts functionality ahead of screen fidelity, throwing all the pixels they could afford at the front facing camera instead. As with other Galaxy Grands, dual-SIM is an option, this one though is the first 64-bit phone in the line.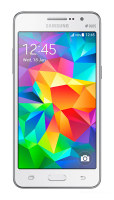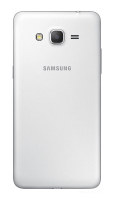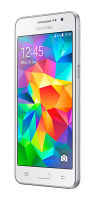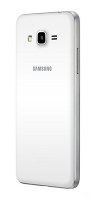 Samsung Galaxy Grand Prime official images
The Galaxy Grand Prime is headed for developing markets where affordable phones with large screens with underwhelming pixel density are in high demand. In this case we're talking a 5" TFT of qHD resolution (540 x 960px) boiling down to 220ppi. 720p has become common in the midrange these days, but don't let tech geeks and sales people overstate how important it is - most laptops and desktop monitors have half that.
The phone does subscribe to a couple of buzzwords, though neither of them contains "ppi". The front-facing camera has an 85° wide-angle lens and shoots 5MP stills and 1080p videos, while the Snapdragon 410 chipset contains four of ARM's 64-bit enabled Cortex-A53 cores.
Although in most regions the Grand Prime is a dual-SIM package, a single-SIM version is available too. Several regions can get an LTE-enabled version of the device as well.
Key features
Optional Dual SIM version available
5" 540 x 960 TFT display with 220ppi
Android OS v4.4.4 KitKat with TouchWiz UI
Quad-core 1.2 GHz Cortex-A53 processor, Adreno 306 GPU, 1GB of RAM, Snapdragon 410 chipset
8GB built-in storage, microSD card slot
8MP camera with LED flash, 1080p video recording
5MP front-facing camera, 85° lens, 1080p video recording
2,600mAh battery
Main disadvantages
Screen ppi is entry-level
On the large side for a 5" device
No screen protection glass
No automatic brightness
The screen is the major worry here - qHD is stretched pretty thin on a 5" diagonal. 220ppi is nothing to write home about, but Samsung has plans on how the Galaxy Grand Prime can compete with the likes of a Moto G (2014).
First up is a solid camera department, starting with the 5MP/1080p selfie camera. If you open your gallery and most photos have your face in them, this one is for you. The 8MP/1080p back camera is also on the better side of the midrange market.
Next is the new chipset, Snapdragon 410. ARM claims that Cortex-A53 offers a "significantly higher performance" over the A7 used in Snapdragon 400. Meanwhile the Adreno 306 GPU offers power savings compared to the 305 in the older chipset. We'll cover both performance and power usage in detail in a few chapters, but the Grand Prime won't see a return on the 64-bit chipset unless it's updated to Lollipop (which has dedicated 64-bit optimizations).





Samsung Galaxy Grand Prime taking selfies in our office
The main competition for the Galaxy Grand Prime does not come from established players, it's the aggressive pricing of newcomers that is giving Samsung the headaches. Is the Grand Prime the much needed painkiller or an also-ran? Hopefully, you'll find your answer in the next dozen pages or so.
b
I have three problems happening on my phone. 1. camera became invisible. 2. the memory can not be changed SD card. It is only storing on internal storage and it became full. I could not change to SD card. 3. phone vibration stoped and it it usi...