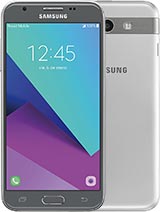 n
batman, 26 Dec 2017if you want a oled display, pay more! i think ot willbbe better if they use amoled display than ips..j2 prime was nightmare... even j1 ace better then that... the phone must same price like new j3 pro today but suck then that
26
batman, 26 Dec 2017if you want a oled display, pay more! But the J3 2016 had a amoled

b
nini, 09 Dec 2017wtf with that ips display.i want oled displayif you want a oled display, pay more!
C1784124
From its precedessor it have nothing new so why to release 2018 model which will cost about 200-220 eur as new phone when the J3 2017 is still new?
A
In late 2017 & Samsung still makes these cheap phones which will be killed by xiaomi & other chienese companies at lower and mid range why ????
Thank god they upgraded it to a 2GB ram
m
Samsung Galaxy J3 (2017) smartphone was launched in June 2017.Samsung Galaxy J3
The Samsung Galaxy J3 (2017) runs Android 7.0 and is powered by a 2400mAh non removable battery. It measures 143.20 x 70.30 x 8.20 (height x width x thickness) and weigh 148.00 grams.
N
Pete , 10 Nov 2017Samsung and Nokia seems going fight about their fans lolWhy??????
J
Why USA is that men to be possible government to spy more on people and steal money.
Total of 15 user reviews and opinions for Samsung Galaxy J3 (2018) USA.