Value driven
Samsung Galaxy J3 (2016) review: Value driven
Display
The Samsung Galaxy J3 (2016) is equipped with a 5-inch display which, like it or not, is set to becoming the new compact. Yes, the J-series even has a 4.5-incher in the J1 (2016), but that one is really an entry-level model.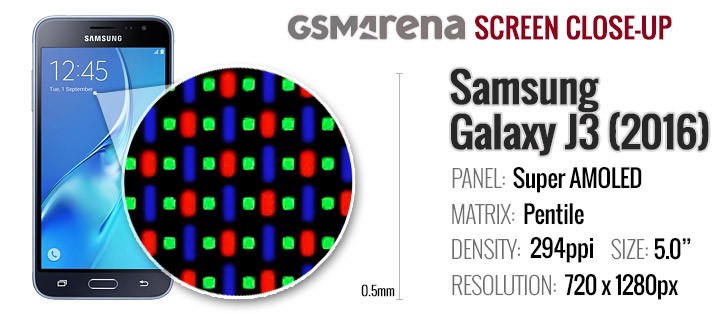 The screen is of the Super AMOLED variety, obviously being made available to even smartphones as low in the pecking order as our J3 (2016) here. It's pleasingly sharp (294ppi), with rich colors and superb contrast - pretty much the screen alone justifies the handset's higher-than-average price tag, considering some of the direct competition.
We would choose the excellent contrast that the J3 (2016) has to offer over a lower-midrange LCD any day of the week. And, with a brightness of 331 nits, the panel is perfectly adequate even in bright light.
Display test
100% brightness
Black, cd/m2
White, cd/m2
Contrast ratio
Samsung Galaxy J3 (2016)
0.00
331
∞
Samsung Galaxy J3 (2016) outdoor mode
0.00
468
∞
Samsung Galaxy J5 (2016)
0.00
338
∞
Samsung Galaxy J5 (2016) outdoor mode
0.00
476
∞
Samsung Galaxy J7 (2016)
0.00
353
∞
Samsung Galaxy J7 (2016) outdoor mode
0.00
484
∞
Xiaomi Redmi Note 3 (MediaTek)
0.42
403
953
Xiaomi Redmi 3
0.42
520
1238
Xiaomi Mi 4c
0.28
452
1609
Lenovo K3 Note
0.24
432
1793
Lenovo Vibe Shot
0.30
515
1728
Meizu m3 note
0.52
425
816
Meizu MX4 Pro
0.69
775
1127
Moto G 3rd gen max manual
0.43
430
1009
Moto G 3rd gen max auto
0.53
539
1017
ZTE Nubia Z9 mini
0.44
394
895
Oppo F1 Plus
0.00
351
∞
In Outdoor mode, the display gets even brighter at 468 nits. This means that you shouldn't have any issues using the Galaxy J3 (2016) in any conditions. It is bright enough and has a 3.523 ratio. Yet, one thing that gives away the budget nature of the J3 (2016) is the lack of auto brightness mode.
Sunlight contrast ratio
Samsung Galaxy S6 edge+
4.615
Samsung Galaxy S7 edge
4.439
OnePlus 3
4.424
Samsung Galaxy S7
4.376
HTC One A9
4.274
Samsung Galaxy A3
4.241
Samsung Galaxy S6 edge
4.124
Samsung Galaxy Note5
4.09
Huawei Nexus 6P
4.019
OnePlus X
3.983
Vivo Xplay5 Elite
3.983
Oppo R7s
3.964
Samsung Galaxy A7 (2016)
3.918
Samsung Galaxy A5
3.895
Samsung Galaxy J7 outdoor
3.879
Samsung Galaxy J2 outdoor
3.873
Samsung Galaxy A8
3.859
Apple iPhone 6
3.838
Samsung Galaxy A9 (2016)
3.817
Motorola Moto X (2014)
3.816
Samsung Galaxy J7 (2016) outdoor mode
3.802
Samsung Galaxy A5 (2016)
3.789
Apple iPhone 6s
3.783
Meizu Pro 5
3.781
Microsoft Lumia 650
3.772
Samsung Galaxy J7 (2016)
3.756
Oppo F1 Plus
3.709
Vivo X5Pro
3.706
Apple iPhone SE
3.681
Samsung Galaxy A7
3.679
Meizu PRO 6
3.659
BlackBerry Priv
3.645
Apple iPhone 6s Plus
3.53
Samsung Galaxy J3 (2016)
3.523
Acer Jade Primo
3.521
Microsoft Lumia 950
3.512
Oppo R7 Plus
3.499
Samsung Galaxy J7
3.422
Meizu MX5
3.416
Oppo R7
3.32
Samsung Galaxy J2
3.235
Sony Xperia X Performance
3.234
Motorola Moto X Play
3.222
Huawei P9
3.195
Lenovo Vibe Shot
3.113
Motorola Moto X Force
3.105
LG Nexus 5X
3.092
Huawei Mate S
3.073
Microsoft Lumia 640 XL
3.065
Apple iPhone 6 Plus
3.023
Sony Xperia X
2.989
Samsung Galaxy Note
2.97
Huawei Mate 8
2.949
LG G5
2.905
HTC One S
2.901
Sony Xperia Z5
2.876
Microsoft Lumia 550
2.851
Sony Xperia Z5 compact
2.784
Meizu MX4 Pro
2.765
LG V10
2.744
Xiaomi Redmi 3
2.735
Sony Xperia M5
2.69
Huawei P9 Lite
2.679
Vivo V3Max
2.659
Xiaomi Mi 4i
2.641
Sony Xperia XA
2.609
Xiaomi Mi 4c
2.574
LeEco Le Max 2
2.567
Microsoft Lumia 640
2.563
Lenovo Moto G4
2.544
Oppo F1
2.528
Sony Xperia Z5 Premium
2.525
Sony Xperia M4 Aqua
2.503
Motorola Moto G
2.477
Huawei G8
2.471
Sony Xperia Z
2.462
Huawei Honor 7
2.406
Sony Xperia E5
2.386
ZUK Z1 by Lenovo
2.382
HTC 10
2.378
Samsung Galaxy J5 (2016)
2.378
HTC One E9+
2.305
Alcatel One Touch Hero
2.272
Lenovo Vibe K4 Note
2.254
Sony Xperia C5 Ultra
2.253
Xiaomi Redmi Note 3 (MediaTek)
2.249
Sony Xperia C4 Dual
2.235
Motorola Moto G (2014)
2.233
LG Nexus 5
2.228
Huawei P8
2.196
Xiaomi Redmi Note 2
2.166
OnePlus Two
2.165
HTC One X
2.158
LG Aka
2.145
Archos 50 Diamond
2.134
Xiaomi Redmi Note
2.119
Acer Liquid X2
2.084
Huawei P8lite
2.078
Moto G 3rd gen max manual
2.026
Xiaomi Mi Max
1.996
Sony Xperia E4g
1.972
OnePlus One
1.961
Meizu m3 note
1.923
BlackBerry Leap
1.892
Meizu m2 note
1.892
HTC Butterfly
1.873
ZTE Nubia Z9 mini
1.759
Sony Xperia U
1.758
Asus Zenfone Selfie
1.68
Motorola Moto E (2nd Gen)
1.675
ZTE Nubia Z9
1.659
Jolla Jolla
1.605
Motorola Moto E
1.545
Sony Xperia M
1.473
Xiaomi Redmi 2
1.311
Sony Xperia C
1.283
Meizu MX
1.221
Sony Xperia E
1.215
As for color reproduction, it would be both naive and unnecessary to expect sRGB calibration from the budget handset. Still, it maintains a fairly low average deltaE of 7.3. There are also a few Samsung display modes to choose from. In Basic mode, colors are most accurate, whereas AMOLED cinema notably oversaturates things. The middle ground is AMOLED photo.
The standard DeltaE 2000 deviation is used to describe the accuracy of the screen's color rendition. We test the screen with a set of over 100 different color and grayscale patterns to determine the accuracy of the color reproduction.
Even when a phone's screen color reproduction is off, you would still have a hard time noticing a color cast without a reference as the human eye is quite quick to adjust and normalize colors.
Also, the display colors are a matter of personal taste and perception so consider this test data only if you are concerned about presenting color-critical content on the mobile screen.
Any deviation above DeltaE 2000 of 10 is considered a highly visible error in color reproduction on the display. A DeltaE 2000 deviation between 4 and 10 is considered okay or acceptable color performance. A DeltaE 2000 deviation below 4 is considered good, but professional color calibration requires a deviation between 1 and 2.
Connectivity
In a predictable Samsung fashion, the Galaxy J3 (2016) is available in single-SIM and dual-SIM variants, so you can get some flexibility in terms of carriers and plans. It is also worth noting that opting for a dual SIM option doesn't limit the use of a microSD card, as it has a dedicated slot of its own - another merit quickly being lost to slim unibody designs.
Now, let's try and get the chipset situation straight, as it has important implications on connectivity. Some units are powered by Spreadtrum SC8830 or SC9830. They have practically no difference in performance, but the former is only 3G, while the latter supports 4G LTE. If you get an Exynos 3475 unit, it will also have 4G support and the same goes for the alleged Snapdragon 410 variant. We weren't able to conclusively prove or disprove its existence, despite our best efforts, but it might very well be a reality on certain markets.
Naturally, you get Wi-Fi, but it only operates on the 2.4GHz band, so needless to say there's no Wi-Fi ac support. There's GPS with A-GPS and BDS on some markets, Bluetooth v.4.1, and an FM radio receiver. Sadly, unlike the J5 (2016) and J7 (2016), there is no NFC in the J3 (2016).
It is also worth noting that the Galaxy J3 (2016) only has an accelerometer and a proximity sensor on board. That means no magnetometer or gyroscope - both essential for some apps. However, we can't imagine too many prospective buyers will be looking to use it with Google Cardboard.
Battery
The Galaxy J3 (2016) is powered by a 2600mAh battery and we can't really complain about the capacity all that much, as the battery on the Galaxy J3 (2016) is removable - you can just pop the back cover and replace it. This, of course, means no need for bulky power banks, just pack an extra battery for the peace of mind.
The Galaxy J3 (2016) managed an endurance rating of 66 hours. There's a lot to be desired from the video playback performance.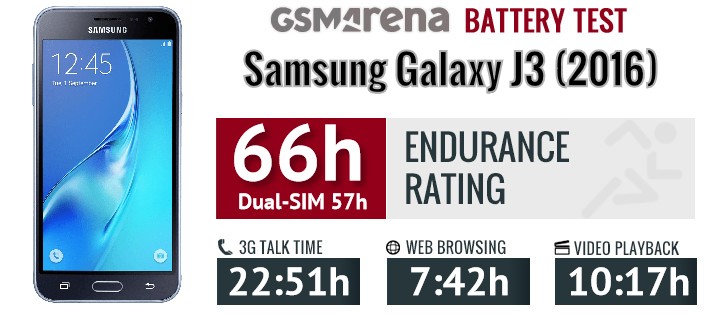 We do measure standby battery drain, and even though it's not included explicitly in the scorecard, it has its influence on the overall rating.
The battery testing procedure is described in detail in case you're interested in the nitty-gritties. You can also check out our complete battery test table, where you can see how all of the smartphones we've tested will compare under your own typical use.