Introduction
The smartphone jungle can be confusing, but the Samsung Galaxy J7 is surprisingly easy to decipher: J for "affordable price" and 7 for "big screen". This is the lite version of the Galaxy A7, offering semi-premium features but confined to the midrange. Another way to look at it is as an E7 Plus.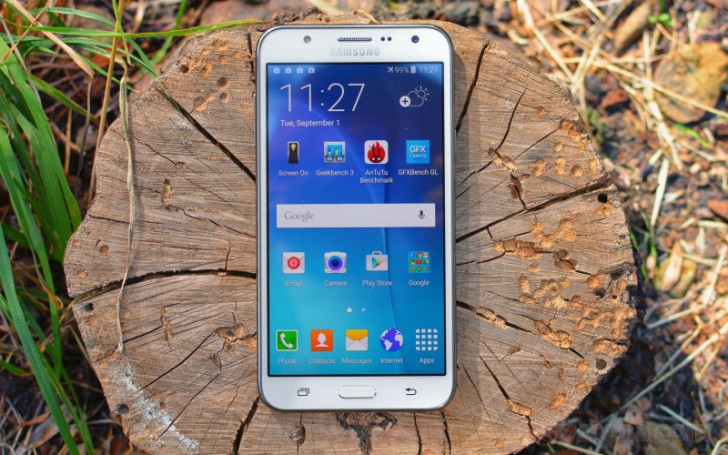 The attention-grabbing features start at the 5.5" Super AMOLED screen (Samsung's latest units have all had accurate colors and great sunlight legibility). There's also a 64-bit octa-core processor, a selfie camera with a dedicated LED flash and a main camera with a wide f/1.9 aperture and Pro mode.
The Galaxy J7 is one of those phones that care more about the size of the screen than its resolution and so it settles for 720p. The difference to Galaxy A7's 1080p screen is for the most part cosmetic but the practical difference is quite big - you get 20% more space for apps and web pages on the A7.
Key features
Dual-SIM phone with LTE connectivity
5.5" Super AMOLED of 720 x 1,280px resolution, ~267ppi
Snapdragon 615 version: 64-bit chipset, octa-core Cortex-A53 processor (four cores at 1.5GHz and four at 1GHz); Adreno 405 GPU; 1.5GB of RAM
Exynos 7580 version: 64-bit chipset, octa-core Cortex-A53 processor (eight cores at 1.5GHz); Mali-T720MP2 GPU; 1.5GB of RAM
Android 5.1 Lollipop with TouchWiz, theme support
13MP camera capable of 1080p video recording, 5MP front-facing camera, 1080p video
16GB of built-in storage
Wi-Fi b/g/n, GPS/GLONASS, Bluetooth 4.1, ANT+, NFC (Exynos version only)
3,000mAh battery
Main disadvantages
720p resolution stretched a bit thin on the 5.5" screen
No fingerprint, no NFC on some models and certainly no Samsung Pay
No MHL (but USB OTG is supported)
The main camera is a 13MP unit - a pretty standard choice for the midrange - but the f/1.9 aperture elevates it above average and will make a difference at low-light scenes. The J7 is well-equipped for low-light selfies too, with a dedicated LED flash to help the 5MP front-facer.
The Galaxy J7 is a dual-SIM phone, Samsung didn't bother with a single-SIM version. No huge loss if you ask us, unlike the A-series this one has separate slots for two SIMs and a microSD. Fast LTE data can be used on either card, making the J7 practical for travel or getting the most out of two data plans.





Samsung Galaxy J7 official images
The Galaxy J7 comes with one of two distinct chipset models - Snapdragon 615 in some regions, Exynos 7580 in others. Both versions run Android 5.1 Lollipop on 1.5GB RAM (a bit of a tight fit), but the Exynos has a CPU clock advantage. We'll also find out how the different GPUs perform, both are OpenGL ES 3.1-enabled though so they'll be ready for new games to come.
The Samsung Galaxy J7 will lose to the Galaxy A7 in a beauty pageant but, after the novelty wears off, the A7 will have a fight on its hand. Well, time to kick the Galaxy J7 out of the nest and see how well it flies.
Note that the Samsung Galaxy J7 comes with either an Exynos 7580 or a Snapdragon 615 chipset. We're reviewing the Exynos version.
R
How do I screenshot using Samsang galaxy J7 ?
H
I have a Galaxy J 7 (2016), recently and without apparent reason a column of keys on the keyboard stopped typing .. 2 of them were among my password .. I am not able to open the mobile. It has valuable photos and data. Maintenance suggested changing...