Samsung has started sending out media invites for a September 19 event in India. The invite reveals that the South Korean company will launch a new Galaxy J series smartphone.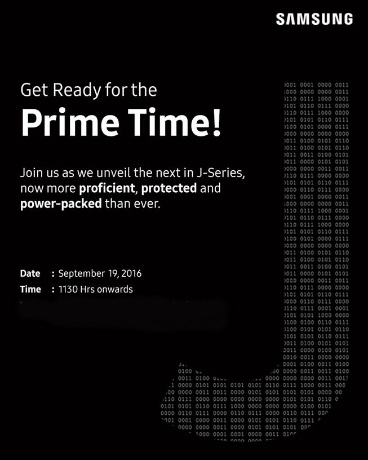 While the invite doesn't reveal the name of the phone, the words "Prime Time" are enough to suggest that the star of the event will be the Galaxy J7 Prime that was recently launched in Vietnam.
If you recall, there have already been rumors that the handset will be launched in India soon. As for price, the J7 Prime is said to carry a tag of INR 18,790 (around $285) in the country.
hahaaa . . . actually you cant't blame Samsung for that. Our government impose a huge amount of tax on these things, not just mobiles all most all electronic devise that is imported. Just look at a most expensive phone in the market or any new iphone...
It is a big deal as the phone has been launched in Vietnam with 32 GB at the same price (http://www.gsmarena.com/samsung_galaxy_j7_prime­_goes_official-news-20262.php), why cant Samsung provide it in India? If they are getting an upgrade why shouldnt ...
well then i should be crying about my galaxy s6 with 32gb inbuild and no expansion available, my point is with that spec and price some compromise has to be made, you could always get another galaxy or even another brand but 16gb and an expandable ...