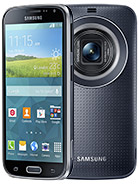 ?
In 3 years: Samsung 8K Zoom !

Specs:

-5.5 inches
-38mpx
-8k
-256 gb microsd
-underwater special case
-action case (like gopro)
-belt stealth case (so pervs can keep filming them)

S
@BABAK are you serious? My S4 Zoom can last 2 days with light use. I took it to a festival last year - it lasted me 2 and a half days with everything switched off (just using the camera... a lot)
J
Why not release a MAZ - S5 Mini Active Zoom? It'll be much more powerful than this... (although this is not bad)
B
the prevous one totally was good except the battery backup which was horrible and i sold mine because of this reason,
i had to charge it three times a day which was really bad for a dual core phone
v
Well it will rock if its 12-13mm slim otherwise it will be too bulky for a 4.8 device.
D
well well fact that in cpu is written Hexa-Core and not Quad + Dual means that it`s true Hexa core?
M4952560
Let's hope it will not be that thick. :P If it would have a little bit bigger screen, it would be much better, and an FM radio for the radio fans.
Total of 869 user reviews and opinions for Samsung Galaxy K zoom.