A few days ago, Amazon.in revealed the specs and design of the Samsung Galaxy M31 Prime. Today, the e-commerce giant followed up with its price in India, and we also learned that the phone's actual name is Galaxy M31 Prime Edition.
The Galaxy M31 Prime Edition has two memory configurations - 6GB/64GB and 6GB/128GB. The base model is priced at INR16,499 ($225/€190), but the price of the 128GB variant is currently unknown. We presume it will cost INR1,000-1,500 more.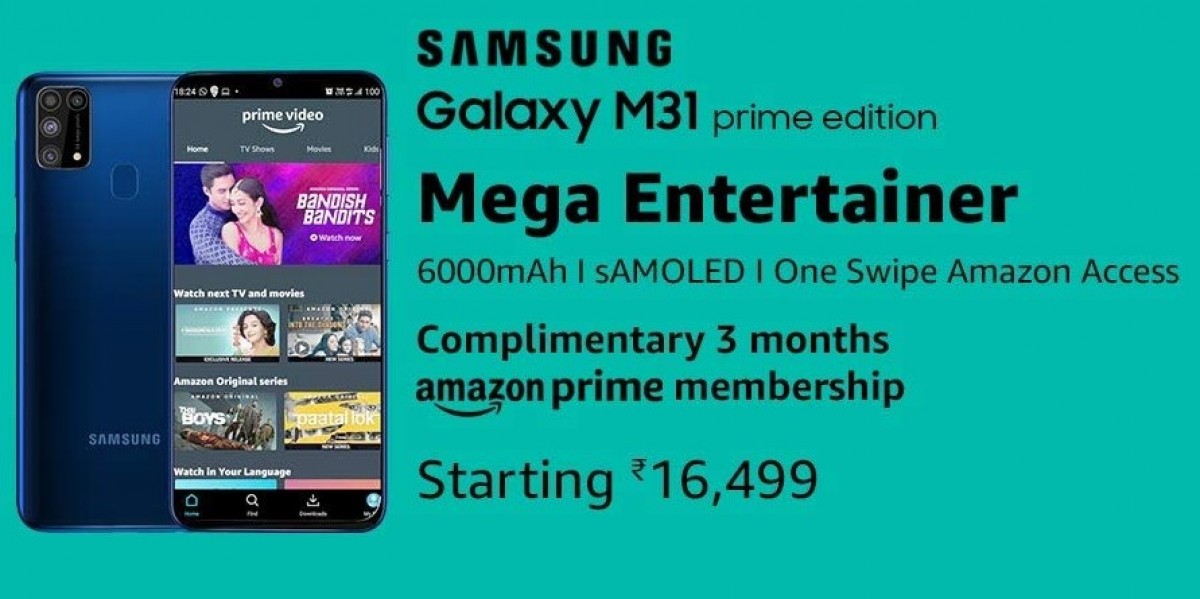 The Galaxy M31 Prime Edition is marketed as a "Mega Entertainer" and will have one-swipe Amazon access. Customers will also get a 3-month Amazon Prime Membership subscription for free.
We don't know when the Galaxy M31 Prime Edition will go on sale as Samsung is yet to announce it officially, but thanks to Amazon, we know that the smartphone shares its specs with the Galaxy M31, except the screen whose diagonal and resolution are not known.
You can head this way to check out the specs of the Galaxy M31 Prime Edition.
?
I just bought samsung m31 last week of sept ....the unit is good ..but theres somthing that i dont like about is when taking selfies the camera has a yellowish vision ..i dont know what to called that but yes its yellowish even if you are in the day...
N
Poor strategy by Sammy... They got confused and scared by looking at Chinese vendors strategy of releasing a new phone almost every week/month with similar specs..... Try to be distinctive as little as possible.... This handset should have been annou...
Do your curiosity comparison on GSMarena. That is why that function exists. Short answer, all three are almost identical. If you live in India then you buy the M31 or the M31 Prime (India only market). Everyone else can opt for F41.
ADVERTISEMENT