Android 10 and OneUI 2.1 2.5 on top
The Galaxy M51 boots Android 10, and our review unit arrived with Samsung's OneUI 2.1 on top, which got updated to 2.5 during the review process. Not that there are any noticeable differences in the look and feel between the two anyway.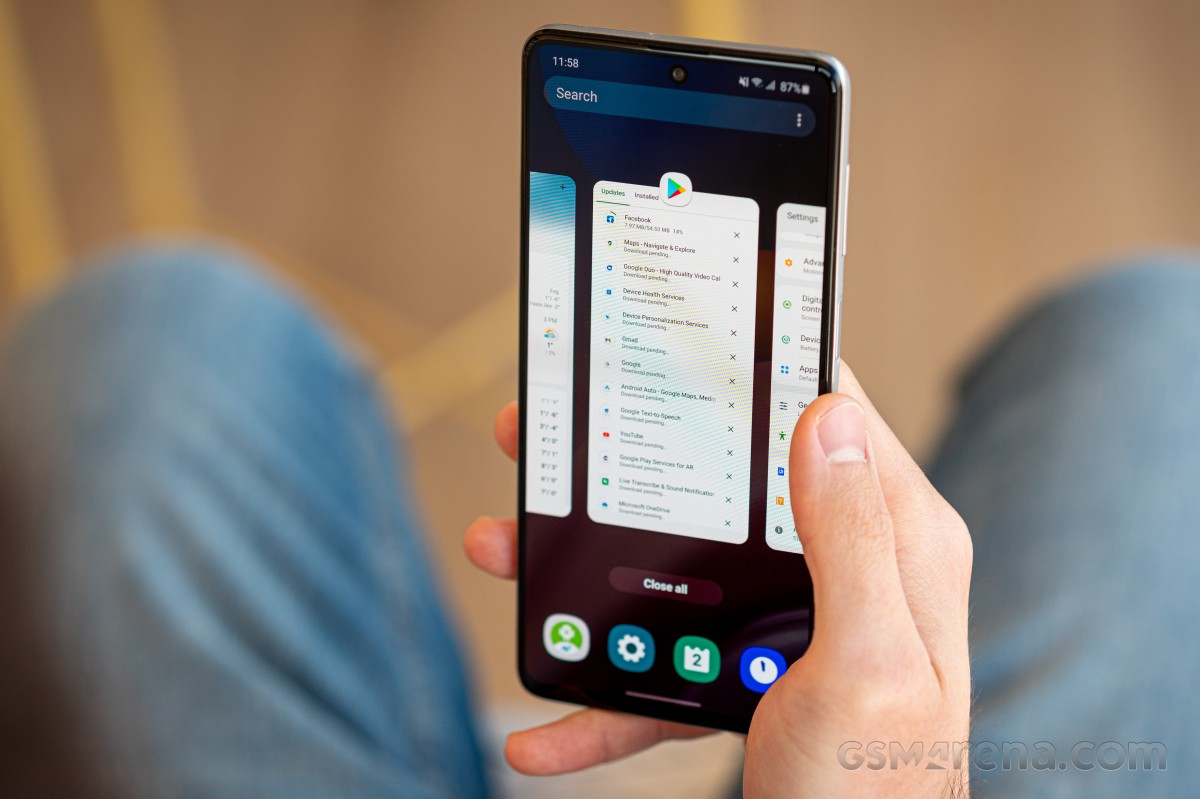 The lockscreen is a familiar sight with a couple of shortcuts in the bottom corners and notification icons under a clock. The always-on display is, of course, available, and it can be shown all the time, according to a daily schedule, or when summoned with a tap.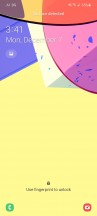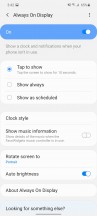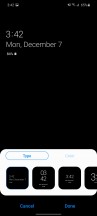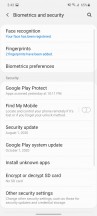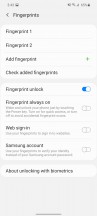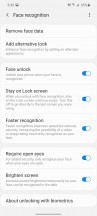 Lockscreen • Always-on display • Biometrics
Unlocking the Galaxy M51 is best done with the side-mounted fingerprint sensor - a bit surprisingly, this model doesn't get an under-display unit despite having a compatible display. The side-mounted solution used here works similarly well with both the left index finger and the right thumb, and unlocking is quick and reliable. The button is placed a bit too high, but it's a matter of giving yourself enough time to get used to it.
As with other such implementations, you run the risk of triggering the sensor by any skin contact by simply holding the phone in your pocket, resulting in a locked phone and an inoperable sensor once you do pull it out to use it. If you happen to suffer from that more often than you'd like, you can have the sensor only engage with a press on the button - otherwise, a click isn't required.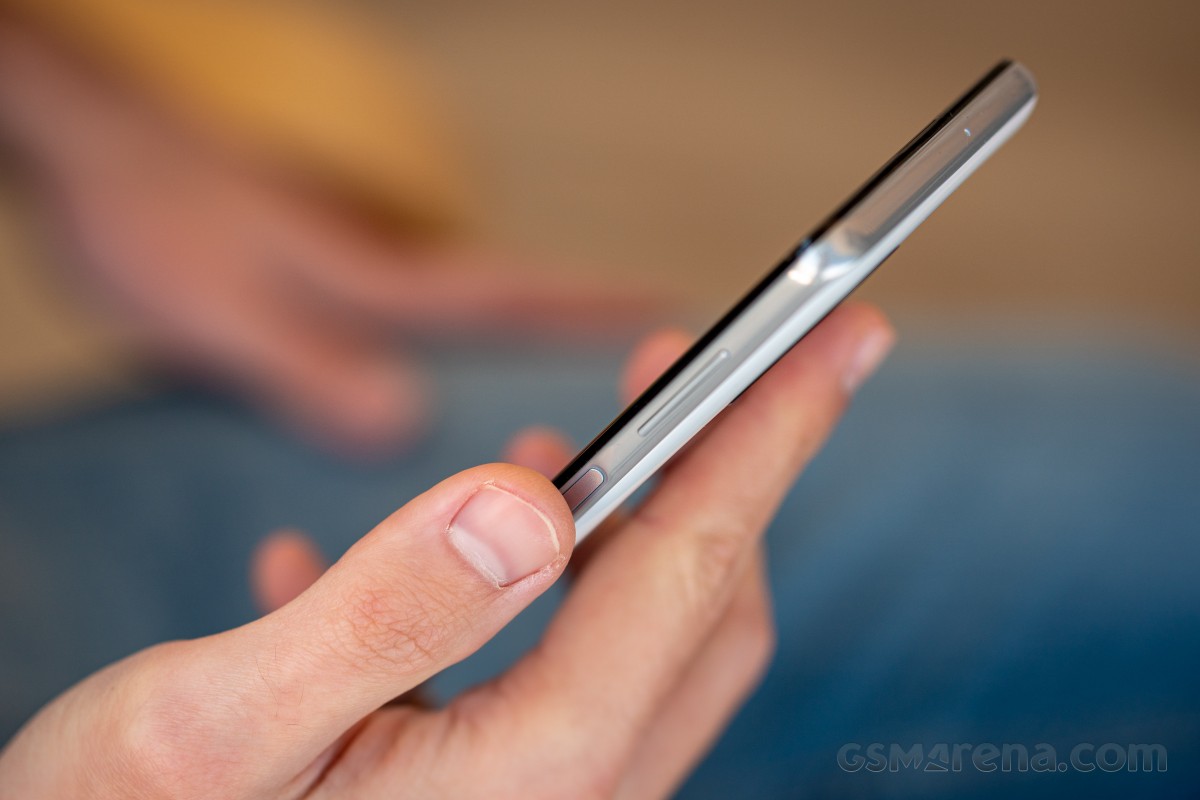 If, for whatever reason, you're not thrilled about the M51's fingerprint reader, there's also face recognition. It's just camera-based, no 3D face scanning, but it still offers a convenient (if not as secure) way to access your homescreen.
As we mentioned, there's little to set the OneUI 2.5 on the M51 apart from other current Samsung phones, regardless of the OneUI version.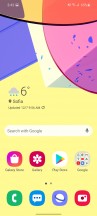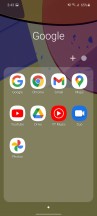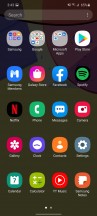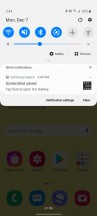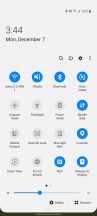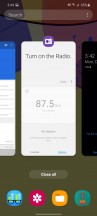 Homescreen • Folder view • App drawer • Notification shade • Quick toggles • Task switcher
Gesture navigation is available, and you can choose that in the initial setup process or later on. A system-wide dark mode is par for the course, too.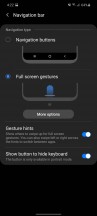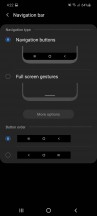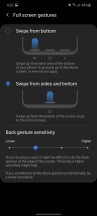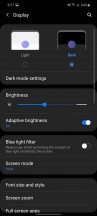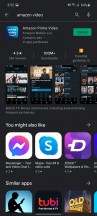 Navigation options • Dark mode
What is missing on the M51 that most other Galaxies have had is Edge panels - the M51 gets the budget treatment in this area. Otherwise, the software package is similar to other Samsung phones, with an in-house Gallery app, file manager, and Samsung browser. What you won't find on the Galaxy flagships, however, is an FM radio, and there is one here.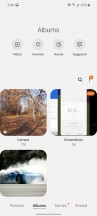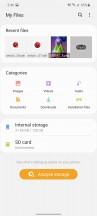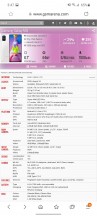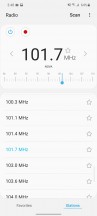 Gallery • Files • Samsung Browser • FM radio
Synthetic benchmarks
The Snapdragon 730G ticks inside the Galaxy M51, an upper midrange chipset from the pre-5G craze, the most powerful of those, in fact. The G at the end differentiates it from the global A71's SD730, and that G means a largely inconsequential bump in GPU clock rate. The M51 doesn't get axed for being part of the M-series and comes with a generous 128GB of storage and 6GB or 8GB of RAM.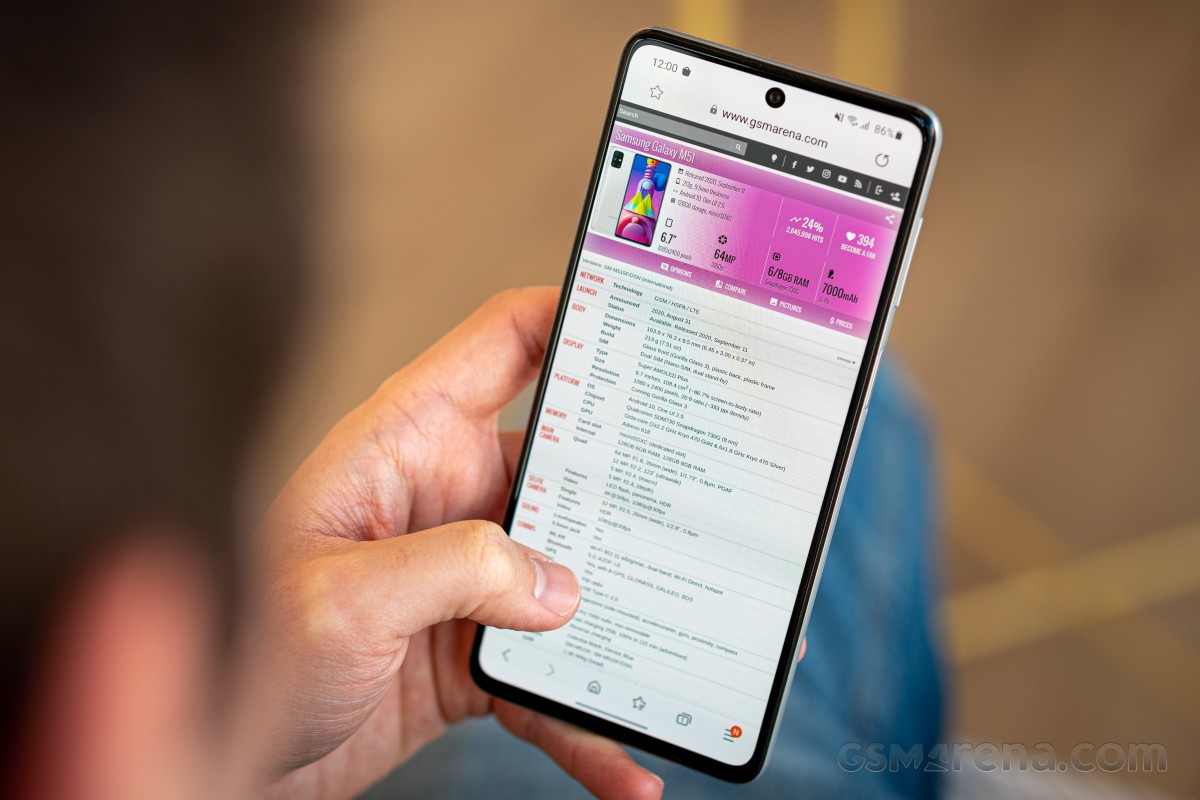 The M51 puts out respectable numbers for CPU performance in GeekBench, on par with the Poco X3 NFC (Snapdragon 732G). The Galaxy is bested by a stablemate, the A51 5G (in-house Exynos 980), but that performance is worth some €350 extra. The OnePlus Nord is more expensive than the M51, but not by as much, and does offer performance benefits courtesy of the Snapdragon 765. Similarly, all SD765 devices have an edge, though as 730s go, the M51 is a top performer.
GeekBench 5 (multi-core)
Higher is better
OnePlus Nord
1953
vivo X50 Pro
1937
Xiaomi Mi 10 Lite 5G
1927
Galaxy A51 5G
1867
vivo X50
1827
Realme 7 Pro
1811
Oppo Reno4 Pro 5G
1805
Realme 7 5G
1794
Poco X3 NFC
1777
Samsung Galaxy M51
1774
Realme X2
1750
Samsung Galaxy A71
1733
Motorola One Fusion+
1705
Xiaomi Mi Note 10 Lite
1694
Realme Narzo 20 Pro
1666
Google Pixel 5
1647
Google Pixel 4a
1626
GeekBench 5 (single-core)
Higher is better
Galaxy A51 5G
677
vivo X50 Pro
636
Xiaomi Mi 10 Lite 5G
616
Oppo Reno4 Pro 5G
615
OnePlus Nord
610
Realme 7 5G
598
Google Pixel 5
594
Realme 7 Pro
576
Poco X3 NFC
568
Google Pixel 4a
553
vivo X50
552
Samsung Galaxy M51
546
Realme X2
545
Samsung Galaxy A71
542
Motorola One Fusion+
542
Xiaomi Mi Note 10 Lite
521
Realme Narzo 20 Pro
517
It's not quite so in Antutu, where the M51 is in the middle of the 730 pack when it's at its peak in the first benchmark run, but it doesn't maintain that 266K result for subsequent runs and quickly drops to 240Ks. It's not terrible, but it's not great either.
AnTuTu 8
Higher is better
vivo X50 Pro
323736
Realme 7 5G
318535
Xiaomi Mi 10 Lite 5G
318117
Oppo Reno4 Pro 5G
317139
Galaxy A51 5G
316007
OnePlus Nord
312794
Realme Narzo 20 Pro
291407
Google Pixel 5
289261
Poco X3 NFC
283750
Realme 7 Pro
278414
Google Pixel 4a
268714
Motorola One Fusion+
267980
Samsung Galaxy M51
266620
Samsung Galaxy A71
263396
Realme X2
257443
Xiaomi Mi Note 10 Lite
253271
In graphics benchmarks, the G in the Snapdragon 730G makes little difference, with maybe the odd frame per second between 730 and 730G devices, but not always, and not even necessarily in the G's favor. What does make a difference is a Snapdragon 765, and those with it do come with significant performance gains.
GFX Manhattan ES 3.1 (offscreen 1080p)
Higher is better
Xiaomi Mi 10 Lite 5G
38
OnePlus Nord
38
Oppo Reno4 Pro 5G
37
vivo X50 Pro
36
Realme 7 5G
35
Realme Narzo 20 Pro
34
Poco X3 NFC
33
Galaxy A51 5G
32
Samsung Galaxy A71
30
Xiaomi Mi Note 10 Lite
30
Google Pixel 4a
30
Samsung Galaxy M51
30
Realme 7 Pro
30
Realme X2
29
Motorola One Fusion+
27
vivo X50
27
Google Pixel 5
22
GFX Manhattan ES 3.1 (onscreen)
Higher is better
OnePlus Nord
34
Xiaomi Mi 10 Lite 5G
32
vivo X50 Pro
31
Oppo Reno4 Pro 5G
31
Realme 7 5G
31
Realme Narzo 20 Pro
28
Galaxy A51 5G
28
Samsung Galaxy A71
27
Google Pixel 4a
27
Poco X3 NFC
27
Xiaomi Mi Note 10 Lite
26
Samsung Galaxy M51
26
Motorola One Fusion+
25
Realme 7 Pro
25
Realme X2
24
vivo X50
24
Google Pixel 5
22
GFX Car Chase ES 3.1 (offscreen 1080p)
Higher is better
Xiaomi Mi 10 Lite 5G
21
OnePlus Nord
21
Oppo Reno4 Pro 5G
21
vivo X50 Pro
20
Realme Narzo 20 Pro
20
Realme 7 5G
20
Galaxy A51 5G
20
Poco X3 NFC
19
Realme 7 Pro
18
Samsung Galaxy A71
17
Xiaomi Mi Note 10 Lite
17
Google Pixel 4a
17
Samsung Galaxy M51
17
Realme X2
16
Motorola One Fusion+
16
vivo X50
16
Google Pixel 5
13
GFX Car Chase ES 3.1 (onscreen)
Higher is better
OnePlus Nord
19
Oppo Reno4 Pro 5G
18
Xiaomi Mi 10 Lite 5G
17
vivo X50 Pro
17
Realme Narzo 20 Pro
17
Realme 7 5G
17
Galaxy A51 5G
17
Google Pixel 4a
16
Poco X3 NFC
16
Samsung Galaxy A71
15
Xiaomi Mi Note 10 Lite
15
Samsung Galaxy M51
15
Motorola One Fusion+
14
vivo X50
14
Realme 7 Pro
14
Realme X2
13
Google Pixel 5
12
3DMark SSE ES 3.1 (offscreen 1440p)
Higher is better
Xiaomi Mi 10 Lite 5G
3294
Oppo Reno4 Pro 5G
3288
OnePlus Nord
3285
vivo X50 Pro
3214
Realme 7 5G
3163
Galaxy A51 5G
2837
Poco X3 NFC
2689
Realme Narzo 20 Pro
2683
Realme 7 Pro
2541
Google Pixel 4a
2487
Samsung Galaxy M51
2474
Xiaomi Mi Note 10 Lite
2467
Samsung Galaxy A71
2464
Realme X2
2402
Google Pixel 5
2318
vivo X50
2263
3DMark SSE Vulkan 1.0 (offscreen 1440p)
Higher is better
Xiaomi Mi 10 Lite 5G
3080
OnePlus Nord
3067
Oppo Reno4 Pro 5G
3062
Realme 7 5G
3028
vivo X50 Pro
2983
Galaxy A51 5G
2778
Realme Narzo 20 Pro
2735
Poco X3 NFC
2495
Realme 7 Pro
2358
Samsung Galaxy M51
2290
Google Pixel 4a
2275
Google Pixel 5
2267
Realme X2
2263
Samsung Galaxy A71
2253
Xiaomi Mi Note 10 Lite
2248
vivo X50
2082
Ultimately, the Galaxy M51 isn't remotely underpowered and has the performance to spare for what we imagine is its target audience. Still, if your priorities lie in high fps count in the latest games or comparing Antutu scores, you can get better results under demanding loads for the same price elsewhere.