Medium extra large
Samsung Galaxy Mega 5.8 review: Medium extra large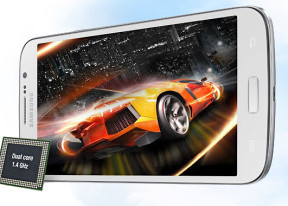 Display stretches the qHD resolution
At the core of the Samsung Galaxy Mega 5.8 is the 5.8" screen. It's a massive TFT LCD of 540 x 960 pixels resolution, which works out to 190ppi. Unfortunately, this is even lower than what's found on the 720p 6.3" screen of its elder brother, and is a far cry from the 441ppi found on most 1080p 5-inch flagships.


Samsung Galaxy Mega 5.8 has a huge screen
You have to take into account that bigger screens are usually held further from the eyes, which partially makes up for the lower pixel density. If you're coming from a Galaxy S4 you'll immediately spot the lower sharpness, especially when looking at text, but other than that the screen image quality is good.
With all this talk of pixel density, we have to mention the resolution and how it affects the interface. While the screen of the Mega 5.8 is much bigger than that of the Galaxy S4, it doesn't fit more shortcuts or other UI elements. Samsung could have drawn the elements smaller, but that would have affected the image quality as smaller text doesn't render as well on the relatively low pixel density (compared to the previous and current generation of flagships).
The Mega 5.8 screen has good viewing angles with no color shift and only slight contrast loss when looking at the display at an angle.
The brightness control in the notification area is quite handy and can be hidden to make room for more notifications. It also features an automatic brightness mode with a slider to tweak the algorithm, making the display generally darker or brighter than the surrounding ambient light.
Display test
50% brightness
100% brightness
Black, cd/m2
White, cd/m2
Contrast ratio
Black, cd/m2
White, cd/m2
Contrast ratio
Samsung Galaxy Mega 5.8
0.32
335
1045
0.56
559
1003
Samsung Galaxy Mega 6.3
0.12
160
1364
0.32
440
1379
Samsung N7100 Galaxy Note II
0
215
∞
0
402
∞
LG Optimus G Pro
-
-
-
0.41
611
1489
The screen is a bit reflective though, which brings the sunlight legibility down.
Sunlight contrast ratio
Nokia 808 PureView
4.698
Apple iPhone 5
3.997
Samsung I9300 Galaxy S III
3.419
Samsung Galaxy S4
3.352
Samsung Omnia W
3.301
Samsung Galaxy S
3.155
Nokia N9
3.069
Samsung Galaxy Note
2.970
HTC One S
2.901
Samsung Galaxy S II
2.832
Samsung Galaxy S II Plus
2.801
Huawei Ascend P1
2.655
Nokia Lumia 900
2.562
HTC One
2.504
Sony Xperia Z
2.462
Samsung Galaxy S III mini
2.422
Motorola RAZR i
2.366
Sony Xperia ZL
2.352
Samsung Galaxy Note II
2.307
Apple iPhone 4S
2.269
HTC One X
2.158
Nokia N8
2.144
Oppo Find 5
2.088
BlackBerry Z10
2.051
Apple iPhone 4
2.016
Sony Ericsson Xperia ray
1.955
Samsung Galaxy Camera
1.938
HTC Butterfly
1.873
Sony Xperia V
1.792
Sony Xperia U
1.758
LG Optimus 4X HD
1.691
HTC One V
1.685
LG Optimus Vu
1.680
HTC Desire V
1.646
LG Optimus G Pro
1.552
LG Optimus 3D
1.542
Nokia Asha 302
1.537
Nokia Lumia 610
1.432
Gigabyte GSmart G1355
1.361
Sony Xperia L
1.351
Samsung Galaxy Mega 5.8
1.350
HTC Desire C
1.300
LG Optimus L7
1.269
LG Optimus L9
1.227
Meizu MX
1.221
Sony Xperia E dual
1.203
Samsung Galaxy Pocket
1.180
Sony Xperia tipo
1.166
Samsung Galaxy mini 2
1.114
You can find all about our display testing routines here.
Controls
The Samsung Galaxy Mega 5.8 features a standard set of sensors on its front (proximity and ambient light), alongside a 1.9MP camera and a status LED, all clustered around the earpiece.
On the other side of the screen is the traditional arrangement of a hardware Home button and capacitive Menu and Back keys. Stock Android has moved away from this arrangement, but Samsung still holds to it.



Earpiece, front-facing camera and sensors above the screen • Menu, Home and Back keys below the screen
There's extra functionality too: upon a double tap, the Home key launches S Voice, while a press and hold opens the task switcher. A long press of the Menu key launches Google Now, and a long press of the Back key toggles the Multi-window tray (the Multi-window feature needs to be active for this to work).
The Volume rocker is placed on the left side of the Galaxy Mega 5.8, while the Power/Lock key is on the right. Both are positioned proportionally lower on the tall device, so they are at about the same height from the bottom as the ones on the Galaxy S4.





Volume rocker on the left • Power/Lock key on the right
There's no dedicated camera shutter key, but the volume rocker can be set to act as a zoom lever, as well as a camera shutter key.
On the bottom you'll find a microUSB port alongside a microphone pinhole.
At the top of the device is the standard 3.5mm audio jack.



The 3.5mm audio jack is alone up top
Around the back of the device there's the 8MP camera lens, centrally placed at the top. It protrudes from the 9mm thick body and the device rests on it when placed on its back, which makes it unstable and means you should be careful not to put it on a surface that can scratch the lens glass.
On either side of the camera lens you'll spot the LED flash and the loudspeaker grille.



The large back cover houses the protruding 8MP camera, LED flash and loudspeaker
The back cover is made of the hyperglazed plastic that Samsung favors in recent years and can be opened. Below it is the 2,600mAh battery, which can be removed too. The battery is smaller than that of the Galaxy Note II (3,100mAh), but the lower screen resolution of the Mega 5.8 must've been considered.
Underneath the back panel is where you'll also find the microSD card, and, as our model features dual-SIM support, two SIM card slots on opposite ends of the battery. Both slots require the battery to be removed in order to be accessible, so no hot-swap there. The microSD card is hot-swappable.