Walking tall
Samsung Galaxy Mega 6.3 review: Walking tall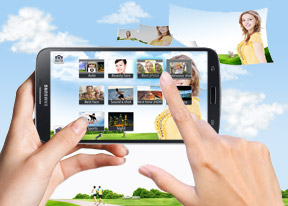 Final words
The Samsung Galaxy Mega 6.3 doesn't have a lot of competition - the good thing is it easily stands out, the bad is that the lack of devices might be due to the lack of potential buyers. Not that Samsung has ever been afraid of exploring uncharted market territories.
The Galaxy Mega 6.3 has a lot going for it - the big screen obviously, but also a good mix of flagship features from this year and the last. We're not big fans of the design, but that goes for most of the Galaxy lineup, where every device looks identical to the S4 except for size.
Speaking of it, 6.3" is too big for comfortable phone operation. And calling is pretty basic, anything more advanced and you'll need both hands on the screen. But you know what they say about cameras - "the best camera is the one you have with you". The same goes for mobile devices and the Mega 6.3 easily beats 7" tablets in terms of portability.
The Samsung Galaxy Note II is a higher-end model, but based on performance alone you'd be hard pressed to tell, it's the difference a year makes. However, the Note has a very good Super AMOLED screen (5.5" 720p) and is much easier to handle with one hand. The S Pen stylus can offer unique advantages too.
Currently it's also more affordable than the Galaxy Mega 6.3 and it will inevitably get Android 4.2 Jelly Bean update, so until the price of the new phablet settles down it will remain the smarter purchase.
The Huawei Ascend Mate comes close to the Mega 6.3 in terms of specs and while it's not as sleek and doesn't have LTE or NFC, it is priced accordingly. So if it's cash per inch you're interested in, it's well worth a look.
Asus recently entered the 6" playing field with the Fonepad Note. It was just announced so details about pricing and a launch date are scarce, but it packs a sharp 1080p 6" screen of 367ppi density and a dual-core Atom CPU, which should be able to outperform the Snapdragon (power consumption is a different question altogether). There's a stylus too, and front-mounted stereo speakers.
The final recently announced option is the Acer Liquid S1. It's somewhat smaller with a 5.7" 720p screen and is a little underpowered in comparison (quad-core Cortex-A7 CPU, 1GB RAM), but if it's priced right it could be a good alternative.
By the way, Acer is yet to announce the complete specs, but the S1 is quite weighty for its size at 195g.
We checked around online stores to get a feel for the Samsung Galaxy Mega 6.3 pricing and frankly it's higher than we believe it should be. We found that the Note II is cheaper and the Ascend Mate cheaper still. To be fair, the Note II and Mega 6.3 were fairly even in our tests and the Mega has 30% extra screen space. The Galaxy Mega 6.3 is still on pre-order and we expect the price to head down soon after launch.
At a lower price point, the Mega 6.3 will be a great midrange deal. Modern smartphones are quickly growing out of the "phone" part and everything else - web browsing, email and chat, watching videos, using apps and playing games - is better on a bigger screen.