Walking tall
Samsung Galaxy Mega 6.3 review: Walking tall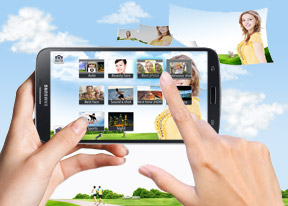 Phonebook is top notch
The phonebook on the Galaxy Mega 6.3 packs an incredibly wide range of features. The four tabs on top are still present and provide access to the Phone app, Groups, Contacts and Favorites.
As usual, there are various options to filter contacts by phone numbers, groups and multiple sorting. You can import/export contacts to/from the SIM card but you can't display them alongside the phone memory entries.
Samsung has a proprietary feature in the phonebook that enables quick dialing (by swiping a contact to the right) or sending a text message (left swipe), which are really handy.
The Quick contacts feature, upon a tap on the contact picture, shows a pop up menu with shortcuts to call, text, email or Google Talk.
Tapping on a contact displays all the details available. There are two tabs here - the first one is the About tab, which shows the person's photo on top. If configured, the right tab displays the contact's latest updates from social networks or Google Talk.
Information is perfectly organized into different sections for phone, email, etc. The top right corner has shortcuts to contact editing and favorites.
If the phonebook finds duplicate contact entries, it'll prompt you to join them. Furthermore, there are a plethora of options once you hit the Menu button. You can view the call history, as well as join, unjoin and share contacts.
There's plenty of contact information you can assign to each contact and it still remains neatly organized. You have all the types listed (numbers, email addresses, etc.) and, just like the previous version of TouchWiz, there's a plus sign on the right - tapping it adds another item of that type. Pressing the minus sign under it deletes the unneeded field.
The reject list blocks certain numbers, or even prefixes (e.g. block foreign calls). It works great with preset numbers and you can also bar unknown numbers. There are third party blacklist apps in the Play Store but it's nice to have this out of the box.
You can choose a specific vibration pattern as an incoming call alert, just like you would a ringtone. A set of predefined patterns is offered, but you can make your own too. You can also assign a custom vibration to specific contacts.
The phonebook app on the Galaxy Mega 6.3 is really something. It's almost too advanced for some users but its interface is simple enough so you can only use the features you need. Once you find your feet around you will appreciate having cool extras like call barring, which stock and most other forms of Android lack.
Telephony with all the bells and whistles
The Samsung Galaxy Mega 6.3 offers top notch in-call audio and managed to hold onto signal trouble-free. Earpiece volume is great and Samsung has even gone as far as adding an in-call equalizer, which does wonders. Of course, no matter how hard they tried, the Mega 6.3 is obviously not the most comfortable piece of phone to hold up to your ear.
The phone app on the Galaxy Mega 6.3 features Smart Dial - it searches names and numbers simultaneously. Only one contact is shown (with contact photo) and you can tap the down arrow to view the rest (the number above the arrow indicates how many contacts have matched your query).
The keypad is pretty big, so you might want to enable the one-handed mode, which makes it easier to reach all the keys.
Direct Call is here too and lets you dial a number by lifting the phone up to your ear while browsing contacts or reading/composing a message. If you use quick dial but forgot which contact is assigned to which number, you can use Air View as a quick reminder.
Voice dialing is available too and taken care of by the newly added S Voice, which activates on a double tap of the home button. All you need to say is "Hi Galaxy" and speak your command (e.g. "call Dexter"). It takes a while to process voice commands but it has more uses than other voice-recognition apps for Android.
The call log is the tab next to the dial pad. It displays all the dialed, received and missed calls in one list sorting your call history by contacts.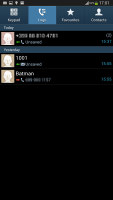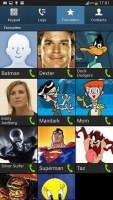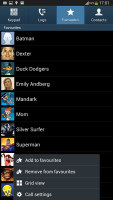 The call log • two view modes for Favorites
Thanks to the proximity sensor, your screen will automatically turn off when you hold it up to your ear during a call. The available options during a call include taking a note, using the keypad, muting, holding the call or adding another call to this conversation.
The dialer also offers quick shortcuts for making a video call or sending a message instead.
We put the Samsung Galaxy Mega 6.3 through our loudspeaker test and it scored a Good mark, very close to the Galaxy S4 flagship. You shouldn't miss any calls in all but the loudest environments.
| | | | | |
| --- | --- | --- | --- | --- |
| Speakerphone test | Voice, dB | Pink noise/ Music, dB | Ringing phone, dB | Overal score |
| Sony Xperia Z | 60.1 | 58.3 | 61.6 | Below Average |
| Apple iPhone 5 | 66.8 | 66.1 | 67.7 | Below Average |
| Nokia Lumia 920 | 61.6 | 64.8 | 65.8 | Below Average |
| HTC One X+ | 64.6 | 65.8 | 74.6 | Average |
| Asus Padfone 2 | 57.3 | 66.7 | 77.8 | Average |
| HTC Butterfly | 69.0 | 70.7 | 77.9 | Good |
| Oppo Find 5 | 70.7 | 67.7 | 73.0 | Good |
| HTC One | 69.3 | 66.6 | 75.9 | Good |
| Samsung Galaxy Mega 6.3 | 67.2 | 69.8 | 75.7 | Good |
| Samsung I9505 Galaxy S4 | 70.6 | 66.2 | 77.3 | Good |
| Samsung Galaxy S III | 75.1 | 66.5 | 75.0 | Good |
| LG Optimus G | 74.6 | 71.3 | 82.7 | Excellent |
You can learn more about this test here.
Messaging with room for customization
The messaging department looks similar to the phonebook - you get a list of conversation threads and you can swipe on a message header to start a call or send a new message (this is a little redundant, but gets points for consistency).
Landscape has an optional split-screen view, which puts the list of conversation threads on the left and the messages in the currently selected thread on the right. That's a great way to utilize the big screen.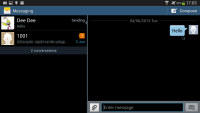 Split-screen view in landscape mode
There's application-specific search that lets you quickly find a given message among all your stored SMS and MMS.
To add message recipients, just start typing the corresponding name or number and choose from the contacts offered.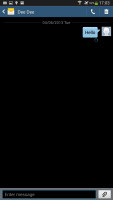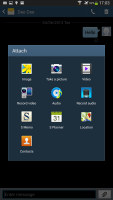 Chat view • attaching multimedia
The keyboard of the Galaxy Mega 6.3 displays an additional row above the letters for numbers - like a full-fledged computer keyboard does.
There's also a Swipe-like mode which tracks your finger and guesses the word you're trying to type. This feature works great but has limited language support for now. You can move the text caret by swiping left or right on the keyboard. Only one of these two features can be enabled.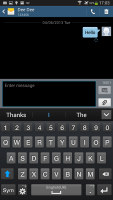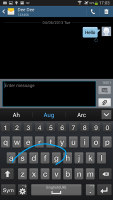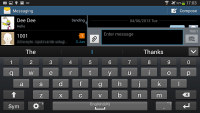 QWERTY keyboard • Continuous input • landscape mode
On a screen this big, the floating keyboard is a nice option. It takes up less space on the screen and can be moved around, plus the smaller keyboard may be easier to type on for some ("smaller" here is relative, it's still quite big compared to phone keyboards).
Adding any multimedia content to the message automatically converts it into an MMS. You can either quickly add a photo or an audio file to go with the text or compose an MMS using all the available features (like multiple slides, slide timing, layout, etc.). The multiple slides are all shown inside the compose box.
You can use S Voice to dictate your message or use Google's built-in voice recognition software if you don't feel like typing. Since this is a Jelly Bean device, you can also use voice typing without a data network connection, as long as you have downloaded the necessary language packs. Samsung also provides the option to change the default input method.
Samsung has left a lot of room for customizing your messaging experience. You can choose from different bubble styles and backgrounds and can use the volume button to increase or decrease the font in conversations to really make use of that 6.3" screen.
When you're composing a new message you can use the Translate option. The same goes for messages you've received. This feature probably won't see much use but it's there you ever need it.
What will come in good use, again, is the new Direct call feature. When you are reading a message from someone, their number will be automatically dialed by just lifting the phone up to your ear.
Just like the dialer, the Messaging app has a built-in spam filter. You can block some numbers (or all unknown numbers) and even add specific phrases to be blocked.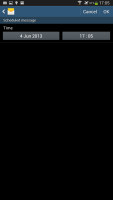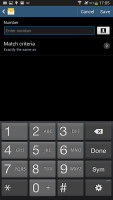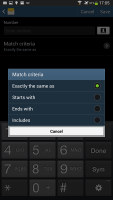 Scheduled messages • Spam filter
Moving on to email, the Gmail app has grown handy shortcuts at the bottom of the screen but is mostly unchanged. It supports batch operations, which allow multiple emails to be archived, labeled or deleted. The default app supports multiple Gmail accounts, but there's no unified inbox.
A cool feature in Gmail is that you can swipe an open message left or right to go to the previous / next. Swiping on a specific line in the inbox will archive the message.
The Samsung Email app can handle multiple POP or IMAP inboxes. You have access to the messages in the original folders that are created online, side by side with the standard local ones such as inbox, drafts and sent items.
The Email app supports Air view, which offers a preview of an email when you hover over a line in your inbox.
In the upper-left corner you'll find a context menu prompt, which lists all your folders. It's not accessible with a swipe from the side so you'll need to tap the mail icon each time you want to gain access to it.
Turning the phone landscape activates the split view - the left side of the screen shows the list of emails, while the right side shows a message. This is the same kind of interface we've seen on the Galaxy Tab.
Google Talk handles the Instant Messaging department. The G-Talk network is compatible with a variety of popular clients like Pidgin, Kopete, iChat and Ovi Contacts.