Walking tall
Samsung Galaxy Mega 6.3 review: Walking tall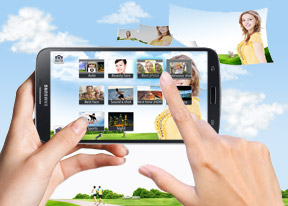 Gallery is alive
The gallery on the Galaxy Mega 6.3 can be sorted into albums, all photos and videos, time, location, etc. Just like in the phonebook, you can choose what kind of content should be displayed - photos and videos from the phone, Dropbox, Facebook or Picasa.
You can pinch to zoom in the gallery and thus manage the size of the thumbnails. Air view works in the gallery as well. You can hover over an image and you'll get a bigger thumbnail overview or you can use it to peek inside folders.
Upon choosing an album (for instance Camera) you're taken into that album's stack of photos but a swipe to the right will list all albums. In this mode you can browse images in a dual-screen mode and easily select files from multiple folders.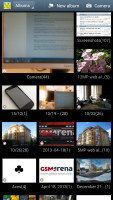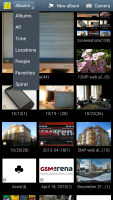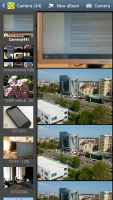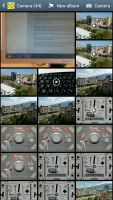 Gallery • the list of albums • changing thumbnail size
Upon a press and hold on a picture, the gallery gives you the option to select multiple images, which you can then mass delete, share, copy or move.
The Galaxy Mega 6.3 is great for viewing photos - the screen is as big as most photo frames and the lower resolution doesn't really show. The great viewing angles do, however.
When viewing a single photo, you'll find several sharing shortcuts and a delete button above the photo, while below is a line of small thumbnails of all other photos in the album. You can tap those small thumbnails to move to other images or you can just swipe to the side.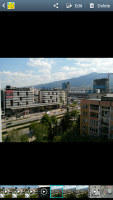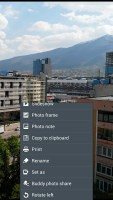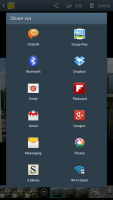 Viewing image • Sharing options
You can easily retouch photos right in the Gallery itself. The photo editor gives you options like crop, rotate, color and effects. You can also make a memo on top of the picture.
The Gallery also supports highly customizable slideshows with several effects to choose from, customizable music and speed. You can also highlight specific images to be included in the slideshow.
You can print photos straight from the gallery, though this only works on Samsung printers.
File manager
The My Files app hasn't changed really - it's an efficient and simple to use file manager. It can move, copy, lock and rename files in bulk, even send multiple files to another phone. My files will only browse the memory card and the large internal storage (it can't access the system drive). We wish Samsung had the same sidebar with the folders on the left, just like in the gallery.
Music player has folder support
The TouchWiz music player on the Galaxy Mega 6.3 is jam-packed with features and supports a wide variety of file formats, including FLAC, Wave, etc.
Music is sorted by the usual Artist, Album, Playlist, etc. but there's also Folder support - it's quite handy as it saves you the need to sort songs into playlists like on so many other players.
Then there's Music square - it's quite similar to the SensMe feature of Sony smartphones. It automatically rates a song as exciting or calm, passionate or joyful and plots those songs on a square (hence the name). Air View lets you hover over a square to see what kind of songs it holds.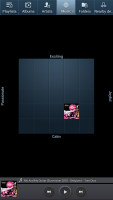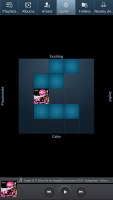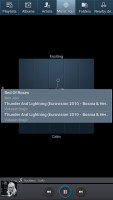 Music square options • peeking with Air View
The Samsung Galaxy Mega 6.3 can also search for content on third party DLNA servers like PCs or other phones on the same network.
Samsung has enabled equalizer presets (including a custom one with 7 bands) along with the sound-enhancing SoundAlive technology, which features 7.1 channel virtualization. Samsung uses SoundAlive in some of their MP3 and Android-powered media players.
The Galaxy Mega 6.3 Smart Sound, which equalizes the volume between tracks. Adapt Sound from the S4 is missing.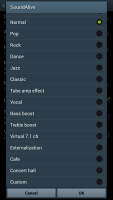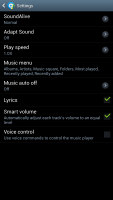 SoundAlive equalizer • Smart Sound
The Now playing screen gives you the usual options - a scrollable timeline, play/pause and skip controls, repeat and shuffle, volume control but it also adds lyrics support, an AllShare shortcut and a direct sound settings shortcut.
While listening to a song you can find music controls in the notification area and the lockscreen.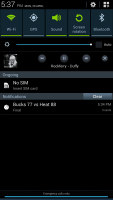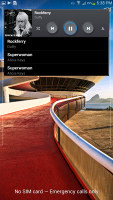 Music player options • controls in the notification area and lockscreen
Great audio quality
The Samsung Galaxy Mega 6.3 did greatly in our audio quality test. The phablet didn't really have outstanding volume levels in either of the test parts, but it had an impressively clean output, which is still a solid achievement.
When connected to an active external amplifier the Galaxy Mega 6.3 managed excellent scores all over the field with no weak points to its performance.
When we plugged in a pair of headphones, stereo crosstalk increased quite rapidly but the rest of the readings remained virtually unchanged. The volume levels were still somewhat low, though.
Here are the results so you can see for yourselves.
| | | | | | | |
| --- | --- | --- | --- | --- | --- | --- |
| Test | Frequency response | Noise level | Dynamic range | THD | IMD + Noise | Stereo crosstalk |
| Samsung Galaxy Mega 6.3 | +0.02, -0.19 | -90.4 | 90.3 | 0.0098 | 0.015 | -91.7 |
| Samsung Galaxy Mega 6.3 (headphones attached) | +0.16, -0.08 | -91.9 | 90.7 | 0.011 | 0.030 | -53.8 |
| Samsung Galaxy Express | +0.37, -0.27 | -82.5 | 82.3 | 0.0094 | 0.023 | -82.0 |
| Samsung Galaxy Express (headphones attached) | +0.49, -0.35 | -81.6 | 81.5 | 0.028 | 0.089 | -44.3 |
| Samsung Galaxy S4 | +0.03, -0.08 | -95.9 | 93.2 | 0.0030 | 0.0092 | -96.4 |
| Samsung Galaxy S4 (headphones attached) | +0.03, -0.08 | -96.0 | 93.3 | 0.0031 | 0.089 | -95.5 |
| Samsung Galaxy Grand | +0.19, -0.45 | -80.8 | 81.3 | 0.0047 | 0.022 | -80.7 |
| Samsung Galaxy Grand (headphones attached) | +0.28, -0.19 | -79.5 | 80.1 | 0.023 | 0.226 | -51.3 |
| LG Optimus L9 | +0.06, -0.32 | -82.6 | 82.5 | 0.0063 | 0.019 | -81.5 |
| LG Optimus L9 (headphones attached) | +0.44, -0.12 | -82.3 | 82.3 | 0.018 | 0.293 | -54.5 |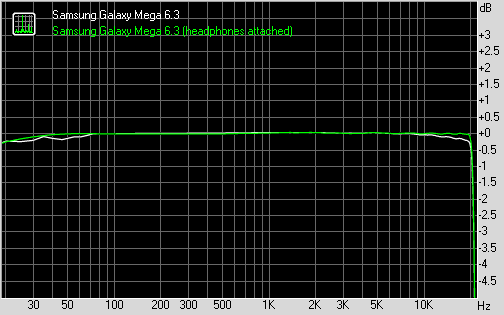 Samsung Galaxy Mega 6.3 frequency response
You can learn more about the whole testing process here.
Decent video player, but codec support falls short
The video player, found on the Samsung Galaxy Mega 6.3 has the last watched video on top for quick access. There are three tabs below it - personal (showing you the videos on your local storage), Download (which lets into the Videos store) and Nearby devices, which shows the PCs and players on your local Wi-Fi network.
The video player lets you choose between three crop modes for how the video fits the screen. The video player lets you squeeze the best viewing experience out of the large screen. You can adjust video brightness, color tone and enable outdoor visibility too.
Some of the same SoundAlive audio-enhancing technology is available here too.
Hovering your finger over the timeline lets you preview part of the video in a small thumbnail - just like YouTube videos do when you hover the mouse.
Pop up play is here too - it moves the video in a small floating window and you can use other apps on the phone while still watching the video. You can use pinch zoom to adjust the size of the video. Samsung should probably retire this feature in favor of a Mutli-window app.
The Samsung Galaxy Mega 6.3 offered a list of subtitles and let us pick. It scans for all subtitles, so the file doesn't have to have the same name as the video file.
The big disappointment here is the relatively poor video codec support. It plays XviD, MP4 and MKV files of up to 1080p resolution, but DivX is not supported. AC3 and DTS sound also do not work.