Shadows of giants
Galaxy Mega 6.3 vs. Ascend Mate: Shadows of giants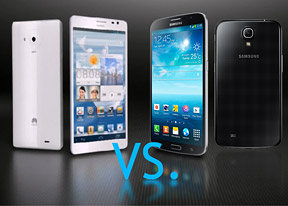 Final words
If you go back to count the individual wins, you'll find that the Samsung Galaxy Mega 6.3 won most of the challenges. But it's no secret that you can get a better device for more money and, unfortunately for the Mega 6.3, it costs more than the Galaxy Note II at the time of writing and considerably more than its opponent.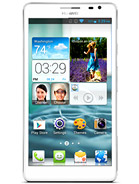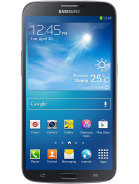 Huawei Ascend Mate • Samsung Galaxy Mega 6.3 I9200
The Huawei Ascend Mate makes no claims to be the best device in the world, but the difference in pricing levels things out. Having looked at the prices at a few UK and German retailers, the Ascend Mate can be had at €380 / £340, while the Galaxy Mega 6.3 will set you back €490 / £470. Also, the Mate is available right now while the Mega 6.3 is still "coming soon" at some stores.
Don't get us wrong - we quite like the Galaxy Mega 6.3, it was quite good in all of the tests we ran and for people who do lots of web and email, it's great to have that big 6.3" screen. But at this price we'd probably look to buy a Galaxy Note II or go for a Galaxy Tab 8.0 and have a real tablet (it's going to launch soon at €300) and buy a phone with the leftover money.
The upcoming Asus Fonepad Note FHD6 will up the ante soon with a 6" 1080p screen, a stylus and stereo speakers, which might convince us to part with more of our hard-earned cash.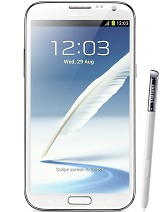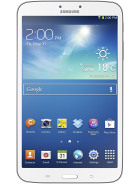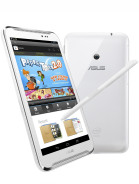 Samsung Galaxy Note II N7100 • Samsung Galaxy Tab 3 8.0 • Asus Fonepad Note FHD6
The Huawei Ascend Mate isn't perfect either, but the huge battery sure is appealing (Gorilla glass and a brighter screen sound good too). Everything else was good enough as well, again we're talking midrange here and the price is a key factor. Sure, the Mega 6.3 price will fall eventually, but so will the Mate's.
Right now the Huawei Ascend Mate delivers a better bang for the buck. Finding it hard to match Huawei's price, Samsung responds with better equipment for the Galaxy Mega 6.3. A classic case of using aggressive pricing to compete against a stronger brand, these two phablets allow a very reasonable choice between budget and comfort.