Little by little
Samsung Galaxy mini 2 review: Little by little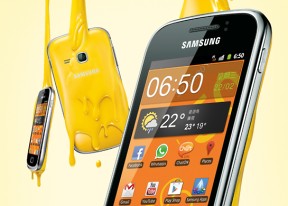 A plethora of organizational tools
The calendar has four different types of view: list, daily, weekly and monthly. Adding a new event is quick and easy, and you can also set an alarm to act as a reminder.
The list view (often referred to as Agenda view) shows a list of all the calendar entries from the recent past to the near future. It's a very handy tool when you need to check your appointments for the next few days.
There is also a calculator aboard. It is nicely touch optimized - the buttons are big enough and easy to hit. Turning the phone landscape reveals more advanced calculator functions.
The Samsung Galaxy mini 2 features a decent alarm clock application with a huge number of alarms to be set, each with its own start and repeat time.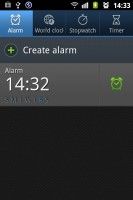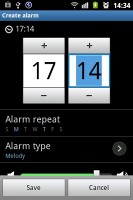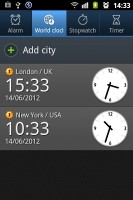 The Clock app and the alarm options
The Memo app is pretty self-explanatory - it lets you create text memos, complete with SNS integration.
You also get a Voice recorder to round off the organizer functionality.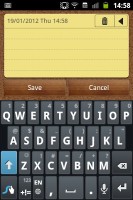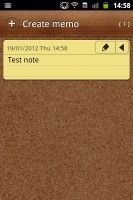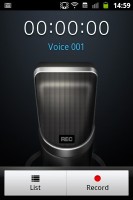 The Memo app • The Voice recorder
Google Maps and GPS
The Samsung Galaxy mini 2 managed to get a GPS lock in just under a minute without A-GPS. A-GPS can speed up the lock (but it involves data traffic). Cell-ID and Wi-Fi positioning are also available if all you need is a rough location, but they need a data connection too.
Google Maps is a standard part of the Android package and we've covered it many times before. It offers voice-guided navigation in certain countries and falls back to a list of instructions elsewhere. You can plan routes, search for nearby POI and go into the always cool Street View.
The latest version uses vector maps, which are very data efficient and easy to cache. The app will reroute you if you get off course, even without a data connection.
3D buildings are shown for some of the bigger cities and you can use two-finger camera tilt and rotate to get a better view of the area.
Google Play Store
The Samsung Galaxy mini 2 has the latest version of the Google Play app store. The new name and icon aside there aren't major changes to the look and feel. In select countries aside from apps you'll also find music, movies and books but this content remains limited so far.
Upon launch of the Market app you're greeted with the tiled interface of the Featured window. A swipe to the right takes you to the Categories view.
Swiping to the left takes you through Top Paid, Top Free, Top Grossing, Top New Paid, Top New Free and Trending (the ones with growing popularity). New sections are available such as Staff Picks, Editor's Choice and more.
Downloads are easy and won't take more than a couple of seconds. Before you agree to download an app, the Market will show you what features the app requires access to (e.g. Internet connectivity, access to the file system, etc.).
Kies Air for wireless PC connections
The Samsung Galaxy mini 2 comes with Kies Air preloaded. The app connects to the local Wi-Fi network (or it can create a Wi-Fi hotspot) and gives you a URL to type into your computer's web browser.
From there you can manage just about anything on the phone - from contacts, messages (including composing messages), to browsing images, videos and other files straight in your desktop browser. You can grant or reject access to computers and see who's connected to the phone at any moment.
The cool thing is you can stream music with handy playback controls. It works for videos too.