User interface
The Samsung Galaxy Mini S5570 runs on Android 2.2 Froyo out of the box and that's always a good thing. It probably won't see any Gingerbread love, but the Galaxy Mini S5570 doesn't really need it to be a compelling product.
To make the user interface better, Samsung has thrown its own TouchWiz skin on top of the Android's original look. Nothing is drastically different, but the subtle design changes make the phone feel like someone has put some thought into it, rather than just squeezing in whatever they had without accounting for the low resolution.
As with most phones running Android, you get 7 homescreens, that can be filled with widgets (including the extra ones by Samsung), folders and shortcuts. However, if you don't feel the need to have 7 screens around, you can reduce them via pinching any of the homescreens.
Doing so will speed up the overall performance too. Speaking of performance, the Galaxy Mini doesn't support Live Wallpapers.
Pressing the menu button on any of the homescreens allows you to add different items (this can also be done via pressing and holding on the homescreen), add/delete homescreen panes, change the wallpaper (Live wallpapers are not supported). There's also a shortcut to the settings menu, notification area and Google search.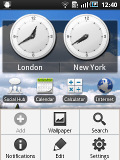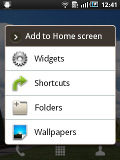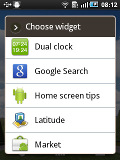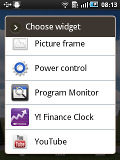 Homescreen options • adding widgets to the homescreen
The bottom bar holds shortcuts to the phone dialer, applications menu and contacts list. They are visible in the main menu as well, but unfortunately cannot.
The notification drawer has four switches for Wi-Fi, Bluetooth, sound on/off and auto rotation. As with the bottom bar shortcuts, the switches can't be changed.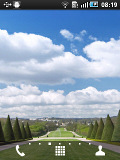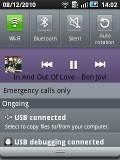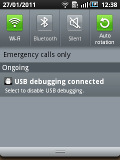 The customized bottom bar • Expanded notification area
The music player and radio controls also appear there when the respective app is active. This way you are no further than two touches away from controlling the music or radio.
To make best use of the low display resolution, the TouchWiz launcher automatically renders all app icons into big buttons in lively colors. Colors change though – the Google apps are gray, default phone apps are light orange, and user installed apps are darker orange. They can be rearranged according to your needs across unlimited number of pages.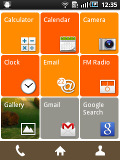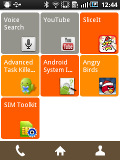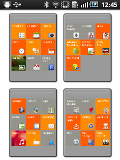 Main menu • Rearranging the main menu pages
Main menu pages can be rearranged too, using the same pinch gesture used to rearrange the homescreens, which we think is pretty neat. Icons can also be moved across the pages of the main menu via the menu button.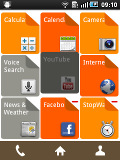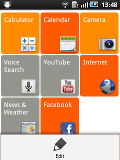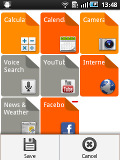 Rearranging the apps in the main menu
In typical Android fashion, holding the Home button pulls off a list of the recently used applications and a shortcut to the task manager.
The Samsung Galaxy Mini S5570 packs an accelerometer, which is used to rotate the screen (doesn't work everywhere) and turn-to-mute. It can be turned on or off from the notification drawer or the settings.