Right on the mini
Samsung Galaxy Mini S5570 Review: Right on the mini

Stock Android gallery on board
The Samsung Galaxy Mini comes with the stock Froyo gallery. It offers the good ol' functionality, cool 3D looks and nice transition effects, but unfortunately (again) only shows a downsized version of your images.
Images and videos placed in different folders appear in different sub-galleries that automatically get the name of the folder, which is very convenient – just like a file manager.
The different albums appear as piles of photos which fall in neat grids once selected. Online albums at Picasa show up as separate stacks as well.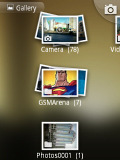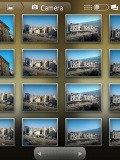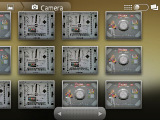 The gallery certainly is a looker
You can also organize the photos by date via a button in the top right corner which switches between grid and timeline view.
In grid view, there's a date slider, which can also be used to find photos taken on a certain date.
If you are checking out a photo, you can use the tabs at the top of the screen to jump back to the main gallery screen, without having to go through its folder.
The gallery supports finger scrolling or panning so you can skip images without having to return to the default view. Just swipe to the left or right when viewing a photo in fullscreen mode and the previous/next image will appear.
Thanks to multi-touch support pinch zooming is also enabled on the Galaxy Mini but you can also double tap or use the +/- buttons.
There are tons of options for a picture – you can crop or rotate it directly in the gallery. The Send feature offers quick sharing via Picasa, Email apps, Bluetooth or MMS.
Basic video player
The player on the Samsung Galaxy Mini can handle 3GP and MP4 video files. DivX/XviD support is missing, but at least we had no problems playing videos at up to WVGA resolution.
720p videos wouldn't play, but would you really want to do that on a QVGA resolution? The Galaxy Mini isn't designed with video playback in mind, especially on that low-resolution screen.
The video player interface itself is as simple and as it could possibly be – there almost isn't one. You can use the Gallery or the My Files app to browse videos. The on-screen controls boil down to play/pause and skip buttons as well as a scrollable progress bar.
TouchWiz music player
The music player in the Samsung Galaxy Mini is blessed with the TouchWiz UI as well. You can sort the music using the sorting options which are neatly displayed in a tabbed interface. Among the options are current playlist, all tracks, playlists and albums, artists and composers. You are free to remove some of the filters to make the interface easier to navigate.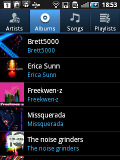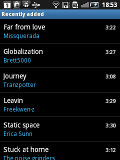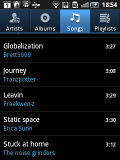 The music player has benefited greatly from the TouchWiz UI
Music experience on the Galaxy Mini can be enhanced thanks to the included equalizer in the settings menu.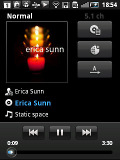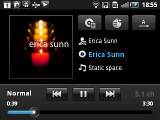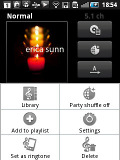 Now Playing view • Landscape mode • settings
The great feature that allows you to quickly look up a song on YouTube or via Google search is also available. The handset also prompts you to select whether to look up the artist, the song title or the album. What's even better, the YouTube search results are loaded straight into the YouTube client.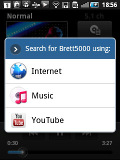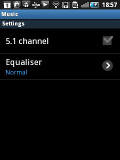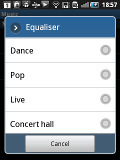 Quick search options • Equalizer settings
The thing missing is the fancy Disc View from the Galaxy S lineup.
Pretty audio quality
Samsung Galaxy Mini S5570 did pretty well in our audio output quality test. The thing is pretty good (even great if you consider the pricing) when used with an active external amplifier and decent when a pair of headphones is plugged in, which earns it a good overall mark.
An active external amplifier lets the Galaxy Mini show its full potential and achieve great scores all over. The smartphone isn't particularly loud, but its output is about as clean as it gets.
Unfortunately, the degradation when headphones come into play is pretty great. Volume levels degrade even further and there's a huge increase in stereo crosstalk. Intermodulation distortion and frequency reponse readings get worse too, though not quite so significant.
And here come the full results so you can see for yourselves:
| | | | | | | |
| --- | --- | --- | --- | --- | --- | --- |
| Test | Frequency response | Noise level | Dynamic range | THD | IMD + Noise | Stereo crosstalk |
| Samsung Galaxy Mini S5570 | +0.11, -0.45 | -83.0 | 85.3 | 0.022 | 0.077 | -80.6 |
| Samsung Galaxy Mini S5570 (headphones attached) | +0.88, -0.24 | -82.4 | 84.7 | 0.023 | 0.427 | -43.7 |
| Samsung S5830 Galaxy Ace | +0.11, -0.47 | -84.9 | 86.8 | 0.025 | 0.084 | -82.1 |
| Samsung S5830 Galaxy Ace (headphones attached) | +0.82, -0.22 | -84.5 | 86.7 | 0.083 | 0.628 | -42.3 |
| LG Optimus One P500 | +0.17, -1.69 | -85.6 | 87.2 | 0.021 | 0.301 | -86.2 |
| LG Optimus One P500 (headphones attached) | +0.19, -1.36 | -85.4 | 86.9 | 0.021 | 0.643 | -46.5 |
| Nokia C6-01 | +0.07 -0.37 | -88.2 | 88.1 | 0.0073 | 0.017 | -89.4 |
| Nokia C6-01 (headphones attached) | +0.48 -0.25 | -88.1 | 87.8 | 0.016 | 0.362 | -71.7 |
| Samsung S5260 Star II | +0.08, -0.51 | -85.6 | 85.6 | 0.0050 | 0.071 | -61.2 |
| Samsung S5260 Star II (headphones attached) | +0.80, -0.28 | -85.4 | 85.4 | 0.013 | 0.449 | -42.7 |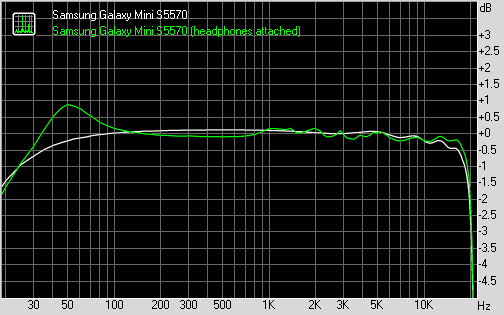 Samsung Galaxy Mini S5570 frequency response
You can learn more about the whole testing process here.
FM Radio
The Samsung Galaxy Mini is equipped with an FM radio with RDS. The interface is simple – there's a tuning dial and you can save as many as 4 stations as favorites. You can also play on the loudspeaker, but the headset still needs to be plugged in to act as an antenna.