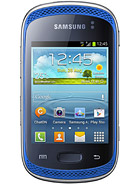 ?
AnonD-72861, 09 Oct 2012yeah you made the right decision. apart from the low internal mem, the explorer is the best in... moreyeah the low internal memory is manageable without rooting easily. and the best part is cynaogenmod10 jelly bean rom is ready for htc explorer on xda , just some minor bugs.
well i havent received it yet . hope it is good . if you plan on buying galaxy chat . the best price now is 8000 rs from infibeam. but a few days ago it was available for 7400 rs on ebay with discount coupons. make sure you get the best price. it makes the deal more sweeter.
and initially htc desire c was way overpriced but now its price has dropped to 11 - 11.5 k . and at that price even that is also very good . yeah 600 mhz is a bummer. but apart from that it is classic. especially since it has beats audio , awesome build quality and looks. they should have bump cpu to 800 mhz. but most probably it will get jelly bean. it will be ultra smooth at that speed also.

D
AnonD-71404, 09 Oct 2012Hi rattler , so finally this baby is official . believe me if this is priced more than 8k it w... moreyeah you made the right decision. apart from the low internal mem, the explorer is the best in this range and the touch is very sensitive too. There are ways to combat the low internal mem and I think you made the right decision. As for me I'm going to get the chat in a few days. You must be happy with the performance of your handset. I tried out some games on my friend's miro and I was thoroughly disappointed by the way the touchscreen behaved, so I think Sony delivered flops in the budget range and as always Samsung is the king in budget droids.
D
Hi rattler , so finally this baby is official . believe me if this is priced more than 8k it will be a big failure seriously . galaxy chat is also 8k in local stores. apart from specs this is plain ugly looking handset and by the looks of it , it looks like a 4 - 5k phone. galaxy chat looks way way more premium than this. Though it has some good features.
to me 2012 has been a big failure for low end phones.

sony started it with tipo . on paper tipo is very good value for money , but disappoints with HIGH SAR value and crappy music quality . and sony were king in music department in mobiles . and to add that some complaints regarding touch . it was a let down.

samsung has got good specs but design sucks with this music. and 240 x 320 resolution.

even samsung galaxy y looks very good.

well now i think i made the right decision. i bought htc explorer for 6995 from homeshop18 . and i dont think samsung will release any other handset in this range till sept 2013. we might have a 2.8 inch pocket like version for it.

so did you get chat or not ? i think its 10 times better than music.
D
Azfar , 09 Oct 2012Nice phone, price should be around 7K INR.samsung will sell it at 7k INR next year after it gets old. The galaxy y is still selling at that price. Moreover the specs are not like 7K at present. The Galaxy chat has similar specs and is selling at 8.5k and this one has a projector too, so I think it will be available at around 10k.
D
the specs are the same as the Galaxy Chat. It should be priced higher because of the projector but then who will give around 180-200 USD for 240x320? The res and the screen size should have been better and by the way who will use a projector when the camera can shoot only low quality video and the phone cannot even play HD video. Having good music capability is a good thing but if the price is below 180 USD then only the phone will sell. Correct me if I am wrong.
Total of 1169 user reviews and opinions for Samsung Galaxy Music Duos S6012.