Samsung just announced another member of the Galaxy Android-running lineup. The Galaxy Neo will be a Korea-only smartphone that belongs to the upper midrange segment.
The Samsung Galaxy Neo exterior is identical to the Galaxy Ace, but for the back panel, which is reminiscent of its larger Galaxy Tab sibling.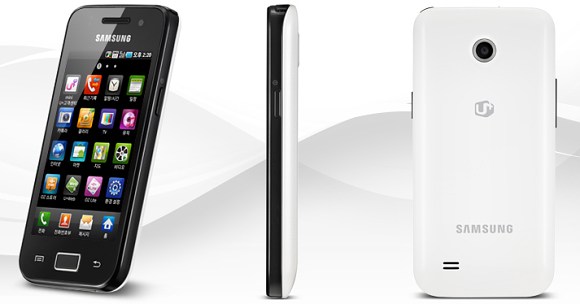 The feature set however has been altered, with the most notable changes being the screen resolution upgrade to WVGA (800 x 480 pixels) and the introduction of T-DMB support. Bluetooth has also been promoted to version 3.0. The camera however has been downgraded to 3 megapixel resolution and has lost its autofocus capabilities.
The Galaxy Neo features an 800MHz processor and 512MB of RAM and runs on Android 2.2 Froyo. The highlights list continues with Wi-Fi (802.11b/g/n) support, a 3.5mm audio jack and a 1,500 mAh battery.
Judging by those specs the Samsung Galaxy Neo should fit somewhere between the I9001 Galaxy Galaxy S Plus and the Galaxy Ace.
The Samsung Galaxy Neo is a CDMA version so it won't work on any GSM networks.
So far there's no information about pricing or possible release of a global version of the Galaxy Neo.
Source (in Korean)
r
We might see Galaxy Milky way, Galaxy Andromeda or Galaxy Magellan but i think Samsung is too lazy to think so we'll see more and Galaxy copy-NAME-cat. nice mess up after being able to reach their peak @Samsung!
L
i was starting to stop hating samsung,but all of a sudden,here it is Neo!! first Galaxy to show of nothing in front of Iphone,then Galaxy player VS Ipod touch,complete loser,and now Neo,like what is your next product??!! playStand?!??
ADVERTISEMENTS