Opening new doors
Samsung Galaxy Nexus review: Opening new doors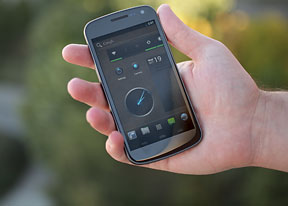 Connectivity king
As you would imagine, the Android top dog brings an arsenal of connectivity. It has everything from quad-band GSM/GPRS/EDGE, through penta-band 3G with HSPA+ (21Mbps downlink, 5.76Mbps uplink) and finally, an LTE-enabled version available for some regions (such as the CDMA version for Verizon in the US).
Local connectivity doesn't disappoint either, with dual-band Wi-Fi b/g/n, DLNA, Wi-Fi Direct, Wi-Fi hotspot and Bluetooth 3.0 and NFC too, there's nothing missing.
Wi-Fi reception is a bit on the weak side - we didn't run into many issues but it does impact download speed if the signal is weak.
The Samsung Galaxy Nexus also comes with a built-in A-GPS receiver that can rely on a digital compass and a barometer too (this helps get faster GPS locks).
The microUSB port handles charging connections with a computer and there are charging pins for the Galaxy Nexus' dock. You should note that there's no mass storage mode available, you'll have to use MTP instead. It works just as well for transferring most files but some files are a problem (e.g. hooking up the Nexus wouldn't show a .ZIP file we needed to copy off the phone).
There's a standard 3.5mm audio jack for audio too and MHL support for high-definition TV-out.
Web browser is brilliant, learns from Chrome
The web browser on Android has always been excellent and the Ice Cream Sandwich version is no exception. Its interface has been revamped to fit better with the new ICS style.
The browser chrome is quite minimalistic - you get the URL bar with a tabs shortcut and the more button that brings up several more options. They include Refresh, Forward, Save to bookmarks, Share page, Find on page, full settings and a couple of more - Request desktop site (no more hunting for that "Desktop" option buried at the bottom of the site) and Save for offline reading.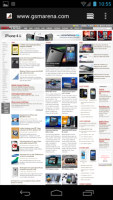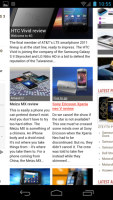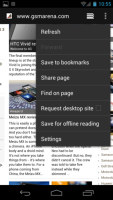 The web browser was redesigned
The full settings menu includes some really interesting options. For example, you can set your search provider to be Yahoo or Bing, you can adjust text size and the level of which double tap will zoom in.
Then there's the Inverted screen rendering option, which turns the web page black and white (with white backgrounds becoming black). You can tweak this effect using the Contrast slider. This option is under the Accessibility menu and makes pages easier to read (plus the black on white looks awesome on the SuperAMOLED screen).
The browser has a new trick too, one which it learned from its desktop sibling, Chrome. When searching for something, if the browser is confident you'll click on a certain search result (and with Google's algorithms there's a good chance you will), it will start preloading that page right away so that it opens faster if you do click it.
Another trick the Android browser learned from Chrome is the 1Incognito mode - there's no global setting, but you can open Incognito tabs.
Speaking of tabs, the tab switching interface looks exactly like the Recent apps list. You can even close tabs by swiping them off the screen.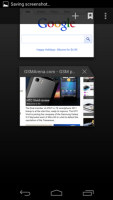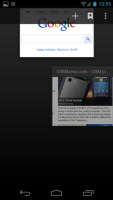 Switching tabs works the same way as switching apps does
We have one complaint about the interface - the URL bar and only two controls auto-hide when you get zoom or scroll into the page and you have to pan slightly to reveal them again. You used to be able to hit the menu key to do that (which was easier) but now that key is gone.
There's a cure for that problem - you can enable Quick controls from the Labs settings, which reveal three controls (Tabs, URL, More) when you slide your finger in from the side.
The browser works very fast and smooth and had no issues with website compatibility.
Flash also worked just fine with YouTube 1080p videos and Flash games running smoothly.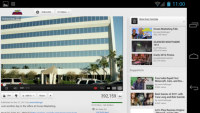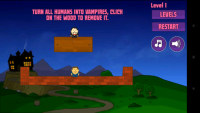 Watching a YouTube video in the browser • Playing a Flash game
Organizer apps and office document viewer
The Samsung Galaxy Nexus comes with an office document viewer that we almost missed as there's no shortcut for it nor a file explorer preinstalled. We installed a file explorer and were surprised when the phone managed to open all sorts of files (DOC, XLS, PPT from Office 2003 and 2007 along with PDF).
The viewer works pretty fast and there's handy Find functionality. There's no editing however, and no paid upgrades for that either (but if you're willing to pay, the Android Market will find something to do the job).
The calendar has a new look and its functionality is as good as ever. There are four views - Daily, Weekly, Monthly and Agenda. The app can easily handle several online calendars as well as the local calendar.
You can add multiple reminders for each event and search through all events.
The Clock app defaults to a desk clock mode that looks a lot like the lockscreen. The best part here is that you can tap to turn the light almost all the way down - with only the time staying on the display just bright enough to see it (it's much easier to see in the dark). This is a very power-efficient mode, thanks to the SuperAMOLED display and you can actually use the phone as a desk clock without worrying about killing the battery.
The usual alarm functionality is still present - you can set multiple alarms, each with its own repeat pattern, ringtone and label.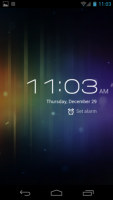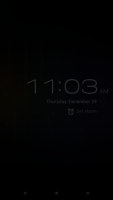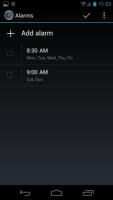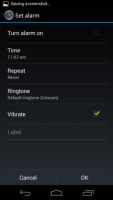 The desk clock mode has an energy-saving mode • Setting up alarms
The good old calculator is here too - it has big, easily thumbable keys and you can swipe to the left to bring up the advanced functions (trigonometry, square root, brackets, etc.).
Google Maps is joined by Google Earth
The Samsung Galaxy Nexus features a built-in GPS receiver that got a lock in under a minute. You can use A-GPS to speed that up or go for Cell-ID and Wi-Fi positioning for a rough lock (all three options however require an Internet connection).
Google Maps is onboard and offers the same functionality but with some changes to its interface. Functionally Maps hasn't changed from what we currently have in Gingerbread (and that's a lot). The UI changes are concentrated in two semi-transparent bands at the top and bottom edges of the screen.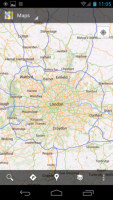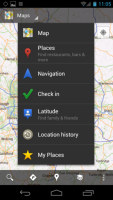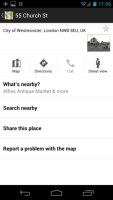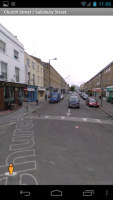 Google Maps on Ice Cream Sandwich
The top band features a dropdown that makes it easy to switch between several different modes - Maps, Places, Navigation, Check in, Latitude, Location history and My places.
Location history uses data from Latitude to graph your past positions in interesting ways. Info from Location history is kept private and not shared with anyone.
The bottom bar uses shortcuts for searching, planning a route, searching near you, selecting which layers are visible and getting into the Settings menu.
Maps uses very data-efficient vector maps, which have the added bonus of letting you control the camera with two fingers (pinching for zooming, rotating for turning the camera and sliding for tilt control). 3D buildings are also available in some regions.
You can use Maps to plan pedestrian and car routes or routes with public transport. Some regions get to use Google Maps Navigation that does voice-guided navigation. It needs a data connection when you first create the route, but after that you can go offline (it will even recalculate the route if you go off course).
Street view and Search nearby are available as always.
Google Earth came preinstalled on the Samsung Galaxy Nexus. It's like a 3D version of Google Maps (well, except fro the navigation bits) and it's a free download on Android, but Google decided to include it in Ice Cream Sandwich by default.
It has a semi-transparent bar with several shortcuts on top of the screen, just like maps. Google Earth is a fun way to explore places around the world and complements Maps nicely, but you can easily do without it.