NenaMark 2 is a popular Android benchmark for 3D performance and it offers an online database of results. Interestingly, a Samsung Galaxy Nexus with an updated GPU popped up in the results.
The Galaxy Nexus uses a TI OMAP 4460 chipset, which packs a PowerVR SGX540 GPU. That's the same GPU Samsung used in the original Galaxy S. The interesting benchmark result (submitted anonymously) however claims it ran on PowerVR SGX544. It's used in the TI OMAP 4470 chipset, which suggest that the change is due to an upgraded chipset.
Anyway, the GPU scored 39.8fps, while the regular Galaxy Nexus got 24fps when we tested it. Which is what you would expect as the SGX544 offers double the raw performance of the SGX540 (they are both clocked at 384MHz in their respective chipsets).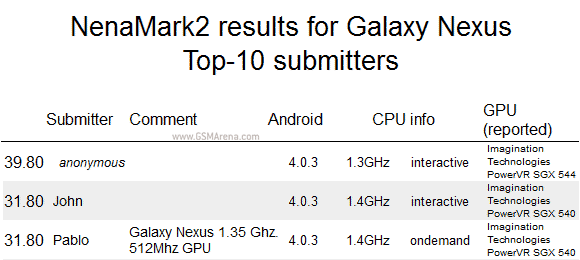 The CPU clock speed is listed as 1.3GHz instead of the usual 1.2GHz. This doesn't prove anything though, as both the OMAP 4460 and 4470 can run at higher speeds (1.5GHz and 1.8GHz respectively).
Plus, the benchmark app can always be tricked to detect a wrong GPU, so don't take this for granted.
If you want a very technical and detailed description of the various PowerVR GPUs, AnandTech has an interesting article. It also describes the SGX543MP2, the current leader in mobile GPUs that is inside the iPhone 4S.
?
It's still not enough to top the dual core SGX543MP2 in the Apple A5.
D
You should try chainfire 3D, it's even better with 4x antialiasing. Asphalt6 works perfect on SGSII and it's free on samsungapps.
?
i heard the BCM2763 in the nokia 701 is pretty powerful.
ADVERTISEMENTS