The People app replaces Contacts
The Phonebook visuals have changed a lot as well. It's called People now, and it comes with a svelte, light-colored background. The contact pics are bigger and the Quick contacts feature (touch the thumbnail to get a menu for calling, texting and whatnot) has been upgraded to show the contact pic in a huge popup window.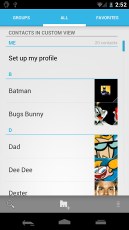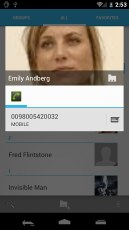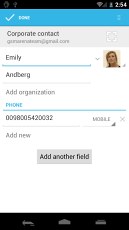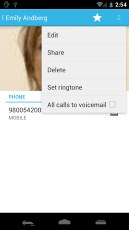 People is your contact management app
The Music player is nothing new
The Music player app seems the same as before but that may as well change before release, since we've heard rumors about it getting a serious update. There's an option to set the currently playing track as a ringtone straight from the music player, but there are no equalizer presets and stuff.
The camera has got some new nifty ninja skills
The camera has been updated too. It comes with a new list of special shooting modes - such as sweep panorama and time-lapse videos. No, there's no HDR mode, but there's an app for that anyway.
The camera lacks any advanced options such as Metering or ISO and only the video camera has a choice of special effects. The good news is that the camera now has continuous focus and tap to focus as stock.
The still camera may be stuck at 5 megapixels but the camcorder is capable of shooting 1080p footage with lower-res modes available as well. You should also check out our video of the camera interface.
Here are some camera samples taken with the Galaxy Nexus
And here's a 1080p video sample uploaded to YouTube for easy viewing. To truly appreciate it, don't forget to turn on 1080p mode and open the video fullscreen. And in case, you'd like a real-life video sample for download, here's one (10 sec footage, about 24MB).
The web browser has been updated too
The web browser comes updated too with a reportedly faster performance and features such as Save for offline viewing and Ask for a desktop version of the webpage.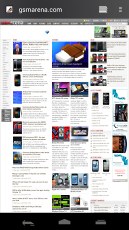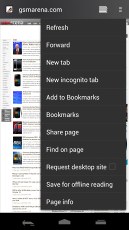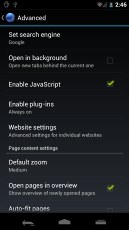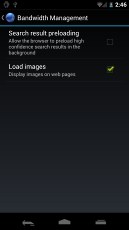 The updated web browser
Calendar and Mail have got a facelift as well
The Calendar has been redesigned as well. The one on our test unit wasn't quite stable so we can't comment whether it's ot any extra features added but the new visuals are obvious.
The Mail client follows the same design cues. However it's no longer two separate apps - as in Gmail and your Other mail. Now, your email accounts are all combined in a common inbox. They are easy to access and sort and you can pick which folders you want to sync on your phone.
Final Words
The Galaxy Nexus is an impressive device on its own. It's got an amazing display with the highest resolution on a GSM mobile phone yet, 1080p FullHD video recording, dual-core 1.2GHz CPU with powerful graphics chip but most importantly it's the first handset to make use of the latest and greatest from Android.
And Ice-Cream Sandwich is not some minor upgrade. Features like the updated typeface, the new lockscreen with a camera shortcut and notifications, the improved stock camera app, the hardware acceleration for the UI, the improved text and voice input, etc. will certainly go a long way in making the Android user experience richer. And best of all, it will put an end to Android fragmentation which has been making the lives of devs and users miserable for so long.