Don't get overexcited just yet, the event for the announcement of the Samsung Galaxy Nexus is just less than three hours away, but that doesn't mean the fun can't begin right now. The first official press photo of the Galaxy Nexus has showed on Samsung's search result page.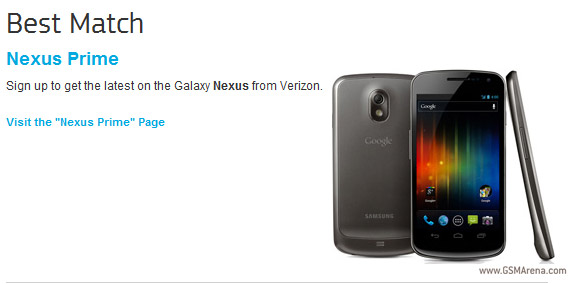 That's just about it. There's no high res version of the photo available yet, but that's about to change in a few hours' time. One interesting, but not unsurprising bit of information to note is the hint of Verizon exclusivity. As you can see from the image above, the page clearly states "Sign up to get the latest on the Galaxy Nexus from Verizon".
It's been a strong day for Verizon all around, no? The Unpacked event is right around the corner, so stay tuned!
Update: With the launch of the device fast approaching, a new 5-minute hands-on video shows up on YouTube. BriefMobile got hold of it and despite being really blurry, it shows some interesting aspects of the upcoming Ice Cream Sandwich. Notice how the bottom onscreen Android buttons disappear on the Camera app and then coming back on again when the bezel is touched, hinting what might be a touch sensitive bezel. We'll find out soon enough.
Thanks, Claudiu!
Source, Source (2) | Via
R
verry nice phone samsung galaxy nexus *****
b
who give a damn bout the camera on a phone if you want a damn good camera get a damn camera...
S
New professional Canon camera EOS-1D has only 18,1 MP. And it's the best what Canon have. Why they did not put at least 30 MP? May be they do not know, that more MP is better quality?
ADVERTISEMENTS