Samsung Galaxy Note10+ 5G tops DxO charts for both main camera and selfies
The Samsung Galaxy Note10+ 5G is the new camera king sitting atop the DxOMark charts with wins in both the main and selfie camera categories. Since the only difference between the 5G model and the LTE-connected Galaxy Note10+ is just the 5G modem, the score applies to that model as well.
Let's start with the main camera. The overall score of 113 is one higher than what the Huawei P30 Pro got. Breaking it down, the Note got a Photo score of 118, which is just a point behind the Huawei. While the main camera is almost the same as that of the Galaxy S10 5G (which matched the P30 Pro's overall score), Samsung has tweaked the image processing algorithms and got better results.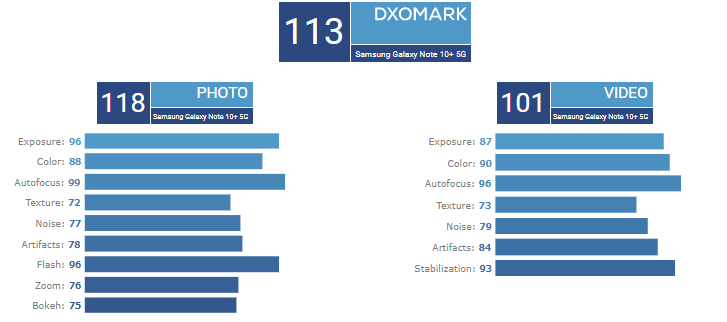 The Galaxy Note10+ takes excellent photos with a wide dynamic range in a broad range of lighting conditions. The one spot it lags behind the Huawei is very dark scenes (1 lux). Focus is fast and accurate, the flash was rated highly too.
The telephoto camera now has a brighter aperture, f/2.1 (S10 5G had f/2.4). The phone preserves more detail in textures even in low-light conditions. Also, the bokeh and skin rendering of portrait shots has been noticeably improved. Still, the 2x zoom is rather short compared to some of the competition.
The Video score of 101 is the highest yet. The 4K videos shot with the Galaxy Note10+ feature a high level of detail, vivid colors and wide dynamic range. Autofocus and object tracking are fast and accurate, the image stabilization was deemed effective (DxOMark doesn't seem to have tested Super Steady mode, however, as that only operates at 1080p).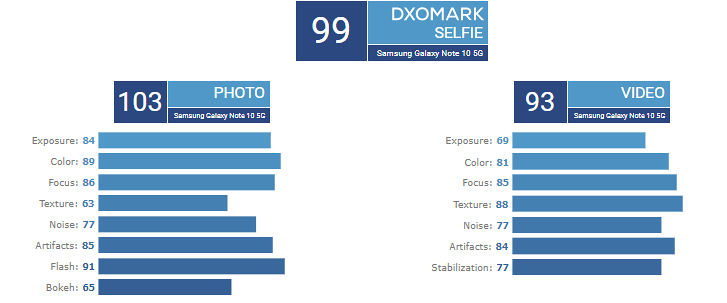 With a Selfie camera score of 99 points, the Galaxy Note10+ pushes the Zenfone 6 out of the top spot. The score breaks down as 103 points for Photos and 93 for Videos (the Zenfone got 101 and 93, respectively).
The front camera produces excellent photos and videos in a broad range of shooting conditions. It's autofocus capabilities are among the best as is its selfie flash ability. The bokeh mode leaves a little something to be desired, though.
Note that the smaller Galaxy Note10 (both LTE and 5G) uses exactly same selfie camera and an almost identical rear camera – it lacks the 3D ToF sensor, but that doesn't play much of a role in DxOMark's tests.
DxOMark: Rear camera review | Front camera review
S
Omg samsung definitely 2020 amd chipset benchmark power....
D
I think you should change your name to "ilovesamsungphones"
ADVERTISEMENTS