Samsung Galaxy Note10 coming in late August, iPhone 11 in late September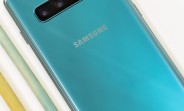 We all know that Samsung's next flagship device, the Galaxy Note10, will be coming in August while iPhones traditionally come out in September. But it appears there will be a slight change of plans this year according to a leaked Verizon marketing calendar.

Evan Blass, a renown leakster with a good track record shared a screenshot taken from Verizon's marketing calendar forecasting a Galaxy Note10 release sometime in the third week of August instead of the first as usual.

This contradicts earlier reports of August 10 as a possible release date. The 2019 iPhones, on the other hand, will be pushed back to the end of September, probably around the third or fourth week.
There's also the Google Pixel 4 in mid-October but we knew that already.
to be honest the only good android to me ATM is the ONE PLUS 7. it android experience is like no other, its smooth and quick response is better than any Samsung i have used but nevertheless i remain a loyal Apple User
D
You can't be so dedicated to Google, seriously. Every single company has made a bad phone and Google is one of them. Calm down with the brand loyalty. Nokia is my favourite brand and I'm not even using one, I'm a Samsung user and I'm not exactly a fa...
ADVERTISEMENT