Samsung has been keeping off the Lite smartphone market for the last few years, but rumors are pointing to at least two new phones coming in now. The latest report comes from Geekbench, where the Samsung Galaxy Note10 Lite was spotted.
The phone was benchmarked with the SM-N770F model name, revealing an Exynos 9810 chipset and 6GB RAM.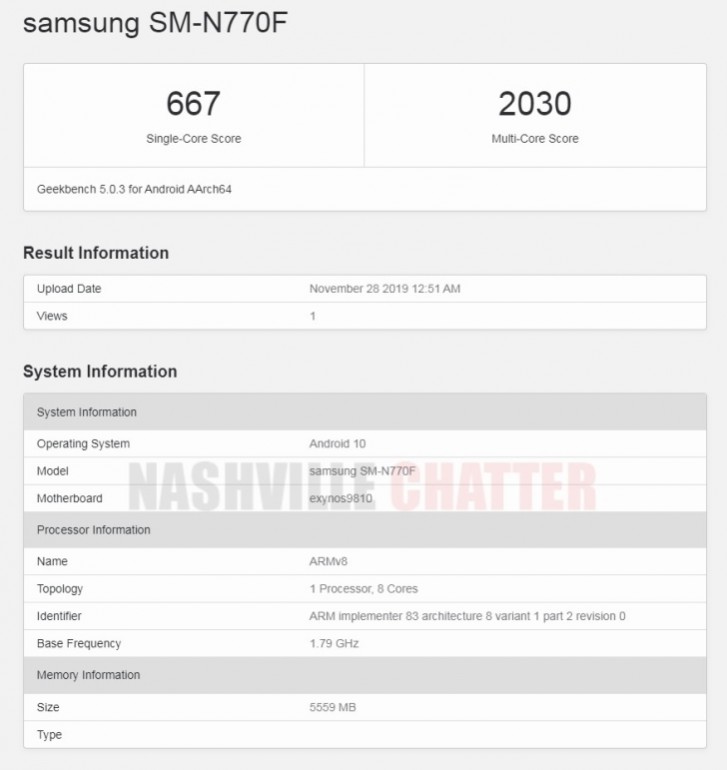 That chipset is already a year old - it debuted with the Galaxy Note9. It's still built on a decently efficient 10nm process and packs decent processing power even if it's no longer up there with the best.
We are sure this is a completely new Galaxy Note smartphone because the letter N marks Note, but the following digits are nothing like a previous device from the lineup - they all have been SM-N9xxx.
Interestingly enough, the model number ends in F, which is typically for global single-SIM devices, meaning the Galaxy Note10 Lite is not just a version for the domestic scene, but Samsung is willing to sell the device to overseas markets.
Yesterday we learned the phone might have an S Pen, but aside from that, information about the phone is pretty scarce.
G
Big battery on small form factor? Do u want to make bomb again just like the explode of Note 7? Lol.. Just think realistic brother.. Bigger battery needs more space. More space needs bigger or thicker body. Don't compare with middle class phones...
smart marketing ideas are smarter than your smartphone: make a new phone with some old space parts and call it "Lite" or "SE"
?
Another note 9 They just getting rid of they spares
ADVERTISEMENTS