Thinking Big
Samsung Galaxy Note7 review: Thinking Big
S Pen
In a world where people rarely use actual pens, Samsung is asking them to use a digital one. And many say yes!
The S Pen has been updated to feel more natural. The tip is much thinner to simulate a ballpoint pen. The button has been moved up to prevent accidental presses.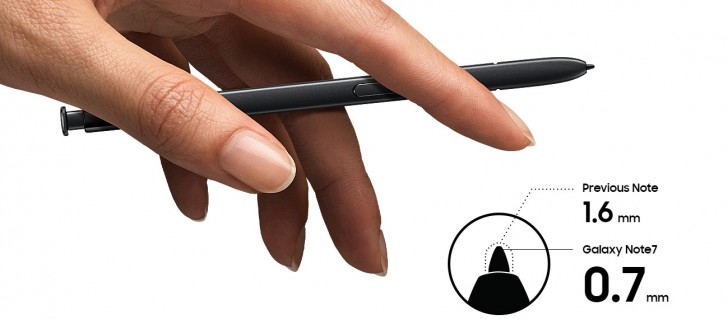 The stylus is more accurate than before too. It can detect up to 4,096 different levels of pressure (that's twice as its predecessor), and its position is tracked 360 times a second. Using it scribble was the closest to a real pen that we've seen.
With each iteration, Samsung adds new features but we think this is the best update yet.
The most eye-catching trick is that you can write underwater. Not that you'd ever need to, but it's a cool demo and you have the certainty that a wet screen will not interfere with what you're doing.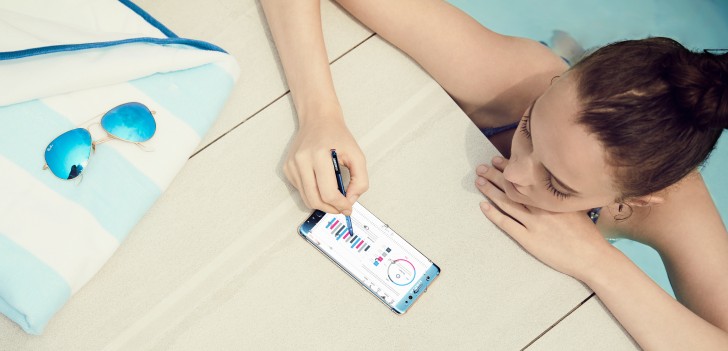 The most useful trick, however, is the Screen-off memo. Just pull out the S Pen while the phone is locked and start writing. Tap Save and it goes into your Samsung Memo app. The process is so natural, soon you'll use the Note7 just like a regular notepad.
Not only that but you can also pin a note to the Always on screen so it's visible without having to unlock the phone (again, like a regular notepad!). The unintuitive and hard to discover part is that to reveal the note, you have to double tap the tiny Pin icon that appears under the AOD clock.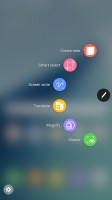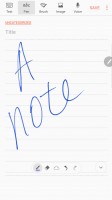 Air Command menu • Writing a note
Anyway, the S Pen has other tricks. It can help reading comprehension by serving as a magnifying glass for text (so it's easier to read) and it can even translate words from one language to another just by hovering over them (but only one word at a time).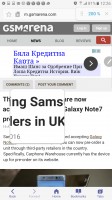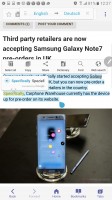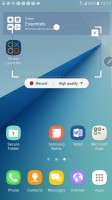 Magnify • Translate • Making a GIF
It can do other things too - scroll just by hovering over an edge, capture screenshots (even if you have to scroll), creating animated GIFs and more.
These features are launched from the Air Command menu. You get to it by either tapping the small, translucent icon that sits at the edge of your screen or by pressing the button on the S Pen itself.
Always on screen
S7's Always on screen was somewhat limited, but the Note7 adds some new functionality and also variety. Now you get to choose from 13 clock styles, two calendar styles or four images that can be shown on the screen, while it's off. Even better, third-party apps notifications show up on the AOD with the app's icon and double tapping it would take you directly to the app.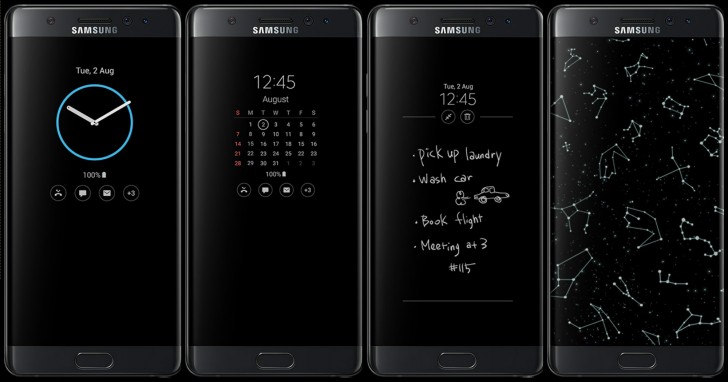 The AOD functionality can be scheduled in case you don't need it all day. It's worth noting that it would also switch off on its own after a while if you put the phone in a dark place - such as in a drawer, a pocket or a purse.
A variation of the AOD is the Night clock - it's dim and unobtrusive always on clock that won't bother you if you keep it on even in a pitch dark room. The Night clock takes precedence and disables the Always on screen so you can't have both.
Edge screen
Edge screen is a very convenient shortcut to many features. You pull it out by swiping from the right edge of the screen (you can switch that to the left).
By default it has four panels you can swipe through: Apps edge (pre-configured app shortcuts), People edge (pre-configured contact shortcuts), Tasks edge (various shortcuts, e.g. Take selfie or Create event) and My places. The latter lets you customize the content of other panels based on location - Home, Work or Out and about.
You can deactivate Edge panels you don't want and enable others (including downloading additional panels). We quite like the Calendar, which puts an agenda for the day always in reach.
Edge panels work on the lockscreen, but not while the screen is off. For that you have the Edge feeds.
Edge feeds are activated by "rubbing" the edge of the phone. Two are pre-installed: notifications and S Health. The notifications feed does show all your phone's notifications.
You can flip between feeds with a swipe, especially useful if you use more than one (you can download additional ones, but currently only CNN and RSS feeds are available).
The third and final Edge screen feature is Edge lighting. It's a prettier, easier to notice notification light. It works when the Galaxy Note7 is face down and uses the sides of the screen to create a colorful aura around the phone.
Iris scanner and security
Samsung isn't the first to put an iris scanner on a phone (Microsoft did it first on the Lumia 950 and 950XL), but we suspect it will be the first to popularize it (Lumias are rarer than unicorns these days).
The iris scanner fills much the same niche as the fingerprint scanner, in fact soon the two may be used interchangeably. This means securing the lockscreen, Samsung Pay and Knox, the new Secure folder, even web logins.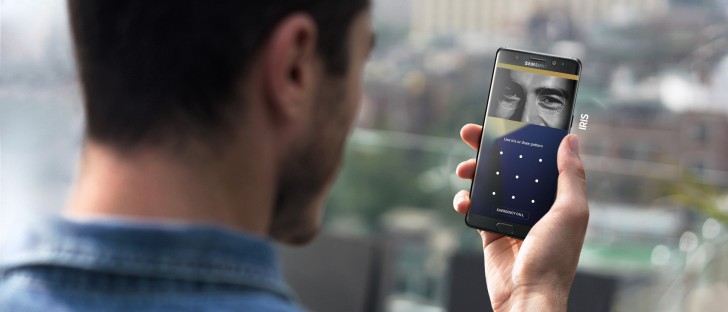 The iris scanners are presumably more secure - fingerprints can be "lifted," irises can't. And they work even when your fingers are wet and pruney.
It's not without its downsides. We most miss that it's not always on - you can unlock the phone with the fingerprint scanner in one motion, but not with the iris scanner. It needs you to wake the phone first, then swipe to unlock and only then line up your eyes to be scanned.
That last bit is tricky too, as you have to hold the phone relatively close to your face and the positioning is done in fairly narrow margins, which slows things even further.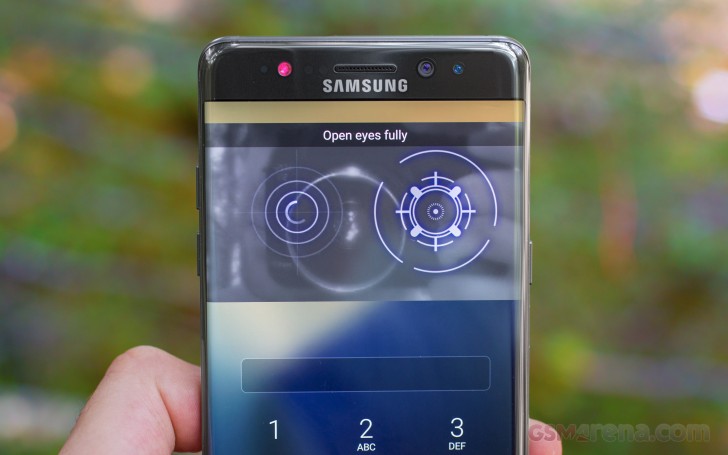 For now, we predict the fingerprint scanner will continue to be the preferred security solution though it doesn't hurt having both on. The added benefit of iris scanning (if it's used at all) will be reserved for more sensitive areas - like the Secure folder.
What is the Secure folder, anyway? It is what it says on the tin - a special folder on the device that can securely hold files, memos and apps. It's locked independently from the lockscreen - one can use a fingerprint, the other an iris.
You can even install two copies of an app - one in plain sight and one in the Secure folder. And you can hide the folder too, so people can snoop all they want and will not find anything suspicious.
Samsung says Secure folder is like having a second phone. You can launch the camera from here and photos you take go straight into the secure gallery. There are secure Contacts too, calls to them do not show up in the regular call log.
By the way, it took us a while to figure out where our screenshots of the Secure folder UI went - well, in the Secure folder, of course! Samsung has gone to great lengths to ensure things stay locked up.