Thinking Big
Samsung Galaxy Note7 review: Thinking Big
Telephony and loudspeaker
The Samsung Galaxy Note7 is available as a single-SIM phone (like the unit we have), but there is a model with dual-SIM support with a hybrid slot.
The dialer and the phonebook are pretty much the usual TouchWiz deal. There are no special dialer-specific tricks that the S Pen can do, but it's still quite useful for taking notes during a call.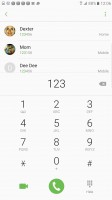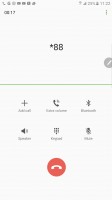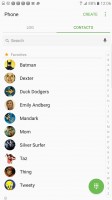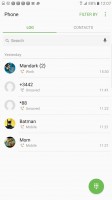 Dialer • In a call • Contacts • Call log
The Do Not Disturb mode can be put on an automated schedule. When it's on, only priority notifications can get through and you decide what counts as "priority" - it can be anything from calls from select contacts to reminders from key apps.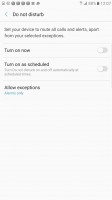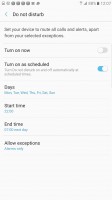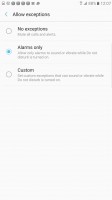 Do not disturb • Priority notifications • Exceptions
The Samsung Galaxy Note7 scored a Good mark on our loudspeaker test, beating its predecessor (Average) and matching the Galaxy S7 edge. The single speaker produces clean sound even at full volume and performs evenly across different types of audio - music, hands-free calls, ringtones.
| | | | | |
| --- | --- | --- | --- | --- |
| Speakerphone test | Voice, dB | Pink noise/ Music, dB | Ringing phone, dB | Overall score |
| Apple iPhone 6s Plus | 65.8 | 65.1 | 64.6 | Below Average |
| Samsung Galaxy A9 (2016) | 65.5 | 72.2 | 65.2 | Average |
| Samsung Galaxy Note5 | 65.3 | 64.6 | 73.5 | Average |
| Samsung Galaxy S7 edge | 70.0 | 69.1 | 71.8 | Good |
| OnePlus 3 | 62.4 | 71.0 | 77.8 | Good |
| Samsung Galaxy Note7 | 69.7 | 69.9 | 72.3 | Good |
| Huawei P9 Plus (stereo) | 66.9 | 70.0 | 76.9 | Good |
| Huawei P9 Plus (regular) | 71.7 | 73.7 | 81.3 | Very Good |
| Microsoft Lumia 950 XL | 74.9 | 75.7 | 84.3 | Excellent |
Text input
Writing on the Galaxy Note7 naturally features the S Pen. You can just leave your handwriting as-is or if you want to share your thoughts with others and you're worried about legibility, you can rely on the handwriting recognition instead.
The Galaxy Note7 also features the latest version of the Samsung Keyboard. It's quite feature-packed, with a dedicated numbers row, a row above that for word suggestions and additional characters on each key (accessible via long-press).
Even when typing, the S Pen can be useful - you can move the cursor and select text with the accuracy of a mouse (doing the same with your finger is quite inaccurate).
If that seems too tall, you can scale the keyboard down (or up, if you want bigger keys). The Space key used to be cramped on the S7 and even the bigger S7 edge, but it's big and easy to hit on the Note7.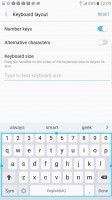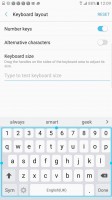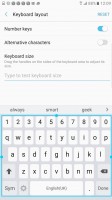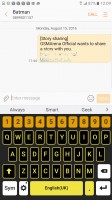 Keyboard size: Smallest • Default • Biggest • High-contrast mode
Additional typing tools include Swipe input, you can predefine keywords for particular pre-defined phrases and voice dictation.
Other apps
Samsung continues to bundle the Microsoft app package that includes Word, Excel, PowerPoint, OneNote and Skype.
Google Drive is pre-installed, however, the actual document editors are not (they are a free download, though).
The Samsung-customized web browser features Web sign in - a feature that works as a password manager secured by your iris or fingerprint. This makes logins as simple as unlocking the phone and people can't peek over your shoulder to see your password.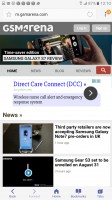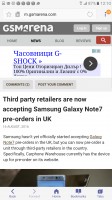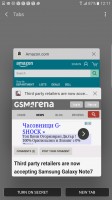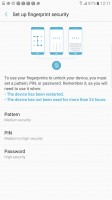 With the Samsung browser, your fingerprint is your password
S Health is on board and it can fully utilize the heart rate and blood oxygen sensors. It also tracks walking/running/cycling and you can manually input water and coffee intake and so on.
Smart Manager has been renamed Device maintenance. It still offers the same features and takes care of battery, RAM, Storage and Device security. This gives you tools to clean-up unnecessary files or track down apps which drain the battery or use too much RAM. There are buttons to do this one by one but also one big Optimize now button to do it all.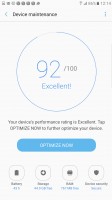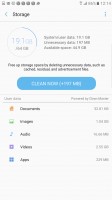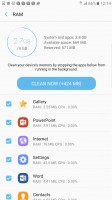 Device maintenance • Cleaning up the storage • Cleaning up the RAM
The Device Security tab lets you activate Knox (protects the phone and OS from hacking but makes for longer boot times) and scan for malware. The My Knox app lets you separate work and corporate apps and access by creating a secure, isolated space on the phone, which becomes inaccessible as soon as Knox detects an unauthorized change in the OS.
The My Files app is the default file browser. It features Google Drive integration, but no Samsung Cloud (again, that's for backups, not files). You can ZIP folders to make them easier to share as a single file.
Finally, there's Galaxy Apps, Samsung's own app store. Galaxy Essentials is a good place to find great tools (like Kids Mode), but for general app shopping, you would probably be better off with Google Play.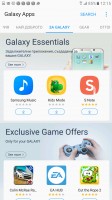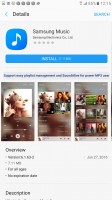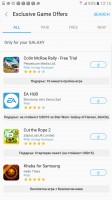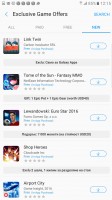 Galaxy Apps • Media apps no longer pre-installed • Galaxy exclusives