Samsung Galaxy Note7 exploding battery likely caused by extreme internal margins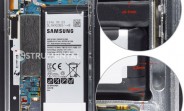 It looked as if the story of the exploding and fire-catching Galaxy Note7 unit is behind us with the battery being the obvious culprit behind Samsung's troubles, but a new report suggests otherwise. Instrumental, a company, specializing in engineering tools and services, has conducted its teardown and upon closer inspection has a different take on the matter.
Long story short, the company suggests Samsung was too aggressive in its internal design margins. This had left no room for the phone's battery, which, as Instrumental points out, swells up even in normal usage.
Any battery engineer will tell you that it's necessary to leave some percentage of ceiling above the battery, 10% is a rough rule-of-thumb, and over time the battery will expand into that space.
Samsung had the tough task for the Note7 to offer better battery life than its predecessor all the while having a slimmer design. The Note7's Li-Po battery is a "jelly-roll" model, which consists of a positive and a negative layer separated by polymer. It's what allows energy to flow between the two layers without them touching, because once that happens, the battery explodes due to the increased heat and greater energy transfer because of it.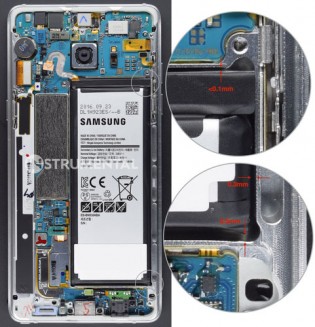 The very aggressive margins in the Note7's internal design • Instrumental's test bed
Instrumental notes that upon closer inspection, the struggles in the Samsung's engineering team to employ both safety and extreme boundary-pushing is evident. Sadly, the efforts of the engineers to balance the risks of aggressive manufacturing and maximizing safety didn't lead to anything good.
You can follow the source link to check up all of Instrumental's remarks regarding the Note7's internal and battery designs.
G
You can keep your "form". That don't pay the bills. Function is what does in the business users world. That is why Blackberrys were so popular at one point, because they WORKED for business users. Once BB tried to move from making a phone t...
j
batteries bulge over time. but I don't think that it will budge in a short period of time. what a lame explanation for the exploding issue of note 7.
ADVERTISEMENTS