The rumors about the next Galaxy Note are thriving these days and we suspect they will be multiplying with IFA growing near (traditionally held in early September). Some of the latest leaks revealed Samsung's idea to call the next phablet Galaxy Note7 in order to identify it with the S7 series.
The previous intel suggested the Galaxy Note7 will pack a 5.8" Super AMOLED screen with 1440p resolution, Snapdragon 823 chipset with 6GB of RAM, a 12MP main snapper, and 64GB or 128GB expandable storage. Naturally, the Note7 will match the S7 with an IP68 certification for water and dust protection.
Today, a leaked screenshot of a beta firmware made available over the Samsung Galaxy Beta Program revealed a new option in the Privacy settings - iris scanner. Apparently, Samsung will be supplying its next top model with an iris scanner, and the next flagship is none other than the Galaxy Note7 (or 6, whatever the company decides to call it).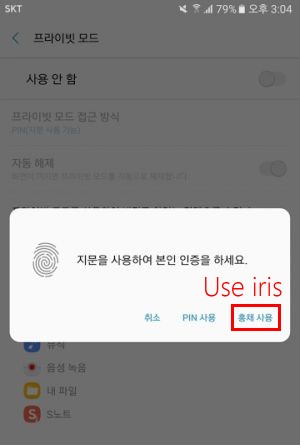 To further fuel those rumors, another report showed a Zauba listing for 200 units of iris scanners imported into India from South Korea by Samsung. The company may have begun testing these onto different markets already in order to calibrate the software properly (don't forget the iris scanning tablet it launched for the Indian government). The iris scanner tech is considered with the tiniest error margin among all other available security features and the fastest.
The next Galaxy Note should go official around the IFA expo in early September. Until then you should prepare yourself for countless rumors on the next flagship crop.
?
More like deep down, gimmick sayers would say any flagship well above $500, $400, or even $300 is a gimmick because over time even non-flagship phones below $200 would be sporting these techs anyhow
P
Apple is even worse for that - i remember reading specutlations that the iphone 5 will have some sort of hologram system at some point... I don't even think it's the companies that start these rumors - i think it's tech journalists running out o...
ADVERTISEMENTS