The Samsung Galaxy Note7 has 64GB of storage built-in, up from 32GB in last year's model. We're always happy to see base storage increase in capacity, but we got some questions about speed to we put our benchmarking caps on.
The Galaxy Note7 has UFS 2.0 storage, the internal memory format used since the Galaxy S6. It's much faster than the eMMC storage commonly used in phones and much, much faster than microSD cards.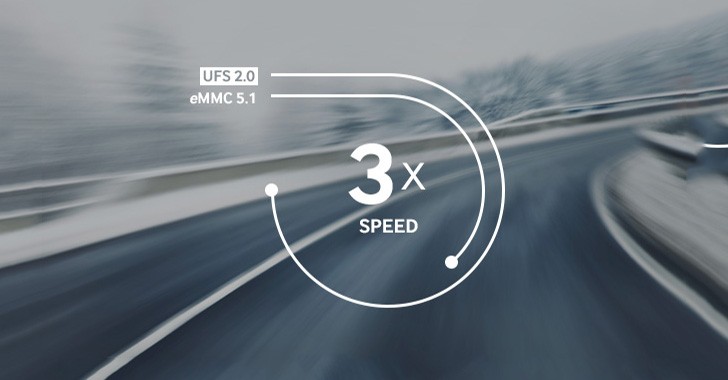 People love expandable storage and were quite excited to see it return with the Galaxy Note7. But they worry if storing files on the microSD harms performance.
Let's test. We put in a speedy Transcend 32GB Class 10 UHS-I card and ran Androbench.
Sequential read (usually playing back multimedia) is over 6 times faster. The Galaxy Note7 and S7 edge mark a decent 80MB/s improvement over the Note5 too.
Sequential read (MB/s)
Higher is better
Galaxy S7 edge (32GB)
484
Galaxy Note7 (64GB)
482
Galaxy Note5 (32GB)
400
Galaxy Note7 (microSD)
76
Galaxy S7 edge (microSD)
76
Sequential write (writing big files) is over 7 (!) faster. The Note5 and S7 edge inch slightly ahead of the new Galaxy Note here. Both have 32GB of storage compared to Note7's 64GB, but that's not it. The benchmark showed slight variation between runs and we guess there's a minor difference between individual memory chips too.
Sequential write (MB/s)
Higher is better
Galaxy Note5 (32GB)
151
Galaxy S7 edge (32GB)
142
Galaxy Note7 (64GB)
136
Galaxy Note7 (microSD)
19
Galaxy S7 edge (microSD)
19
A typical photo with Galaxy Note7's camera weighs in at 5MB, while 4K video eats up storage at a rate of 8MB per second. So even the microSD card is more than fast enough for capturing photos and 4K videos. A Class 10 (but not UHS-I) microSD card we tested achieved 16MB/s sequential write so you don't even need the fastest card (though prices are so low right now that you might as well splurge a few bucks extra).
We get to the random access tests. That's how most apps access memory - movies start at the begining and end with the credits, but apps may need this or that file depending on the unpredictable user input.
Here the older Galaxy Note5 shows the younguns how it's done with a whopping 60% advantage in IOPS (input/output operations per second).
Random read (IOPS)
Higher is better
Galaxy Note5 (32GB)
33904
Galaxy S7 edge (32GB)
21498
Galaxy Note7 (64GB)
20879
Galaxy Note7 (microSD)
2083
Galaxy S7 edge (microSD)
1949
The older flagship is faster when writing too, beating its successor by 20%.
Random write (IOPS)
Higher is better
Galaxy Note5 (32GB)
4590
Galaxy S7 edge (32GB)
4001
Galaxy Note7 (64GB)
3743
Galaxy S7 edge (microSD)
216
Galaxy Note7 (microSD)
214
The microSD card is clearly optimized for reading and writing multimedia, random access is painfully slow compared to the built-in UFS storage.
We tried running Basemark X, then moving its data to the microSD and trying again, but both times the benchmark gave the Note7 an equal score. Basemark ES 3.1 and GFX Bench refused to be moved, so we couldn't try those.
So, assuming you can move a game to the microSD card, there's a good chance it will work fine. But make sure to try it before and after the move, some games may not be as forgiving as Basemark X.
Anyway, we're kind of eager to see how the UFS cards will perform for random access - will they be as good as the built-in chips?
D
Make a test for Note 8.
S
The Mate 9 has UFS 2.1. But is UFS 2.1 really notably better, or does it barely differenciate in any way?
D
It is quite the same as the UFS 2.0 in the Sammsung phones. Read: 480MB/s 400MB/s (Samsung Apple) Write: 140MB/s 160MB/s Unfortunatly there is no easily available IOPS test for iPhone... How pitty Anyway the 4K read is 22.5MB/s and the 4K ...
ADVERTISEMENTS