Replacement Samsung Galaxy Note7 users on Sprint can exchange their unit for any other device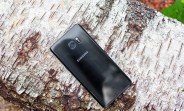 In the wake of a recent fire incident involving a Samsung Galaxy Note7 unit that was deemed to be safe, Sprint is allowing replacement Galaxy Note7 users on its network to trade in their unit for any other device.
"Sprint is working collaboratively with Samsung to better understand the most recent concerns regarding replacement Samsung Galaxy Note 7 smartphones," a company representative said.
"If a Sprint customer with a replacement Note 7 has any concerns regarding their device, we will exchange it for any other device at any Sprint retail store during the investigation window," they added.
As for other carriers, T-Mobile said those with a replacement Galaxy Note7 phone on its network can exchange their unit under the company's buyer's remorse policy that allows customers to return their purchases within 14 days.
There's, however, currently no information on how AT&T and Verizon are handling the situation at their end.
A
stain? funny, yeah those accusations you just said are correct but are do you know the other details on why Apple has those tax issues? do you know the deal they had for them to sell their products in those countries they have so-called tax frauds? I...
L
Moto Z Force is a good option for exchange, IMO
D
LG you are really missing out. Almost 2months and you still cant bring the v20 to north america!damn!