Display quality
Samsung's Infinity Display is still probably the most impressive smartphone panel for more than a few reasons. If you subscribe to the bigger-is-better way of thinking, then at 6.3-inches, the one in the Note 8 trumps its S8 siblings.
On the other hand, if the curvature along the screen edges is what tickles your fancy more, you might find the S8 and S8+ a bit more appealing. The Note8 is a lot more conservative in this respect. To be fair, now that the S8 pair has been around for a few months and the novelty is a bit worn out, the Note8 certainly comes across as less striking. Then again, for an end user, especially one upgrading from say, a two-year old device, the Infinity display design is breathtaking.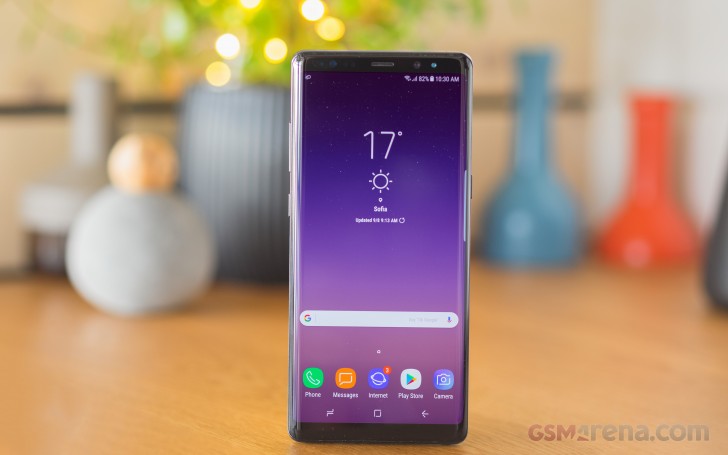 Curvature aside, the thing that takes longer to get used to is the ultra-wide (or tall) aspect ratio. One way to look at it is that 18.5:9 has a 15% larger height to width ratio than the traditional 16:9.
An increasing number of apps are starting to play nice with this new "stretched" aspect ratio. And it's particularly well suited to apps, which present their content in a scrolling feed (Twitter, Facebook, Instagram you name it) because you get a taller viewport.
Apps and games are one thing, Android can scale those easily. Media content, on the other hand, will take years to adapt to the new screen format if it adapts at all. So, prepare for a good deal of black bars around your videos or photos, or learn to live with some stretching or cropping.
It's not all bad - the new format is better for watching movies as they come in the even wider 21:9 format. Netflix is making a push in that direction as well. And even when watching older videos, living with letterboxing isn't all that bad as, at the end of the day, you are still getting more usable space.
High Dynamic range support is another major display trend this year. Chances are, the push to HDR will only get more intense. Just like the Galaxy S8 and S8+, the Note8 is at the bleeding edge of this content revolution. There are, however, certain certification and content issues still to be overcome. The Note8 supports the HDR10 standard, but not Dolby Vision.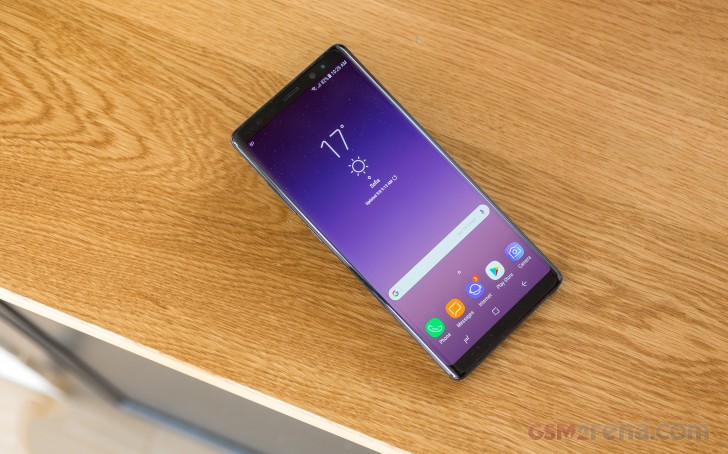 However, the HDR situation is currently a bit more complicated than that. Samsung's new Infinity Display panel holds the UHD Alliance's "Mobile HDR Premium" certification - it is the first smartphone display to get it. It got there through a combination of 112% coverage of DCI-P3 and 141% of the sRGB color spaces, impressive levels of brightness and contrast ratios. DisplayMate recently gave the panel its highest ever "A+" rating, so it should be perfectly well-prepared for HDR, regardless of formal certification.
In theory, Mobile HDR Premium means the Note8 has the same capabilities as recent high-end TVs branded with the Ultra HD Premium badge, and should allow you to enjoy the same HDR content. In real-world, practical terms, Netflix currently seems to hold the most promise as an HDR content provider. The platform is still adapting to the new-found HDR fad on mobiles though. Only recently, it decoupled HDR video from its 4K plan and added official support for three new mobile devices: LG V30, Sony Xperia XZ1 and the Galaxy Note8. Interestingly enough, the S8 and S8+ are still not on the list, so there obviously are kinks to iron out.
The future looks bright, but picking up a Note8 today probably means you won't be able to find much HDR content. However, the Note does feature a brand new Video Enhancer. It is meant to process non-HDR videos and simulate extended HDR-like dynamic range for photos and clips. However, we can't quantifiably test how well that works.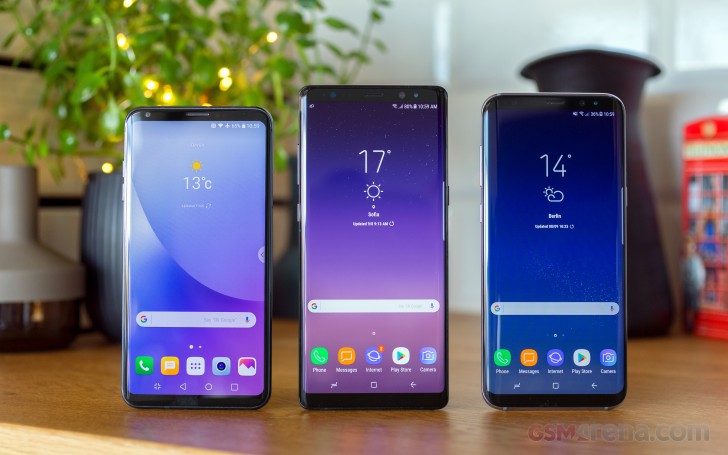 Since the S8, S8+ and Note8 all share a resolution of 2960 x 1440px, it is only natural that the 6.3-inch Note8 has a slightly lower pixel density, at 521ppi, than the other two at 529ppi and 570ppi, respectively. However, the difference is negligible, and the Note8 is tack sharp. It is also worth mentioning that Samsung runs the display at 2220 x 1080 pixels resolution out of the box. There is a setting which allows you to switch to its native 2960 x 1440 pixel resolution, or even go down to 1480 x 720. Things do look noticeably fuzzy on the latter.
On a sub-pixel level, Samsung employs a setup it calls Diamond Pixels. It has a few key characteristics: first, the Red, Green and Blue pixels are all different sizes. The Blue is the largest since it has the lowest light emitting capacity. Then comes Red and the noticeably smaller Green. Shape is also different. In order to maximize sub-pixel rendering, the first two are shaped like diamonds, while Green is oval and squished in between. The 45-degree symmetry of the arrangement should prevent aliasing and artifacts in drawing straight and diagonal lines on the Pentile display.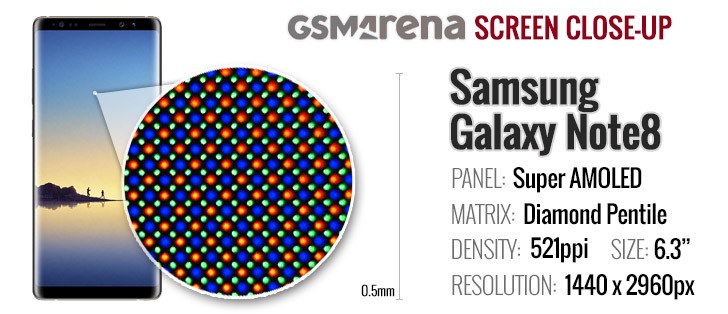 AMOLED panels have always been the go-to screens for saturated and "punchy" colors. The Note8's Infinity Display makes no exception. Besides the already mentioned wide native color gamut, you might remember, Samsung also mentioned high-saturation 'Deep Red' OLED when it first unveiled the display tech on the S8. This is a basically a fancy term to signify even punchier colors. Images are amazingly vibrant on the Note8.
That is especially the case if you leave the default Adaptive display mode on. In it, we measure an average deltaE of 5.2 and a maximum on 10.2 - pretty respectable scores but not really superior to the S8+. The more subtle curvature and size difference alone are indicative that the two devices do use different panels, so such variances were expected.
It is worth mentioning that our standard color tests all measure color accuracy compared to the sRGB color space. Just like the S8 duo, the Note8 has a total of four selectable screen modes, each with its own gamut specifics. If you really want to get technical about it, AMOLED Cinema is very accurate as per the DCI-P3 color gamut. AMOLED Photo is what lets you come as close to Adobe RGB as possible and Basic Screen mode aims towards sRGB or Rec. 709. The latter is usually what digital content and consumer digital cameras, TVs, laptops and other tech aim to cover.
So, Basic is the most accurate mode in case your content is meant to be viewed in sRGB. It netted an average deltaE of 3.1 and a maximum of 5.5. It doesn't necessarily look the best on the phone's screen, as it seems Samsung has applied a rather neutral gamma curve. The UI will look bland and not as contrasty when you switch to this mode.
We were happy to find that one novelty in the Note8 is an adjustable White Point. The controls could be a bit more granular, and the option is only available in Adaptive mode. However, having it allows for some manual calibration, if you have the right equipment. By putting brightness at exactly 53% (using a third-party app) and dialing in the channel sliders, as shown above, we were able to get the average deltaE down to just 2.5. This represents such a low deviation that we can consider the screen perfectly color-accurate.
However, the Adaptive display is the mode you probably want as your day-to-day setting. What it does is try to detect what kind of content is currently on-screen and adjust itself to that. It also makes good use of the entire extra-wide color gamut range of the panel to offset some of the washouts in a brighter ambient light. This is great for outdoor use.
Speaking of, the S8 pair pretty much blew us away and we expected a lot from the Note8 as well. Now, we did manage to get to a brightness as high as 850 nits in Auto mode by shining a light in to the ambient light sensor, but that is still a bit lower than the 870 nits of the S8+. In fact, at 100% brightness in Adaptive mode, without any input from the light sensor, the Note8 appears to run a bit dimmer than its S8 sibling as well. The difference is small, especially when you consider that the Note8 will happily go into overdrive when exposed to the sun outdoors, so we didn't really notice a real-life difference when using the phones normally. Still, we couldn't exactly confirm DisplayMate's recent claim of a record-shattering 1,200 nit reading on the Note8.
Display test
100% brightness
Black, cd/m2
White, cd/m2
Contrast ratio
Samsung Galaxy Note8 (Max Auto)
0
647
∞
Nokia 8
0.382
703
1840
Samsung Galaxy S8+ Max auto
0
647
∞
Samsung Galaxy Note7 (Max auto)
0.00
647
∞
Samsung Galaxy S8 Max auto
0
618
∞
LG V30 (Max Auto)
0.032
616
19250
Xiaomi Mi 6
0.462
603
1305
HTC U11 (Max Auto)
0.373
583
1563
Sony Xperia XZ1
0.409
575
1406
LG G6 max auto
0.277
564
2036
Motorola Moto Z2 Force (Max Auto)
0
559
∞
Huawei P10 Plus
0.335
547
1633
HTC U11
0.308
483
1568
LG G6
0.228
468
2053
Samsung Galaxy S8+
0
442
∞
Samsung Galaxy S8
0
440
∞
OnePlus 5
0
435
∞
Google Pixel XL
0
432
∞
Samsung Galaxy Note7
0.00
428
∞
LG V30
0.002
414
207000
Samsung Galaxy Note8
0
412
∞
Motorola Moto Z2 Force
0
376
∞
Since this is an AMOLED panel, contrast is practically infinite. The lowest available white luminance is also nice at 2.1 nits, so it's easy on your eyes if you operate the phone in complete darkness.
As for the difference you may spot between our published readings and the 850 nits we mentioned: OLED brightness is dependent on the percentage of the screen being lit up. We thus got the 850 nits score from a very small white rectangle. 647 nits is what you can realistically expect when using the entire screen. For the sake of fair comparison, we've stuck to the usual APL (average picture level) 80% which we've always used so far. This means that the white pattern, which we use to measure the max brightness of an AMOLED screen takes 80% of the display surface area.
Sunlight legibility is another area where the Note8 manages to score pretty close to the S8 and S8+, but still a few points short. Nevertheless, 4.148 is well impressive and won't fail you even in direct sunlight.
Sunlight contrast ratio
Samsung Galaxy S8
4.768
Samsung Galaxy S8+
4.658
Samsung Galaxy S6 edge+
4.615
Oppo R11
4.454
Samsung Galaxy S7 edge
4.439
OnePlus 3
4.424
Samsung Galaxy S7
4.376
HTC One A9
4.274
Samsung Galaxy Note7
4.247
Samsung Galaxy A3
4.241
Nokia 8
4.239
OnePlus 3T
4.232
Google Pixel XL
4.164
ZTE Axon 7
4.154
Samsung Galaxy Note8
4.148
Meizu Pro 7 Plus
4.147
Samsung Galaxy S6 edge
4.124
Samsung Galaxy A7 (2017)
4.124
Samsung Galaxy Note5
4.09
LG V30
4.022
Huawei Nexus 6P
4.019
OnePlus X
3.983
Vivo Xplay5 Elite
3.983
Oppo R7s
3.964
Apple iPhone 7
3.964
Huawei P9 Plus
3.956
Meizu Pro 6 Plus
3.935
Lenovo Moto Z
3.931
Samsung Galaxy A7 (2016)
3.918
OnePlus 5
3.914
Samsung Galaxy C5
3.911
Samsung Galaxy C7
3.896
Samsung Galaxy A5
3.895
Samsung Galaxy J7 outdoor
3.879
Samsung Galaxy J2 outdoor
3.873
Samsung Galaxy A8
3.859
Apple iPhone 6
3.838
Sony Xperia XZs
3.818
Samsung Galaxy A9 (2016)
3.817
Motorola Moto X (2014)
3.816
Samsung Galaxy J7 (2017)
3.812
Samsung Galaxy A5 (2017)
3.804
Samsung Galaxy J7 (2016) outdoor mode
3.802
Xiaomi Redmi Pro
3.798
LG V20 Max auto
3.798
Sony Xperia XZ
3.795
Samsung Galaxy A5 (2016)
3.789
Apple iPhone 6s
3.783
Meizu Pro 5
3.781
Microsoft Lumia 650
3.772
Xiaomi Mi 6
3.767
Sony Xperia XZ1
3.765
Samsung Galaxy J7 (2016)
3.756
Oppo F1 Plus
3.709
Vivo X5Pro
3.706
Sony Xperia X Compact
3.694
Samsung Galaxy A3 (2017)
3.688
Apple iPhone SE
3.681
Huawei Mate 9
3.68
Samsung Galaxy A7
3.679
Meizu PRO 6
3.659
BlackBerry Priv
3.645
Sony Xperia XA1 Ultra
3.597
Apple iPhone 7 Plus
3.588
LG G6
3.556
Apple iPhone 6s Plus
3.53
Motorola Moto Z Play
3.526
Samsung Galaxy J3 (2016)
3.523
Samsung Galaxy J3 (2016) outdoor mode
3.523
Acer Jade Primo
3.521
Microsoft Lumia 950
3.512
Oppo R7 Plus
3.499
nubia Z11
3.466
Huawei P10 Plus
3.456
HTC U Ultra
3.453
Samsung Galaxy J7
3.422
Meizu MX5
3.416
LG V20
3.402
Huawei P10
3.379
Samsung Galaxy J5 (2016)
3.378
Oppo R9s
3.352
Honor 8 Pro
3.341
Oppo R7
3.32
Lenovo P2
3.316
Honor 9
3.289
Xiaomi Mi 5s
3.276
Nokia 5
3.261
Nokia 6 (Chinese version)
3.244
Xiaomi Mi 5
3.24
Nokia 6 (Global version)
3.238
Samsung Galaxy J2
3.235
Sony Xperia X Performance
3.234
Xiaomi Mi Note 2
3.228
Motorola Moto X Play
3.222
Oppo F3 Plus
3.218
Huawei Mate 9 Pro
3.206
Huawei P9
3.195
ZTE Nubia Z17
3.159
Lenovo Vibe Shot
3.113
Motorola Moto X Force
3.105
LG Nexus 5X
3.092
HTC U11
3.089
Huawei Mate S
3.073
Microsoft Lumia 640 XL
3.065
Sony Xperia XA1
3.012
Sony Xperia L1
2.994
Sony Xperia X
2.989
Huawei P10 Lite
2.974
Samsung Galaxy Note
2.97
Sony Xperia Z1
2.95
Huawei Mate 8
2.949
Xiaomi Redmi 4
2.92
Xiaomi Redmi 3S
2.913
Sony Xperia XA Ultra
2.906
LG G5
2.905
HTC One S
2.901
Xiaomi Redmi 3s Prime
2.893
Xiaomi Mi 5s Plus
2.884
Sony Xperia XZ Premium (sRGB)
2.877
Sony Xperia XZ Premium
2.877
Sony Xperia Z5
2.876
Nokia 3
2.871
Microsoft Lumia 550
2.851
Lenovo Moto M
2.813
Xiaomi Redmi 3 Pro
2.803
Sony Xperia Z5 compact
2.784
Meizu MX6
2.751
LG V10
2.744
Xiaomi Redmi 3
2.735
Xiaomi Redmi Note 4 (S625)
2.714
Meizu M5
2.71
Sony Xperia M5
2.69
Huawei P9 Lite
2.679
Xiaomi Redmi 4 Prime
2.679
Vivo V3Max
2.659
Xiaomi Mi Mix
2.658
Doogee Mix
2.642
Xiaomi Mi 4i
2.641
Xiaomi Redmi 4a
2.635
Sony Xperia XA
2.609
Motorola Moto G4 Plus
2.582
Motorola Moto G4 Plus (max auto)
2.582
Meizu M5s
2.58
Xiaomi Mi 4c
2.574
LeEco Le Max 2
2.567
Microsoft Lumia 640
2.563
Asus Zenfone 3 ZE552KL
2.563
Xiaomi Mi Max 2
2.561
Lenovo Moto G4
2.544
Lenovo K6 Note
2.544
Oppo F1
2.528
Sony Xperia Z5 Premium
2.525
Huawei Honor 7 Lite / Honor 5c
2.506
Sony Xperia M4 Aqua
2.503
Oppo F1s
2.481
Motorola Moto G
2.477
Lenovo Vibe K5 Plus
2.473
Huawei G8
2.471
Huawei nova
2.467
Sony Xperia Z
2.462
Lenovo Vibe K5
2.459
Meizu m3 max
2.447
HTC 10 evo
2.407
Huawei Honor 7
2.406
Sony Xperia E5
2.386
ZUK Z1 by Lenovo
2.382
HTC 10
2.378
Oppo F3
2.376
vivo V5 Plus
2.371
Meizu m1 note
2.362
Huawei nova plus
2.329
HTC One E9+
2.305
Alcatel One Touch Hero
2.272
Apple iPhone 4S
2.269
Lenovo Vibe K4 Note
2.254
Sony Xperia C5 Ultra
2.253
Xiaomi Redmi Note 3 (MediaTek)
2.249
Sony Xperia C4 Dual
2.235
Xiaomi Mi Note
2.234
Motorola Moto G (2014)
2.233
Huawei P8
2.196
Meizu M5 Note
2.189
Huawei Honor 6
2.169
Xiaomi Redmi Note 2
2.166
OnePlus Two
2.165
HTC One X
2.158
LG Aka
2.145
Xiaomi Redmi Note 4 (X20)
2.145
Archos 50 Diamond
2.134
Xiaomi Redmi Note
2.119
Xiaomi Mi 4S
2.095
Acer Liquid X2
2.084
Huawei P8lite
2.078
vivo V5
2.059
Moto G 3rd gen max manual
2.026
Xiaomi Mi 3
2.001
Xiaomi Mi Max
1.996
Sony Xperia E4g
1.972
OnePlus One
1.961
Meizu m3 note
1.923
BlackBerry Leap
1.892
Meizu m2 note
1.892
HTC Butterfly
1.873
Sony Xperia Z1 Compact
1.772
ZTE Nubia Z9 mini
1.759
Sony Xperia U
1.758
Asus Zenfone Selfie
1.68
Motorola Moto E (2nd Gen)
1.675
ZTE Nubia Z9
1.659
Jolla Jolla
1.605
Motorola Moto E
1.545
Sony Xperia M
1.473
Sony Xperia L
1.351
Xiaomi Redmi 2
1.311
HTC Desire C
1.3
Sony Xperia C
1.283
Meizu MX
1.221
Sony Xperia E
1.215
The point we are trying to get across is that while it's amazing, the Note8 display is not exactly better than the S8 duo. The differences are there and potentially important for certain professional users, but they don't necessarily benefit the regular user.