Samsung Galaxy Note8 cracks 1% market share of Android phones in key markets
It has been four weeks since Samsung launched the Galaxy Note8 and the flagship is rising quickly through the charts. According to stats by ad network AppBrain, the price did not scare off consumers and the phone already accounts for 1% of Androids in several key markets.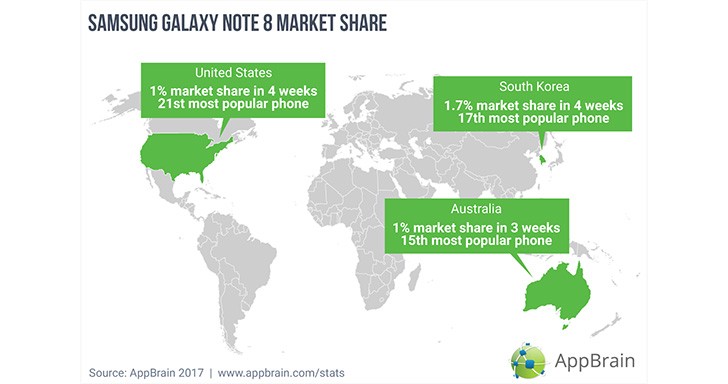 In its home country of South Korea, the Note8 has a 1.7% market share and ranks the 17th most popular phone. In Australia and the United States, the phone boasts 1% share in less than a month of sales. Note that sales in Australia started a week later than the rest of the world,
For comparison, the Galaxy S8 and S8+ combined have 5% to 6% share after six months on the market.
Adoption in Europe has been slower, there the Galaxy Note8 still hovers under 1% market share, despite launching simultaneously with the US and Korea. And Europe has been starved of Notes for longer than those regions, since the S6 edge+ took the place of the Note5. Adoption in Canada is similarly slow.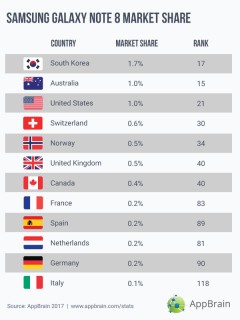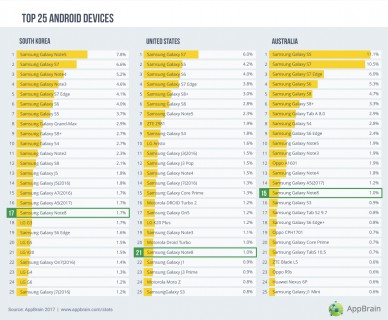 Galaxy Note8 market share by country • Top 25 Android devices in Korea, the US and Australia
Going through the charts, we can't help but be impressed by the staying power of the Galaxy Note3. It has a whopping 4.6% share in South Korea, just below the Note4. The usage in the US isn't as impressive, but the four year old model still has a small lead with a 1.1% share.
t
Thank you very much for the reply. I want to buy the latest and greatest (8 Plus), because that is the most reasonly priced that I can get (beside iPhone X), also I can buy it cheaper from a realiable source. As for file transfer, you dont real...
s
I did the same as you a few years back, I got an iPhone 5 and lived with it for almost a year, even with jailbreaking it, I got bored with it and the over reliance on iTunes annoyed me so went back to android. That being said the phone itself was goo...