Samsung Galaxy Note9 accessories: dual wireless charger and many cases
Along with the Galaxy Note9, Samsung unveiled a dollop of accessories – mostly cases, but also a wireless charger the likes of which Apple has been promising, but is yet to deliver. Note that we only found the UK prices, these accessories are listed as "coming soon" in Germany.
That's the Wireless Charger Duo, which can charge both your Note9 (or other Galaxy with wireless charging) and your Galaxy Watch smartwatch simultaneously. It works with all Qi devices, though wireless fast charging is Samsung-only. This one is coming soon.





Wireless Charger Duo in Black and White
Then there's the simple Wireless Charger Pad. Both it and the Duo are available in Black and White, but there's an additional color for the Pod – Blue.
Price: £49





Wireless Charging Pad in Black, White and Blue
The list of cases starts with a basic Soft Touch Cover. It features a microfiber lining to protect the Note9's exterior.
Price: £24






Soft Touch Cover in Black, Blue, Violet and White
If you need more protection, the Protective Standing Cover is MIL-STD-810G compliant. The good news is that you can still use wireless charging. There's a built-in kickstand as well.
Price: £34





Protective Standing Cover in Black and Silver
And if you want something less obtrusive, there's the Clear Cover.
Price: £17
If you want something to protect the screen, there are the LED View Cover, Clear View Standing Cover and Leather Wallet Cover. That last one is made with genuine Italian calf leather and has a microfiber lining. Both it and the LED View cover have pockets for cards.
LED View cover Price: £59
Clear View Cover Price: £49
Leather Wallet Cover Price: £49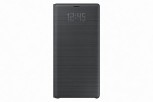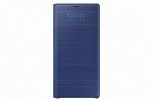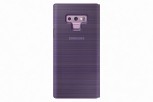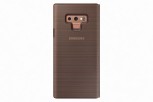 LED View Cover in Black, Blue, Violet and Brown





Clear View Standing Cover in Violet, Black, Brown and Purple
D
Yes ! May the good luck come to fruition !
D
Lol I know it would be totally unexpected though. :)
?
You are partly right. Note 9 is indeed a big event, no doubt. The pinnacle of one of the biggest brands, has to be honoured of course. But so many articles about Note 9, Note 9 deals, Note 9 releases, Note 9 colours is a bit too much. touching the...
ADVERTISEMENTS