Weeks before the deadline, Samsung started seeding the latest Android 9.0 Pie update along with its brand new custom One UI for the Galaxy Note9. And that's the stable version we are talking about here.
The OTA update weighs in at just 95MB, but we assume that the screenshot was taken from a user that participates in the beta program so if you are coming from a stable Android Oreo, it should be way bigger.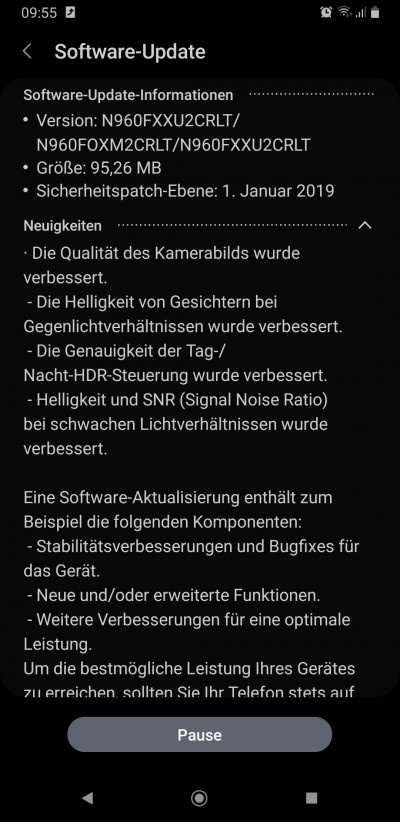 For now, we have information about the update being live in Germany, so it will probably take some time to make it to your handset as well. Just like the Galaxy S9/S9+ update that hit some devices a week ago, this one could potentially take some time to reach the global market.
Anyway, the build number is N960FXXU2CRLT and comes with Google's January security patch and we hope that it will step outside of Germany in the following days.
Man thats not true. My Moto X4 si great enough 64 GB is more than enough for me for anything else i have my 2,5 inch portable harddrive Wester Digital Elements with a 2TB disk space. Samsung was it is and always wil be a bloatware. By the way why ...
?
Try a recent flagship Samsung before you comment! Nowadays flagships have enough ram and storage to take on bloatware. No other phones offers 512GB / 8gb ram then Samsung. The reason you complain bloatware.. and need an ultra light weight O...
ADVERTISEMENTS